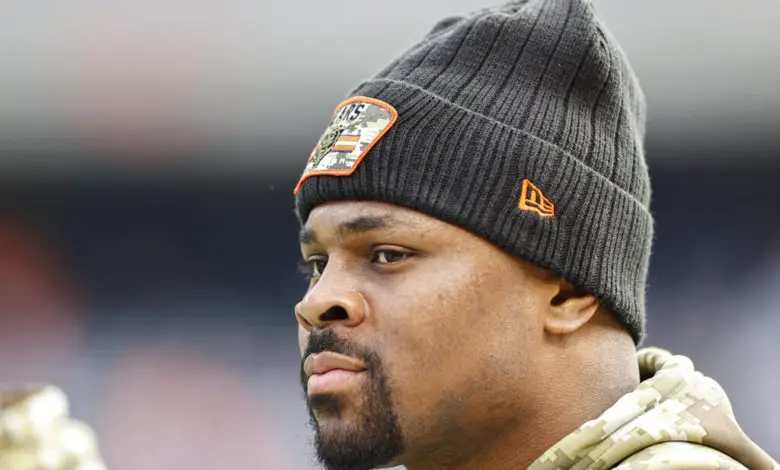 Khalil Mack Trade Rumors Seem Somewhat Premature
Linebacker Khalil Mack was a hot topic at this week's combine, as rumors floated throughout the week that the Bears might be willing to trade their star linebacker in an effort to acquire draft picks. Though GM Ryan Poles has just five selections this year, none in the first round, the Mack trade rumors seem somewhat premature.
The buzz escalated further on Friday. In his March 4 Q&A column for the Chicago Tribune, Bears insider Brad Biggs shared some revealing information he received during the week of the NFL scouting combine. Reportedly, The name some teams were wondering about was Mack, the 31-year-old edge rusher who had six sacks in seven games last season before heading to the injured reserve list.
At what point do we start talking about Khalil Mack as a legit DPOY candidate?

He has 5 sacks to start off the year and has been a consistent force for the #Bears off the edge. He's back to his All-Pro self. pic.twitter.com/kNAeHtOb7i

— Jacob Infante (@jacobinfante24) October 11, 2021
Poles addressed the dearth of draft picks earlier in the week, and though he didn't exactly throw predecessor Ryan Pace under the bus, he's keenly aware of Pace's propensity to use future picks to move up in the draft. The Bears moved up nine slots to take Justin Fields in the first round last year, and then made a trade in the second round to jump 13 picks in order to select right tackle Teven Jenkins.
"Obviously, you want a lot of picks, but that's just, you know, the hand we were dealt," Poles said "And we'll be open-minded on how we can create more picks."
Though no one should doubt Mack could be a trade candidate, it's extremely doubtful such a move might be worth it. Poles has indicated he intends to compete for the NFC North in 2022, and trading Mack for a couple of draft picks would seem contrary to that plan. If you use the Von Miller trade as a reference point, the Bears should expect to receive two draft picks. The Broncos traded Miller to the Rams back in November for second and third-round picks in this year's draft.
The Raiders were interested in trading for Mack last year, own the Nos. 53 and 86 picks this year, but do not have any extra picks, so a trade to return the star linebacker to his original team seems like a longshot. The Ravens have two third-round picks and four in Round 4 but have far too many holes to acquire Mack. Of course, the Broncos have extra picks but they'll probably use them to try to acquire Aaron Rodgers from the Packers. Besides, it would be pointless to trade away the two picks they acquired when they dealt Miller.
To make a long story short, even if Poles wanted to trade Mack, he might not find a team willing to give up the picks he would require to make it worth trading the six-time Pro Bowl selection. Besides, Mack may find new life as an edge rusher in Chicago's new 4-3 defense. Combining Mack with Robert Quinn and Trevis Gibson on the team's front four may leave opposing quarterbacks shaking in their cleats. You can't double team all of them, and if you try, you'll leave a gigantic gap for linebacker Roquan Smith to get to the quarterback virtually untouched. That's an elite defense that becomes a lot more ordinary sans Mack.
Then there's the matter of the salary cap. Moving Mack solely for the sake of saving space and acquiring draft picks might not even be a net-neutral move. Trading the defensive standout before June 1 would clear just $6.15 million in cap space, but it comes with a dead-money hit of $24 million.
Poles could deal Mack after June 1, which would spread the dead money hit over two years and give Chicago $17.75 million in newfound cap space, though that comes with problems of its own. First, most teams will have filed their linebacker needs via the draft or free agency by then, though the Bears and the acquiring team could agree to the trade earlier. It just wouldn't be official until June 1. Additionally, such a move really doesn't help Poles because he couldn't use the excess savings until the trade is made official.
It's probably best, therefore, to stop speculating on a potential trade. It might be tough to find a player to match Mack's abilities and leadership, and there are better ways to save cap space while accumulating extra picks. A healthy Mack is better than anybody that will be available after Day 1 of this year's draft, plus the Bears are projected to have almost $100 million in cap space next year, pending any free agent acquisitions they make this year, of course.
On that note, Poles may decide to play the long game and not commit much money beyond this year. That would be the smart play, and one Poles may enjoy. He spoke this week about attacking the second year of free agency. Staying as dedicated as possible to that strategy could make the Bears the league's premier destination following the upcoming season.