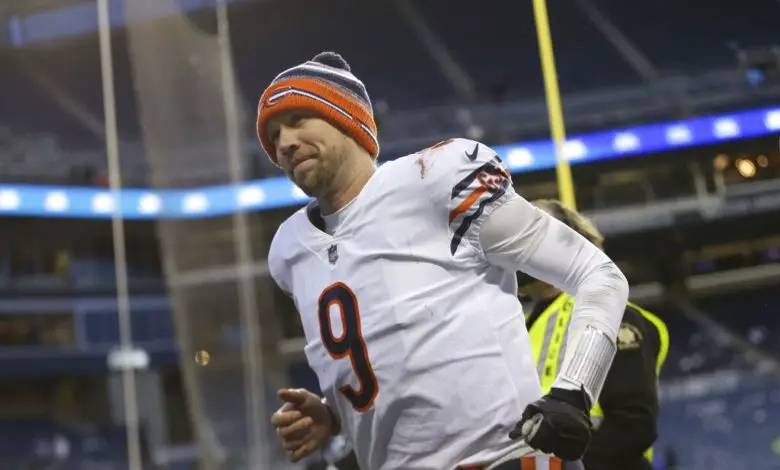 Backup QB Nick Foles Still Hanging Around
"Excuse me, I believe you have my stapler…"– Milton Waddams
Have you ever seen the movie Office Space? Aside from its killer soundtrack, it's loaded with fantastic characters. From Ron Livingston as Peter Gibbons to Jennifer Aniston as Joanna, and to Gary Cole as Bill Lumbergh, it's tough to pick a favorite. Then there's Milton Waddams, a guy who was fired but not processed out by HR, who eventually becomes the story's hero. Nick Foles is still hanging around at Halas Hall, and could be the organization's very own "Milton."
Now that the Andy Dalton experiment is over, the Bears have two quarterbacks on their roster in Foles and incumbent starter Justin Fields. The new coaching staff intends to build its entire offense on the strengths of their second-year quarterback, but Fields and his backup are not even close to being the same type of players. So what do the Bears do with Foles?
The first inclination would be to cut him. Foles carries a $10 million cap hit, but would only free up about $3 million in cap space, so cutting him essentially means paying the backup $7 million to play for another team. Foles, who performed well when called upon this year, would likely find a job immediately. If Mike Glennon can find work in the NFL, Foles won't remain a free agent for very long, and in fact, he could theoretically find a new gig quicker than Dalton.
In fact, the Packers would probably be the first team to reach out to Foles if they are forced to trade Aaron Rodgers. Head coach Matt LaFleuer said last week that Jordan Love is not ready to be the team's full-time starter, and with Green Bay's salary cap issues, Foles could be in their wheelhouse. Imagine the PR disaster if Foles plays for the Packers and then beats Fields in their first head-to-head matchup, especially after Ryan Poles said he intends to "retake the NFC North and never give it back."
Poles could also try to trade Foles. $10 million is not obscene for a backup quarterback, especially if that player led his previous team to one of the biggest upsets in Super Bowl history. Doug Pederson is the new coach of the Jaguars, and he also has a second-year starter in Trevor Lawrence. His backups are C.J. Beathard and Jake Luton, so Foles would be a considerable upgrade. That said, I'd be nervous about Pederson's affinity for Foles if I were Lawrence. Just ask Carson Wentz.
Much respect Tom. Unbelievable career. Best of luck with your next chapter. pic.twitter.com/uKDv5Eax9S

— Nick Foles (@NickFoles) February 2, 2022
Now that Tom Brady has retired, the Buccaneers could be looking for a short-term answer that would allow them to further develop Brady's eventual replacement, Kyle Trask.  Blaine Gabbert is currently listed as QB1 on Tampa Bay's depth chart, and he's neither inspiring nor good. Foles would thrive under Bruce Arians and his staff and would be a great stopgap as well as another great tutor for Trask. Imagine working with Brady and then one of three quarterbacks to beat the G.O.A.T in the Super Bowl.
If Poles can trade Foles, it will save him $8 million in cap space. The Bears would be on the hook for the other $2 million, and though he won't command a high draft pick in return, any pick this year or next will do. Chicago has just five selections this year and could use part of the savings to find a new backup for Fields. The free-agent pickings are relatively slim, however, and this year's draft class is pretty weak at quarterback. Poles probably doesn't want to have a rookie serving as a backup to his sophomore starter, either.
The last option is that the Bears could keep Foles and promote him to QB2 for one more year. As I mentioned earlier, $10 million is not a terrible price, even for the Bears, and Poles could find a practice squad QB among this year's crop of undrafted free agents. Ryan Willis was recently retained on a reserve/future contract, served as the team's 4th string quarterback last year, and could be that guy this year, but others will be available.
The challenge in keeping Foles is finding a fit for him in Luke Getsy's new offense. You won't see a lot of RPO with Foles under the center, but a makeshift offense designed in case Fields is injured shouldn't be too tough to pull off. The 2023 free-agent class is much deeper, and so is next year's draft. Like Milton Waddams, Foles just might be the hero of this story, at least for one more season.