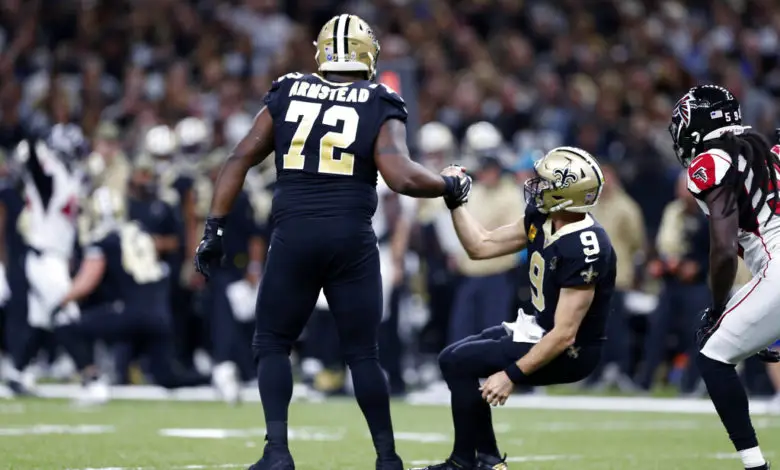 Ryan Poles May Use Salary Cap Excess to Rebuild Offensive Line in Free Agency
As things stand right now, the Bears sit in the top third of the NFL in available cap space, and with some of the team's expected moves, once the new NFL year starts on March 16, Chicago may have $40-$45 million to spend in free agency this year. That's enough salary cap excess for GM Ryan Poles to rebuild his offensive line.
One player that is probably at the top of Poles' shopping list is tackle Terron Armstead. The Saints will be unable to franchise tag the all-pro offensive lineman, and the Bears may be ready to pounce.
Derrik Klassen of ESPN believes signing Armstead is precisely the bold move ($) that Poles needs to make as soon as free agency commences in nine days.
"With a bona fide left tackle in Armstead on the market and a fresh coaching staff in the building, the Bears might be better served [to abandon] Teven Jenkins at left tackle," Klassen posited.
"It's unlikely that Jenkins could take an immediate Year 2 jump that would put him in or near Armstead's realm," the analyst continued." "He would likely be more comfortable kicking back over to the right side. Not only would that help the Bears take out two birds with one free-agent stone, but it would play into what their young quarterback Justin Fields needs the most: pass protection.
In theory, that sounds excellent, especially if you are still a believer in the potential of Jenkins, who was drafted as a right tackle out of Oklahoma State. Former GM Ryan Pace traded up to get Jenkins last year, and before he injured his back, the rookie offensive lineman was considered one of the steals of the draft. Signing Armstead and pairing him with Jenkins at tackle would be a bold statement by Poles and a clear indication of the type of offensive line he intends to build.
Armstead's nine years of experience in the league makes him highly coveted by all NFL teams in need of a quality offensive lineman, and though the 30-year-old tackle missed time last season due to injury, he's proven he can still compete at an elite level.
Pro Football Focus speaks even more highly of Armstead.
"There aren't many weaknesses to Armstead's game," writes the scouting and analysis site. "He's one of the position's best pass-protectors and rarely loses in the run game across both gap and zone run concepts. There are plenty of teams with cap space next offseason — such as Jacksonville and Miami — that could make use of Armstead's services if the Saints opt against bringing him back."
Armstead is much more than just a standout pass blocker. He'd helped power Chicago's running attack by opening holes for David Montgomery and Khalil Herbert. He not only sealed the edges so that backs can get outside, but Armstead has the athleticism to get to the second level to spring even bigger gains. Given that skill set, the 30-year-old can surely be a game-changer in any offensive line that he will join for next season. He will have plenty of suitors.
Alvin Kamara joined the 6-TD club and @T_Armstead72 was the bouncer outside the club 💪 pic.twitter.com/hhg3DbxUDM

— New Orleans Saints (@Saints) December 26, 2020
The Dolphins and Colts have needs on their O-lines and both teams are well-positioned for free agency with plenty of cap space available. In fact, Indianapolis would love to pair Armstead with Quenton Nelson. The Lions could be a surprise contender for Armstead's services, too. The Jaguars, who also need help on the line, are widely expected to take North Carolina State tackle Ikem Ekwonu with the first pick in this year's draft. In an ideal world, the Bears would build their line in free agency, and then find wide receivers in next month's draft.
Poles is committed to building his offensive line immediately, and though he has yet to single out any player by name, he has indicated more than a little disappointment in last year's performances.
"We're going to change it up a little bit just in terms of the style," the GM said at last week's combine. "A lot of those guys, and the message has been clear — we've got to change body types a little bit. We've got to get lighter, we've got to get quicker.
"Through that, I think there's some young talent that just needs to be pressed," he added. "That's part of our job is to create competition and bring the best out of them. We'll do that and we'll see if the cream rises to the top. Especially with the O-line play a lot of times — and I don't want to speak for the coaches — but it's gonna end up being the best five to roll out there."
As the line currently sits, only James Daniels stands out among his starters from last season, but he's a free agent this year, too. Daniels is expected to earn between $7-$10 million per year on the open market, and Poles will have to decide if he's worth retaining at that price. The savings might be enough to convince Poles to break the bank on Armstead. Chicago allowed 58 sacks last season, and there were several instances where the linemen left Justin Fields on the ground without helping him up. That doesn't sit well with Poles, and Armstead is known as a guy who is always first in line to assist a fallen quarterback.
"You always have to take the side of your quarterback," Poles told Jason Lieser of the Chicago Sun-Times last week. "That tells me a lot. So when it doesn't happen — and there are definitely clips that [prove] it didn't — it bothers me. We'll fix that."
Klassen thinks Armstead will be Chicago's big-ticket addition next month.
"[Signing a player of Amstead's caliber] might require the Bears to nail draft picks and midrange free-agent signings at wide receiver, but keeping Fields upright has to be the main priority for Chicago this season," Klassen noted.
That's probably fine with Poles, who plans to attack the second wave of free agency very hard.
"What I've always loved is … you're going to have some players that, they're motivated, they got a chip on their shoulder, and they want to get back into free agency and go at it again," Poles said recently. "So they play with a purpose. And I've mentioned this before, but it's very hard to stay super motivated. You got to be a special human being to be in that first wave (of free agency) and keep going. You want your name etched in the stadium. That's what kind of mentality you got to have. So I definitely think there's a lot of good value down there, plus … the mentality comes with it."