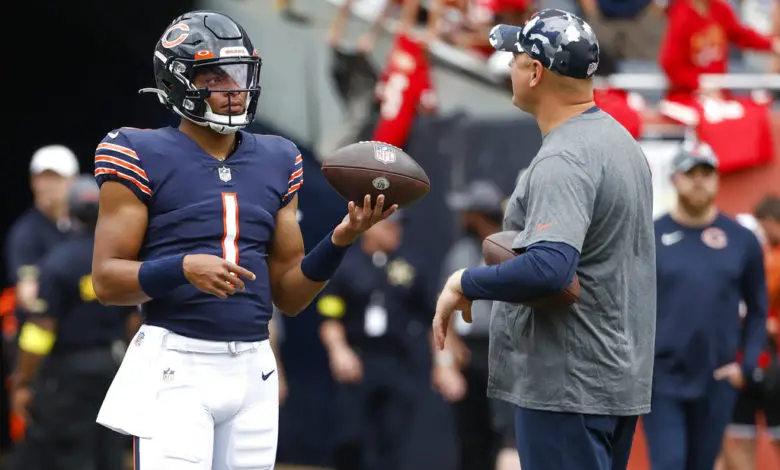 Camp Notes: Jenkins Moves to Guard, Gordon Returns to Washington, First Team Offensive Line Continues To Struggle
After a 19-14 victory over the Chiefs on Saturday, the Bears return to Halas Hall for camp today with a lot of changes. Some players, including Teven Jenkins, are trying new positions. Several players are also returning from injury, and head coach Matt Eberflus is moving players up and down the depth chart. On top of that, the offensive line is still struggling, and Kyler Gordon is returning to Washington. Here are your Tuesday morning Camp Notes.
Gordon, Velus Jones, David Montgomery, Cole Kmet, Kindle Vildor, and Riley Reiff were among the key players to return to practice today. Though most didn't run with the ones right away, or at all, it's encouraging. With just a few practices before the Bears head to Seattle to face off against the Seahawks on Thursday, Chicago needs to get as many players back as possible.

 

Gordon returns to Washington on Thursday. He played college ball with Washington and went to Archbishop Murphy High School. Gordon spoke about his confidence for being ready to play. He sounds excited to get back.

"They're all just ready for me to be at the game," Gordon said. "I have a lot of people that are going to be there. I'm excited to go back."
He should have quite the welcoming committee as well. How many will be there exactly? "I have no idea," said Gordon. "I'm not going to lie. Probably a good amount."

 

Then he continued to speak about how special it is to debut in Seattle. "I think it was meant to be," he said. "It's God's plan. I'm just excited. I think it's just a cool thing to be able to say it happened in my life. I'm just excited, really."

 

Before mixing in at nickel, Gordon was with the seco

nd

team defense while Lamar Jackson and a returning Duke Shelley ran with the ones. However, Jackson wasn't the only one to see a promotion (though I think he should be a cut candidate). Dieter Eiselen is working with the second team at center while Doug Kramer was missing from practice.
Nsimba Webster and Dazz Newsome saw snaps with the ones on offense while Dominique Robinson got to mix in opposite Robert Quinn. After big performances against the Chiefs, Jack Sanborn and Trevon Coley were promoted to the second-string unit.

 

Tevin Jenkins took snaps exclusively at right guard with the twos

. This isn't surprising. Michael Schofield had a really rough day Saturday. Schofield came to Chicago with high expectations and it's disappointing to not see him in good form yet. Along with Jenkins's shift, Zach Thomas moved to center with the third unit

.

 

Matt Eberflus and Luke Getsy are still trying to figure out this offensive line. The starters struggled a lot in the Kansas City game and as a result Justin Fields got sacked twice. In fact, the first stringers seemed outmaneuvered and outclassed. In Monday's practice, they gave up what would have been four easy sacks, two apiece allowed by each tackle. Despite all of his upside, Braxton Jones continues to let Quinn get easy wins. There were also a few occasions when players went unblocked entirely.

 

The heat may have Fields feeling a little itchy in the pocket as Getsy spoke to the seco

nd

sack of the day

.

"He vacated too quickly," Getsy said. "He skipped number two in the progression. He kind of went left, right, and they took away number one. That was a great job by him of getting back. [But] I think he got out of there a little too quick. That was the one play, honestly, that I wish we had back for him… I love the decision to slide, obviously, but he had a chance to maybe hang in there just a tick longer."

 

Getsy will call plays from the sideline. He confirmed in today's press conference that after moving to the sideline in 2016 as the Packers' wide receivers coach, he found it made a difference, so he plans to stay there. He values the ability to have a conversation with anybody and everybody, and there's a comfortability and a feel to it.

 

Getsy threw some creativity into practice Monday. There was a reverse that led to a big gain from Webster and a flat route from Khari Blasingame that led to a touchdown in the red zone.

 

Fields and Darnell Mooney connected on a couple of well-timed passes in the red zone. Their chemistry continues to shine through. Kmet also continued to link with Fields as he caught a great ball on a broken play. The trio should have a huge season.

 

The NFL released the bottom 50 of its Top 100 active players. The Bears were represented twice by fan favorites Roquan Smith (84) and Montgomery (98).
Smith is being labeled a top guy in the NFL by his peers.
It's time that the Bears front office and Smith let go of some selfish views to get a deal done. Truth be told it's been a sloppy negotiation process from both sides.
FIVE THINGS 
CAMP QUOTES 
"It was cool just being out in Soldier Field seeing another opponent. We've been going against each other for so long. That was my first NFL game I've ever been to." – Velus Jones
"I thought we were pretty sharp. I think that was one of the things we talked about, just making sure we had a sound procedure. Got guys in and out of the huddle, limited pre-snap penalties and mistakes, and I think for the most part, did a good job of that." – Trevor Siemian
"Then I think the more [Fields] plays this year, the better he's going to get that feeling. Pocket presence is not an easy thing to teach. But he's got the toughness and the guts to do it. When you're evaluating quarterbacks, that's one of the first things I'm looking for; somebody to have that willingness to stand in there, make your throw with your feet in the ground and get smacked in the jaw. He definitely has that."  – Getsy
"I was just itching to go and be out there. It just looks so fun honestly. I just wish I was playing right now. Just waiting to go out there… Damn bro, I'm here. It's time. I'm ready to do this stuff. It's exciting." – Gordon