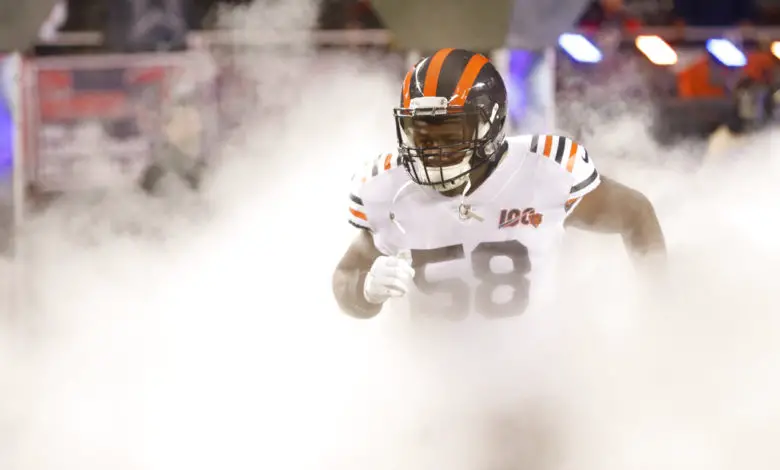 It's Time to Resolve the Roquan Smith Situation
Roquan Smith sent a statement last week to NFL Media saying he would like to be traded, but there's a new and bizarre twist. The Bears have not granted Smith permission to seek a trade, but someone from his camp is doing so anyway. The longer the standoff plays out, it would seem the greater the chances are the Bears would consider trading him. If that's going to be the outcome, the time is now to pull the trigger and trade Smith. Either way, the Bears need to resolve the situation as quickly as possible.
I'm not going to spend a lot of time discussing Roquan. This is a very immature kid, off the field, and the Bears have had his back a number of times. He knows that. His "disrespect" claim is poppycock. (Oh and they offered him $95M.)

— DaBearsBlog (@dabearsblog) August 12, 2022
The fifth-year linebacker obviously wants out, which is something that seemed almost impossible when camp started. He was an active participant in all of Chicago's summer workouts and reported to Halas Hall at the end of July with all of his veteran teammates. He's just refusing to practice. The Bears initially placed Smith on the PUP List so that he couldn't be fined. The team removed him last weekend, and then reports dropped that Smith was seeking his own trade. GM Ryan Poles is on record as saying he does not want to trade his star linebacker.
"There's no real update on that front," Poles said Saturday on the Bears pregame show on WBBM-AM 780. "I'll say it over and over: I love the player and what he's done on the field. This is a very unique situation that we're handling the best that we can.
"We hope to have him in a Chicago Bears uniform. Hopefully, when we get through this game, we can come to some type of resolution."
Give Poles credit for continuing to take the high road. But this situation has become an unneeded distraction for a team with too many questions. Poles and head coach Matt Eberflus continue to rise above all of the drama. Smith was on the field during Saturday's 19-14 win over the Chiefs but didn't participate in warm-ups as he continues his "hold-in."
Eventually, the Bears and Smith have to arrive at one of three outcomes:
The team and player come to terms on a new contract, and it sounds like Poles believes the two sides are close.
Smith determines that he needs to start preparing for the season and joins his teammates on the practice field while contract negotiations continue or end.
Poles determines the Bears won't be much better or worse with Smith on the field and decides to trade him.
Chicago plays its second of three preseason games on Thursday night. The Bears shouldn't have to continue dealing with the distraction any longer. The season opener is just 28 days away. That said, finding a trade partner might be difficult with so little time left. Not only would Poles have to find a team that can take on Smith's 2022 salary, but he needs to find a team willing to meet the linebacker's asking price, which is said to be $20 million per season on a five-year deal. Though the team and player are just $5 million apart, Smith is reportedly unhappy with the contract's structure.
"My view from the outside is, the Bears have made a number of, where it sounds like to me, compelling offers," NFL Insider Adam Schefter told Waddle & Silvy last week. "Now, I can be proven otherwise, but I've chatted about some offers with some of the people connected to the Bears, and I've run those numbers by other teams, and they're like, 'wow.' In their minds, they feel like it's fair."
If other GMs believe the Bears have offered Smith a fair deal, they may be reluctant to trade for the headaches that inevitably come with acquiring the All-Pro linebacker. Don't forget, Smith held out during his rookie season. He's now protesting the very deal he negotiated with the Bears. Smith doesn't have an agent, which makes seeking a trade on his own even more bizarre. It's been reported that a family member is consulting Smith. Perhaps that's who's calling teams on behalf of the 25-year-old linebacker.
Then there is the matter of trade compensation. What can the Bears get for Smith? Poles would have to think long and hard about an offer that consists of a first-round draft pick and a later selection. Other teams may not see Smith as that type of a difference maker, however. Smith has 14 sacks, five interceptions, and one forced fumble in his four-year career. Is that worth $20 million per season? Darius Leonard has nearly identical numbers except he's picked off 11 passes. Smith is well within his rights to demand to be paid in that range.
#Bears LB Roquan Smith is 1 of just 5 players in the last 28 years to have 500+ tackles, 10+ sacks & 30+ tackles for loss.#Bears HOF Brian Urlacher#49ers Patrick Willis#Bucs Lavonte David#Colts Shaquille Leonard

— NFL Rumors (@nflrums) August 13, 2022
If Poles continues to refuse to meet Smith's demands he should just part ways with the player. Smith isn't going to budge from his demands, and it sounds like there is going to be no middle ground, either. Rebuilding a team is tough enough without these kinds of distractions.
If the GM doesn't want to trade Smith, he shouldn't let $5 million and contract language keep his star player on the sidelines. That's one million per season. When a player and a general manager are that close in principle, they usually find a way to finalize a deal. Perhaps that's why Poles believes a solution is forthcoming.