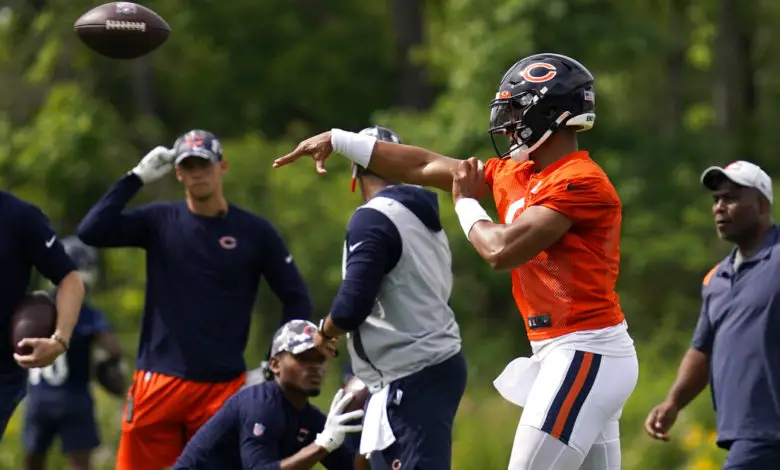 Key Areas of Improvement for Justin Fields
Second-year quarterback Justin Fields is supposed to be the big story at Halas Hall this month and next. Or rather, his progress and development should be dominating the headlines. Roquan Smith and Teven Jenkins had a thing or two to say about that, however. Smith is out while he waits for a contract extension, and Jenkins is out for a multitude of reasons that may include injury or lack of maturity. It's time to turn the focus back to Fields, and look at his key areas of improvement.
I dont care how Justin Fields looks in training camp on August 2nd. I saw him do this in a real game just last season. relax pic.twitter.com/lJhEncEEw8

— Chicago Football Connection (@CFCBears) August 2, 2022
Turnovers
Fields fumbled the ball 12 times in 10 games last season, and he threw 10 interceptions. That's not terrible until you consider he dropped back to pass just 270 times. As a rookie, those types of mistakes are expected, but not at that rate. He was tied with Kirk Cousins and Ben Roethlisberger for fourth-most fumbles in the NFL but was the only member of the top 10 with less than 10 starts.
To help eliminate some of those turnovers, offensive coordinator Luke Getsy and quarterbacks coach Andrew Janocko have worked to improve Fields' footwork and pocket awareness. They'd like to see him get rid of the ball a little quicker, too, and that comes with maturity. Of course, the staff wants him to take better care of the football so that it is not so easy for defenders to punch it out of his hands.
Fields finished tied for 18th in interceptions in 2021, but he was 31st in total pass attempts. He finished No. 32 in interception percentage as a result. Pocket awareness will help here too, and hide some of the minor flaws.
Scoring
As a rookie, Fields tossed seven touchdown passes and ran for two more. Yes, the offense was woefully bad last year and seemed unprepared for almost every opponent. He eclipsed 250 yards passing twice, though the Bears were playing from behind in what were eventual losses to the Steelers and Vikings. The second-year quarterback needs to start posting dominating offensive games that lead to wins. He finished 34th in the league in TD passes, and he trailed teammate Andy Dalton, who started six times.
The Bears have a stronger group of receivers this year and that will help. Chicago's new No. 1 receiver is Darnell Mooney while Allen Robinson, Marquise Goodwin, Damiere Byrd, and Jakeem Grant have left. New additions Byron Pringle, N'Keal Harry, Equanimeous St. Brown, and rookie Velus Jones Jr. will add more firepower to the offense. The Bears are expecting a big year from tight end Cole Kmet.
The two rushing touchdowns Fields scored last year seem puzzlingly low. Matt Nagy and Bill Lazor are to blame since they called the plays. The Bears didn't get into the red zone too often, either, so opportunities failed to present themselves. A high-powered offense with a strong running game will give Fields more opportunities to score. That said, the biggest change will be better play calling.
Avoiding Sacks and Quarterback Hits
Fields took 36 sacks in 2021 and was hit an additional 30 times. That's unfathomable considering his elite mobility. Part of the problem was a poor offensive line. Nagy also kept Fields in the pocket too often last year, especially in the Week 3 loss to the Browns when Cleveland registered nine sacks. Getsy will run a more mobile offense that plays to the strengths of its quarterback. But Fields will have to be a little smarter, too. Even with a bad line, a mobile quarterback has a chance to avoid backfield hits. Fields should look for completions after plays break down, throw the ball away, step out of bounds or just run. Yes, that's pocket awareness. Sense a theme here?
If Fields can avoid hits his completion percentage will undoubtedly improve. His interception rate will drop, and he'll complete more passes for 20 yards or more than the 28 he had last season. It all starts with footwork and pocket awareness. Once Fields masters each, he will take his game to the next level.