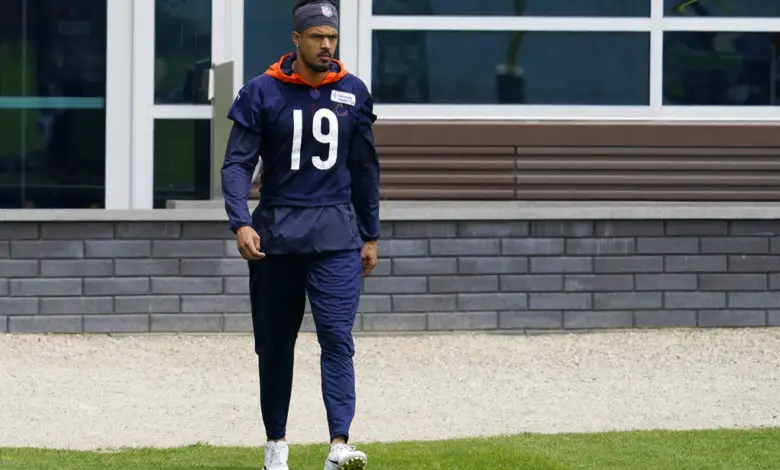 Equanimeous St. Brown Primed for Big Season
When the Bears signed Equanimeous St. Brown to a one-year deal in free agency, it was at the insistence of new offensive coordinator Luke Getsy. The former Packers wide receiver was buried on Green Bay's depth chart last season, but Getsy knows there is something special about his pupil. In fact, the offensive coordinator believes the 6-foot-5 pass-catcher is the big target Justin Fields needs and is primed for a big season.
"Luke came here, he called me right away, and he said he wanted me to come here," St. Brown said. "Me and my agent were exploring other options, too, and I felt like Luke wanted me here. And I know the offense already [so] I feel like I'm a great fit for this offense. So, right away the Bears were on my list of teams I wanted to go to, and then ultimately it came down to what's best for me and this was the best fit."
Getsy said he saw a transformation in St. Brown last year after Packers head coach Matt LaFleur cut the WR4 before the start of the season. Though he was later re-signed, he was a very minor part of Green Bay's offense. It has also been speculated Aaron Rodgers didn't like St. Brown.
This year, he has a bit of a head start on Chicago's other receivers because he already knows the offense. In that sense, St. Brown has been a "coach" of sorts on and off the field. He's been a help in the wide receiver room, too, not only as Getsy installs the offense, but as Matt Eberflus installs his HITS program. St. Brown will turn 26 in September, and this is the best opportunity of his career to be an impactful receiver.
"He's always telling guys to finish on any type of thing: individuals, routes on the air, and just the value of finishing," Darnell Mooney said. "There's a lot of things into that, that can come at random times where you have to finish. You never know, at any point in the play, that you have to finish. So he definitely brings that increase of confidence into the huddle and into our receiver room."
"I don't know where he gets his confidence from. I haven't asked him about it, but you can see it in the way he walks around, and just how he holds himself," Mooney added. "He's just very confident in the way he runs routes, and how he goes in and out of the huddle, and how he finishes."
St. Brown brings a different body type to the receiving group, and he's used that to his advantage through the first week of practices, high-pointing a couple of touchdown catches, including one on a scramble drill from Fields with Jaylon Johnson covering him. Johnson has shut down everybody at camp except St. Brown.
He's fast, too. St. Brown ran a 4.48 40-yard dash as a rookie and his combination of size and speed will pay big dividends if the receiver can hang on to the football.  He averaged 15.9 yards per catch in his first two seasons while using his size to help in the run game, but his pass-catching percentage has dropped every year. After grabbing 58% of his targets as a rookie in 2019, St. Brown came up empty on eight of 17 targets in 2021.
Getsy is glad to have the young man in Chicago, and doesn't mind saying so.
"I mean, I always liked EQ and thought he was a good player and then I saw him go through that adversity and the way he handled all that stuff," Getsy said. "And, I think all of those guys, the urgency is very high. That's what these guys are leaning on. That leadership and that experience that he went through. That's super for us and we're going to lean on that."
The Bears are going to be a run-first offense. Eberflus asked for playmakers who could block and amass chunks of yards with the ball in their hands.
"You want explosive, athletic ability there that can produce chunk plays," Eberflus said back in April. "So if you throw a screen, you want a guy that can take it and go for 15 or all the way. The controlled passing game is just that, but the athletes are the guys that make you miss. … So you have guys that are quick, explosive, and strong."
"This offense is big on the run game," St. Brown said. "I think I'm a great blocker, so I can do that for this team. And I'm big, I've got long speed and I can get those chunk plays. I also know every position, so that's a plus."
Expect St. Brown to see the field for 50-55% of the snaps, and as a big-bodied target, he'll compete with Harry for playing time if the new acquisition makes the team. I'd expect St. Brown to catch 30-35 passes for 450 yards and two touchdowns this season.
If St. Brown can put together a solid summer, he could be a big target for Justin Fields in Chicago's red zone offense. Even if he doesn't make a huge impact on the field, he's already making a big difference in practices.