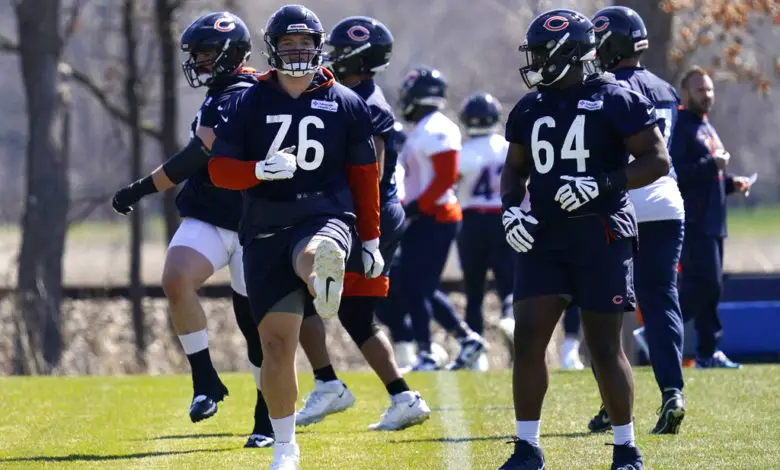 Bears Fielding Trade Offers for OT Teven Jenkins
Last week I posted an article suggesting Bears OT Teven Jenkins might not be a fit in Chicago's new regime. The 2021 second-round draft pick has yet to establish firm footing with the organization, and he's looking like another failed lineman from the Ryan Pace era. Reports surfaced today that the Bears are fielding trade offers for Jenkins.
The former GM was generally considered excellent in the later rounds of his drafts. Jenkins, however, represents another bust at the top end. Only six of Chicago's first and second-round picks during Pace's seven-year tenure as Bears' GM is still on the team's roster. In addition to Jenkins, Justin Fields, Cole Kmet,  Jaylon Johnson, Roquan Smith, and Cody Whitehair are still with the team.
As is often the case, a new regime is much more willing to part with draft picks they didn't make. We'll see what happens with the #Bears and Teven Jenkins. https://t.co/JdPDaeDvQR

— Mike Garafolo (@MikeGarafolo) August 1, 2022
Jenkins missed 11 games last season after undergoing back surgery. The 24-year-old has yet to participate in training camp as he is dealing with an undisclosed ailment. Larry Borom, a fifth-round pick in the 2021 NFL Draft, has been getting the lion's share of the camp reps at right tackle. Jenkins was demoted to the second string during the May minicamp. Last week the Bears signed free agent tackle Riley Reiff. In all likelihood, he'll man the left side.
Jenkins missed Chicago's first four practices. Head coach Matt Eberflus said that the tackle is "working through something with the trainers" and added he is "day-to-day." Mike Gundy, who coached Jenkins at Oklahoma State, said it "took some time" for the athletic lineman to take football seriously.
David Kaplan of NBC Sports Chicago offered a different take on his YouTube channel.
"What I'm hearing is there is a high level of disconnect between Teven and the new coaching staff," Kaplan said. "Especially, Chris Morgan, the new offensive line coach. That means you have a highly immature player who's got a lot of talent."
Kaplan added that one team source told him Jenkins is the Bears' "most talented" offensive lineman, yet he's "wildly immature."
The combination of injury issues and maturity concerns shouldn't prevent a Jenkins trade because of the tackle's elite athleticism. Injuries are one thing. But if Jenkins isn't taking his demotion well, that complicates things. The Bears aren't very deep on the line, so if there is interest in moving Jenkins, things have reached an untenable state.
Jenkins was taken with the 39th pick in the 2021 NFL draft after Pace and the Bears traded up to take him. He was considered a first-round talent out of Oklahoma State that fell to the second round.
Despite his failure to attend practices, Jenkins should receive plenty of interest if the Bears elect to trade him. The Dolphins and Raiders immediately come to mind as potential trade partners. Las Vegas assistant GM Champ Kelly was part of the staff that drafted Jenkins last year. Fans shouldn't expect much in return because Jenkins had back surgery last year, played just six games, and might be viewed as a malcontent.
Miami runs an outside-zone scheme. Jenkins is fast in the open field, and he's explosive in tight spaces. That's essential for success in a heavy outside-zone scheme and for an offensive lineman in general.
The Patriots might be an option, too. Bill Belichick loves reclamation projects and generally succeeds in helping those players reach their potential. According to SB Nation's Pats Pulpit, the Patriots had a virtual visit with Jenkins and attended his pro day prior to last year's draft.
While it may seem foolish for the Bears to part ways with a player they spent a high draft pick on, keep in mind that Chicago's new front office may not have the same view ofJenkins that the previous administration did. They were acutely aware of his strengths and weaknesses before assuming control in Chicago. It appears as if Jenkins has never been in their plans. The tackle mentioned that after the minicamp.
"It's about earning trust that I deserve to be on this team. I'm working for that trust."
In addition to signing Reiff, the Bears have also given plenty of opportunities to rookie draft picks Braxton Jones,  Doug Kramer, Zachary Thomas, and Ja'Tyre Carter. It's all part of a numbers game that doesn't seem to favor Jenkins. The Bears will keep eight offensive linemen and Jenkins is on the outside looking in. There is little doubt that that's eating at him.
Still, it may be tough to justify parting ways with a 6-foot-6, 320-pound tackle with starting experience. As Rapoport put it, this is a situation worth watching in Chicago. Things remain fluid, but a resolution will be forthcoming.