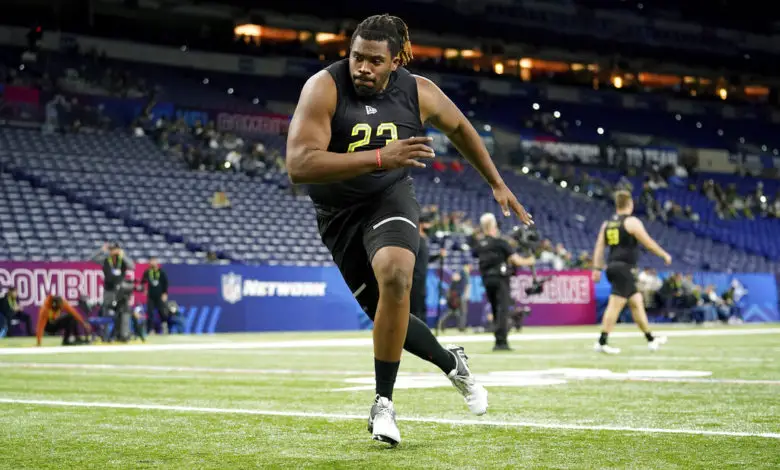 Braxton Jones Making Believers of Bears' Coaching Staff
It was a little surprising to hear that Teven Jenkins has been working with the second team during OTA's and last week's mandatory mini-camp. Head coach Matt Eberflus and offensive line coach Chris Morgan have been tinkering with combinations trying to find the best five starters, no matter their positions. Larry Borom and Lucas Patrick are early locks to start at one of the tackle positions and center, but surprisingly, rookie Braxton Jones has been running with the ones, and he's making believers of the Bears' coaching staff.
Braxton Jones is the Bears future franchise LT. Has all the tools/demeanor to be a stud. Had no business being available in Round 5. https://t.co/IGxG0qHOCg

— Chris Trapasso (@ChrisTrapasso) June 16, 2022
Jones, a 6-foot-7, 310-pound Senior Bowl standout, popped on the radar of the coaching staff in spring 2021. Many draft analysts felt Jones was the steal of the fifth round, and some believe Jones' junior tape was better than last season, which could be why he remained on the board into Day 3. The rookie was a three-year starter at Southern Utah and is a taller offensive tackle with long arms and average athletic ability. He has the frame and foot speed to develop into an effective zone blocker, though Jones is considered raw as a pass blocker.
Jones, who might have been drafted higher had he come out earlier, is exactly what Chicago was looking for in this year's draft. When rookie GM Ryan Poles was assessing how he expected to build his offensive line, he had players like Jones in mind. One of the first phrases that came out of the rookie GM's mouth at the time of his hiring is that Chicago will roll with the best five offensive linemen, regardless of how the team acquired them.
"What I've always loved is … you're going to have some players that, they're motivated, they got a chip on their shoulder," Poles said at the time. "So they play with a purpose. You want your name etched in the stadium. That's what kind of mentality you got to have."
"Through that, I think there's some young talent that just needs to be pressed," he added. "That's part of our job to create competition and bring the best out of them. We'll do that and we'll see if the cream rises to the top. Especially with the O-line play a lot of times — and I don't want to speak for the coaches — but it's gonna end up being the best five to roll out there."
Jones has made a quick ascension from swing tackle to starter over the course of a handful of OTAs, the rookie minicamp, and last week's mandatory practices. Though the staff is just staging things right now, Jones will likely enter camp with a slight edge on Jenkins, and possibly even Borom.
"I'll be honest with you, I was definitely a little bit surprised," Jones said of his reaction when he was told to run with the starters. "That surprise went away quick. It was thrown on me and it's time to go. It has been something that's really good for me to get that speed, the speed of going against guys like Roquan Smith. That's crazy, you know. It has been valuable for sure."
Whether Jones breaks camp as a starter remains to be seen. An injury to Dakota Dozier could force Jenkins over to right guard, the offensive line's weakest link. That could leave a starting spot for Jones, who will probably compete with Lachavious Simmons and fellow rookie Zachary Thomas. The competition to replace Dozier, who was no lock to start, will come done to Jenkins and Willie Wright.
In the meantime, Jones has been the talk of camp this summer. The rookie is eager to show up and battle for a spot as one of the starting five once training camp starts in July.
Rookie LT Braxton Jones has impressed with his intelligence, work ethic, length and improved hand technique ("Throw those babies," he said today). It's an encouraging sign. Will be fascinating to see if Jones can maintain his spot as the #Bears' No. 1 LT when the pads go on.

— Adam Hoge (@AdamHoge) June 16, 2022
"I assume it's going to be a lot different," Jones said. "Even though we're getting a good look right now in terms of speed with linebackers, you're not necessarily getting a bull rush. You're not getting somebody right down your face. It'll change big time, and from now until July 22 is going to be huge for me. I've got to gain ground on guys. I've got to get stronger.
"[I'm a] fifth-round guy, but it doesn't matter. I have an opportunity here, and it's a great opportunity to gain ground on some guys. I've got to get stronger, quicker, all that stuff, sharper in the playbook. It's really important for me when I go home to have a plan, and I do have a plan, [and] making sure I'm following that plan."
Eberflus is on record as saying the best five offensive linemen will start, no matter what. Starting a rookie tackle drafted in the fifth round seems like a bit of a bold move, especially on the left side. That Jones is still considered raw in pass protection is a bit of a red flag, but he's obviously proved his mettle to Eberflus and Morgan. Poles and Eberflus have said repeatedly that protecting Justin Fields is goal number one. If Jones is up to the task, he should start.
"We're going to finish off the minicamp with this alignment," said the head coach last week. "And then we'll decide at the end, 'Hey, we like this alignment, that alignment, or don't like either one, so let's go with a new one.' We're just assessing guys' talents, assessing their skill level, and going forward from there."
Right now, Jones is THE guy for at least one of the tackle positions. We'll see if he can hold onto it once the players put the pads on. I wouldn't expect the veterans to give up without a fight, which is all Poles and Eberflus really want in their search for Chicago's starting five.