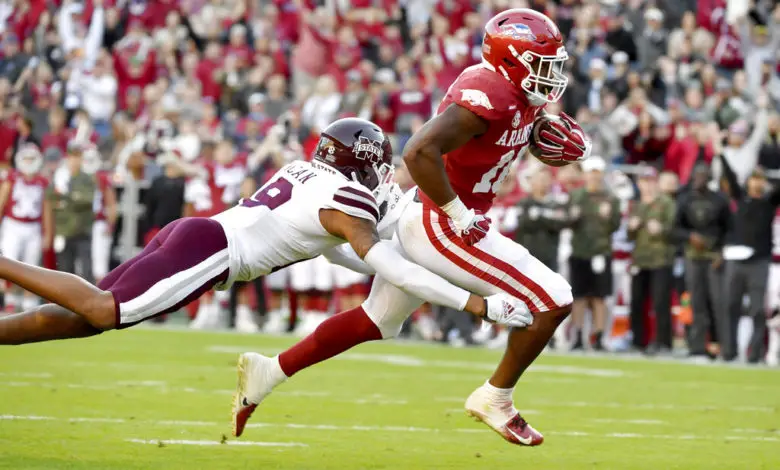 Bears Seven-Round Mock Draft 5.0
We are just one week away from NFL Draft Weekend, and Bears fans are still wondering what GM Ryan Poles has up his sleeve. Poles keeps things close to the vest and it's hard to get a read on what he wants to do. We know the Bears want to get faster and more violent, but other than that, nothing the team has done in free agency has tipped the hand of Chicago's front office.
The team's biggest needs remain the same as when Poles took over for Ryan Pace. The Bears need at least one wide receiver, help on the offensive line, and lots of help in the defensive backfield. As far as wide receivers, most analysts have settled on a consensus top 12, and with the Bears picking No. 39, at least one of the following should be available:
Of that group, Dotson, Moore, and Pierce seem to have the most helium, while Burks is dropping in a lot of drafts, and some analysts, such as Bryan Perez of The NFL Draft Network, have the Bears selecting Burks with their first pick in the second round. I love Watson, but I believe Pickens is the guy the Bears will pick if he's available. Unfortunately, in today's exercise, Pickens was selected by the Packers in the first round.
According to Brett Kollmann there were "Well-substantiated rumors he [Treylon Burks] was out of shape during the pre-combine training process" and it wasn't just a little bit.

I acknowledge it's lying season but Kollmann doesn't exactly fit with the drama/rumor-pushing crowds. pic.twitter.com/8XLNBztJgq

— Tyler Schoon (@tylerjschoon) April 17, 2022
Though I won't incorporate it into this iteration of my mock draft as I did with Mock 4.0, I still have a sneaking suspicion that the Bears could trade David Montgomery on draft day. He's entering the final year of his contract, running backs aren't as essential to offenses as they used to be, Poles is seeking to acquire more draft picks, and Montgomery is probably his best trade chip. If anything, all the earmarks are there, especially when you consider that Khalil Herbert might be a better fit in Luke Getsy's offense.
I did use the PFF Mock Draft Simulator for this version of the exercise, and I fielded all trade requests, choosing the ones that made the most sense considering the Bears' needs and which players were available at the time of the offer. I also used the advanced settings feature, leaning heavily on the site's expertise while keeping randomness at a minimum. Obviously, I also concentrated on needs.
Using the draft tool, I did swing two trades. I traded the No. 48 pick that the Bears acquired from the Chargers in the Khalil Mack trade to the Broncos for No. 64, No. 96, and No. 116. When you add the sixth-round pick next year that Poles also picked up, that's a pretty substantial haul for Mack. I then traded the No. 148 pick to the Titans for Nos. 169 and 219. That's a total of three extra picks this year, and a better opportunity to add value and depth to a roster badly in need of both. The caveat here is that I doubt Denver would do that trade considering it would leave them with just six picks, but it was offered to me, and of course, I accepted. I was surprised that the site's analyzer graded that trade a C+, but that's probably because I was primarily focused on needs.
If you're interested in my previous mocks, you'll find plenty of consistency in my selections starting with the first mock I published back in February.
As an added bonus this year, I am going to live blog the first three rounds of this year's draft, and I'll have full-page write-ups on each of the Bears' picks, and any surprise trades that may occur.  Here are my selections after a flurry of pre-draft trades:
Round Two, 7th selection, No. 39 overall – Treylon Burks, WR, Arkansas
Frankly, I was surprised Burks was available and I couldn't pass on a first-round talent that deep in the draft. Burks is the best blocking wide receiver in the draft, but he's also a physical receiver with an ideal combination of size, speed, and athleticism. D.K. Metcalf is an ideal comparison, but an underwhelming 40-yard time of 4.55 by Burks at this year's combine has caused his stock to fall. The Arkansas wideout tends to cheat on his routes, which may lead to passes by Justin Fields landing at the intended target but away from his receiver. He's also slow off the line, so scouts will have to decide if that 40-time is legitimate or an anomaly. Burks is in danger of dropping to the bottom of the receivers list for those reasons.
Round Two, 32nd selection (acquired from Denver), No. 64 overall – Christian Watson, WR, North Dakota State
I was surprised again, and more so, that Watson was available so I had to grab him. Though an offensive lineman or cornerback was probably the safer pick, there were a number of players at each position available, and Watson was the last of the top 12 receivers still on the board. The value here is insane because Watson has the highest ceiling at the position, and in fact, has been compared to Randy Moss. He also has the lowest floor and will need to be a better catcher to succeed in the NFL.
Christian Watson (WR, NDSU) is a legitimate option for the #Bears on Day 2 pic.twitter.com/e5NLAXRalJ

— Bryan Perez (@BryanPerezNFL) February 3, 2022
Round Three, 7th selection, No. 71 overall – Darian Kinnard, T, Kentucky
I mentioned this was a deep draft and the fact that Kinnard was still available blew my mind. I would have taken with the pick I used to grab Watson but was convinced the behemoth tackle would still be available at this pick and I was correct. At 6-5 345, Kinnard a tackle who will likely transition to guard in the pros and could challenge Larry Borom for a starting position. I'm not sure why Kinnard gets little love in these mocks. I have him graded as a first-round tackle, though most analysts don't even list him among their top 10. Kentucky overhauled their offense going into Kinnard's senior season, and because the entire team struggled, he may have slipped through the cracks. This pick is a steal.
Round Three, 32nd selection (acquired from Denver), No. 96 overall – Jalyn Armour-Davis, CB, Alabama
It's not often that you find a draft-eligible developmental defensive back that played for the Crimson Tide, but Armour-Davis was a one-year starter in college. I admit this is a sizeable reach, but it looked like the junior defensive back would probably go to the Lions or Saints in one of the next two picks so I grabbed him. Armour-Davis will appeal to Poles because he's fast, has pro-level burst, and he plays with a high motor. He's a willing tackler who really sticks receivers, and though he's probably a year two starter, he'll help on special teams and could see enough snaps as a rookie to grab a starting position by year's end. His frame, willingness to engage, and blazing speed will endear him to Bears fans.
Round Four, 11th selection (acquired from Denver), No. 116 overall – Darrian Beavers, LB, Cincinnati
Beavers is a prime example of the depth in this year's draft. He's a physical, imposing, intelligent LB prospect who possesses schematic and positional versatility. He's a heavy hitter, which is exactly what Poles and head coach Matt Eberflus are looking for at the position, but he lacks initial burst. Beavers excels on delayed blitzes, but his coverage skills need improvement. The best way to describe the 6-4 linebacker is that he is very good at a lot of things but lacks an elite skill. Beavers can play safety if needed, but he's probably better suited as a strong-side linebacker where he can be effective covering a tight end or stopping the run.
Round Five, 7th selection, No. 150 overall – Jelani Woods, TE, Virginia
Woods is one of the fastest tight ends in the draft, and will come to camp as the first backup to Cole Kmet, and could eventually displace the third-year end as soon as the 2023 season. The Oklahoma State transfer had a breakout campaign as a senior, and at 6-7, 260, he's another big target for Fields and a guy likely to have a lot of success under the tutelage of Getsy. Woods will create favorable mismatches as a pro, and his blend of size, length, and agility is off the charts. He needs work as a blocker, but that can be taught, and the Bears have one of the best in tight ends coach Jim Dray. PFF gave me an A+ for this pick.
Getting rave reviews at the Shrine Bowl, It's time for Jelani Woods to start getting the praise he deserves

Massive mismatch with a 6'7 259 frame who moves well in and out of breaks

Business decisions are often made when defending Woods
pic.twitter.com/PcuWzyPQ6R

— Joe O'Leary (@TheHQNerd) February 1, 2022
Round Five, 26th selection (acquired from Tennessee), No. 169 0verall – Verone McKinley III, S, Oregon
PFF gave me a D- for this pick, and there's a very good chance McKinley will go undrafted, but I like his tape and his ability to hit. That said, he has average skills across the board, needs a lot of coaching, and may never make an impact as a pro. He has good instincts and great hands, so there's at least something to work with, but the Bears aren't really in a position to draft projects, and I've taken twp in the defensive backfield. That grade was earned.
Round Six, 7th selection, No. 186 overall – Matt Waletzko, T, North Dakota
A tall, athletic left tackle who was a three-year starter in a run-oriented offense, Waletzko will need to hit the weight room if he is going to take on the league's elite pass rushers. He plays with a nasty demeanor and is an excellent run-blocker, able to get upfield quickly or quickly move laterally on jet sweeps. Still, Waletzko is a project as a pass-blocker until he adds strength. He was better than capable in a small collegiate program, but he has a lot of work to do to transition to an NFL regular.
Round Six, 39th selection (acquired from Tennessee), No. 219 overall – Luke Tenuta, T, Virginia Tech
At 6-8, 320, Tenuta is a giant among men, though he'll need to add some weight to play tackle in the NFL. That said, he has deceptive strength and often shocks defenders with his combination of speed and power. Tenuta firmly holds his ground as a pass blocker, is difficult to get around and hard to get through. Tenuta possesses a mauler mentality and plays tough and violent with a red-hot motor that ensures he doesn't stop until the play is dead. Tenuta also shows impressive grip strength and can play left or right tackle. At Indianapolis, he recorded a 5.41 40-yard dash, an 8'8″ broad jump, and a 26″ vertical jump. His biggest drawback is that he has short arms relative to his size. Tenuta is definitely a project but is also someone who possesses every single trait Poles is looking for on the offensive line.
One sleeper 2022 draft prospect I'll pound the table for is Virginia Tech OT Luke Tenuta.

He's 6-9, he's a very good lateral athlete for his size and has nice grip strength. Would love the #Bears to give him a look as a swing tackle.

(🎥: @ZachHicks2) pic.twitter.com/IrlGaoSeZf

— Jacob Infante (@jacobinfante24) January 3, 2022