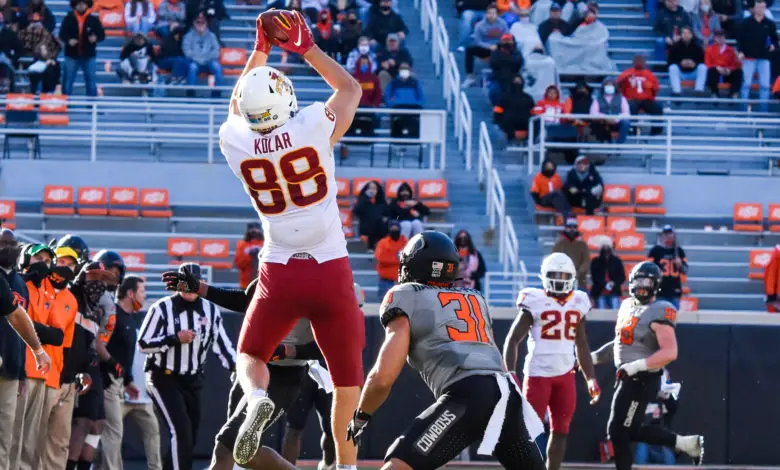 Bears Seven-Round Mock Draft 1.0
The last week of April is still a long way away and the Bears haven't even decided who their next head coach and general manager will be, but that doesn't mean we can't release our first seven-round mock draft. With a little elbow grease and a lot of motivation, I'll provide updates every three weeks between today and the end of April, with a special update just after this year's scouting combine.
He's one of the greatest Cyclones of all-time. #WilliamVCampbellTrophy@charliekolar_

🌪️🚨🌪️ pic.twitter.com/ENaZtoTNFu

— Iowa State Football (@CycloneFB) December 10, 2021
Before getting into the mock draft, it's important to recognize some of the changes the NFL has made this year regarding pre-draft evaluations and meetings. The league released new guidelines just before its Week 18 games.
In a memo obtained by the Associated Press that was sent to clubs two weeks ago, the NFL said a team would forfeit a draft pick between the first and fourth round and be fined a minimum of $150,000 if it's determined a club representative displayed conduct that is "disrespectful, inappropriate, or unprofessional" during an interview. Fines and/or suspensions of individual club employees also could be imposed, according to the memo.
The league is also doing away with the Wonderlic test at the combine, and on-field drills will better simulate game-related movement. Wide receivers and tight ends will run crossing routes instead of wheel routes, for example, and running backs will run option routes instead of corner and post-corner routes. The combine will be held March 1-7 at Lucas Oil Stadium in Indianapolis, IN.
Chicago's new staff will head to Indianapolis with several needs, and improving at wide receiver and in the defensive backfield will likely be priorities. Chicago could also use some help on both the offensive and defensive lines. The Bears enter the offseason with 25 unrestricted free agents, so expect the new general manager to be busy in free agency. They also do not have a first-round pick. Ryan Pace traded this year's No. 1 pick to the Giants in the Justin Fields acquisition.
The new general manager will head to Paradise, NV for this year's festivities armed with five picks, barring any trades. Chicago has their own selections in rounds 2,3, 5, and 6, plus an extra fifth-round choice that was acquired when Pace sent WR Anthony Miller to the Texans.  With that in mind, let's get into our 2022 Mock Draft 1.0.
Round Two, 7th selection, No. 39 overall – George Pickens, WR, Georgia
Pickens is a 6-3, 200-pound junior with an 83.9 grade, and could easily be the biggest boom-bust prospect in the draft class. He has quite possibly some of the most natural receiving talent in the draft, demonstrating elite skills.
Pickens is still recovering from a catastrophic ACL injury, and even before the injury hardly possessed the blazing speed you look for in an outside receiver.
That injury occurred in March 2021 and kept Pickens out until Georgia's regular-season finale. Before the injury most predicted he'd be one of the first receivers off the board. How he does in the combine will determine if he leaps back into the first round or falls into the mid-to-late rounds. Of note, the young receiver carries some behavioral red flags that need to be thoroughly vetted ahead of the draft. It may just be immaturity, but combined with his injury, could cause Perkins to slide to the middle rounds.
Backup selection – Logan Hall, DE, Houston
Round Three, 7th selection, No. 71 overall – Jaxson Kirkland, OT, Washington
Because the top of the draft will be very defense-heavy, Kirkland, who is a late second-round talent, could fall to the Bears at No. 71 overall. The 6-7, 310-pound junior has played both guard and tackle for the Huskies, just the type of versatility that Chicago's scouts love.
Kirkland is not injury-prone though he did miss two games as a sophomore. To make an impact, he'll need to remain healthy. He's got NFL-quality pass blocking skills though he can struggle against speedy edge rush rushers. His run-blocking needs work. Kirkland will need to build a little more muscle and if he does, he could start from day one. His pass protection skills will make Fields happy.
Backup selection – Lewis Cine, Free Safety, Georgia
Round Five, 5th selection, No. 133 overall – Trill Williams, DB, Syracuse
The 6-2, 198-pound defensive back is a big hitter in the mold of former Bears Dave Duerson and Todd Bell and could be a Round 5 steal. Williams is long, rangy, athletic, physical, and aggressive. His physical skill set is exceptional and he is springy and explosive, capable of thriving in both man and zone coverage. He is versatile enough to play safety or wide corner, where his size and speed would be imposing and make him a matchup neutralizer. Williams could even be a hybrid linebacker of sorts in blitzing situations.
Backup selection – Dante Stills, DT, West Virginia
Round Five, 7th selection, No. 135 overall – Charlie Kolar, TE, Iowa State
The Bears love Cole Kmet, but by the time summer starts he could be the only tight end on the roster. Kolar, a late fourth-round talent, could fall to the Bears and would be a perfect backup to Kmet. A 6-foot-6 blend of elite pass-catching skills, athleticism, and steady bocking, Kolar's stock took a gut punch this fall because many of his peers had outstanding seasons. That said, his production remained consistent, and he has arguably the best hands of any pass catcher in the draft. He's everything a pro scout looks for in an immediate impact tight end, and like Williams, would be a fifth-round steal.
Backup selection – Chris Owens, G/C, Alabama
Round 6, 9th selection, No. 169 overall – Jaquarri Roberson, WR, Wake Forest
Nothing too sexy about this pick, but Roberson is a sound route-runner with decent hands who meets the size and speed minimums for the NFL game. The 6-2, 182-pound receiver will need to add some weight and strength, but he would be a savvy addition to Chicago's receiver corps.
He doesn't have elite speed, but once he gets into the open field he's rarely caught from behind. Roberson topped 1,000 yards receiving this year and tied his career-high with eight touchdown catches. Best of all, he knows how to get open, so this selection would be much more than just a depth pick. Roberson could start the 2022 campaign as the team's WR3 or WR4.
Backup selection – DJ Dale, DT, Alabama