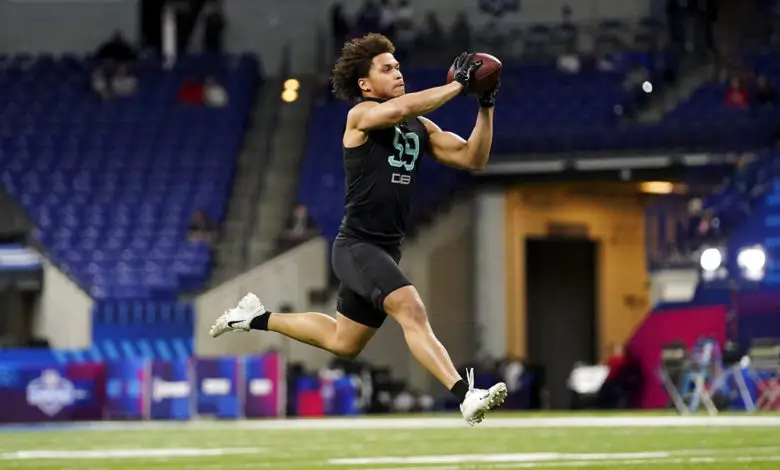 Bears Seven-Round Mock Draft 4.0
When the offseason started, there were two things I was deadset against. The first was trading running back David Montgomery, and the second was creating a mock draft that includes draft day trades. In my latest Bears' seven-round mock draft, I'm doing both, and it is only after days of deliberation and playing around with the PFF mock draft simulator.
Trading Montgomery wasn't as difficult as I thought it would be. The Bears have a great replacement in Khalil Herbert, and he may be a better fit on Luke Getsy's offense anyway, and GM Ryan Poles needs to accumulate draft picks because he only made moves on the periphery in free agency. Further, there have been no extension talks with the incumbent starter, so it's better to collect an asset or two in trade.
I thought about making a blockbuster trade with the Chiefs that would have sent Montgomery and the Nos. 48 and 71 selections to the Chiefs, but I decided to veer a little further off my path in order to get two extra picks.
Trade 1: Montgomery and a fourth-round pick in 2023 to the Falcons for picks 58 and 82.
Trade 2: Send picks 48 and 71 to the Chiefs for Nos. 50, 62, 233, and 243. The mock simulator said there was a 77% chance Kansas city would accept the trade so I pulled the trigger.
The two deals leave the Bears with four second-round picks (39, 50, 56, and 62), one third-round pick (82), two selections in the fifth round (148 and 150), a single sixth-round pick (186), and two more in the final round (233 and 243). That's 10 picks and all-in-all, and a round of applause for Poles. Bear in mind that adding trades to a mock draft makes it more fictional than projection, but it also adds a little fun. Though the trades are fair, they're also highly unlikely, but let's run with it anyway.
Jalen Pitre's 88.6 PFF Grade is the highest by a Big 12 Safety since 2019 🐻pic.twitter.com/u5WB6zwMOD

— PFF College (@PFF_College) March 15, 2022
Pitre is one of the fastest risers on this year's draft board and I always landed at this exact same pick after running about 25 simulations. The 6-foot, 200-pound defensive back entered the Senior Bowl as a highly decorated AP First Team All-American that was recognized as one of college football's best defensive back prospects. Heading into the offseason he was projected as a mid-third rounder, but a standout performance in the Senior Bowl turned heads, and he had an outstanding combine, running a 4.43 40-yard dash with a 35″ vertical leap. He can play man or in the box as a safety and a lot of NFL scouts believe he can be a top cornerback as well. That kind of versatility is just what Poles is looking for at a position that has become the team's most significant need.
Round Two, 18th selection, No. 50 overall (acquired from Chiefs) – Abraham Lucas, OT, Washington State
Poles said he wants aggressive pass protectors who are "tough and violent" and Lucas brings plenty of both. Considered one of the best blockers in this year's class, Lucas was barely beaten by the top-level NCAA rushers. He's another player whose stock has gone up considerably since the collegiate season ended. At 6-7, 332 pounds, Lucas is a prototypical tackle who plays best in a quick-timing offense In other words, he checks all the boxes.
Round Two, 24th selection, No. 56 overall (acquired from Falcons) – Christian Watson, WR, North Dakota State
Poles has interviewed Watson at least twice, once at the Senior Bowl and again at the combine and by all accounts, Chicago's GM is enamored with the 6-4 wideout who ran the 40 in 4.36. Check any scouting site and they will tell you that Watson may have been the best overall athlete at Lucas Oil Stadium in Indianapolis. So why isn't he a first-rounder? Lack of elite competition because he played at NDSU, and concerns about his hands, though he was much better his senior season. He still may go in the first round, and Atlanta probably would have selected Watson with this pick if they hadn't traded for Montgomery in my simulation.
Round Two, 30th selection, No. 62 overall (acquired from Chiefs) – Cameron Thomas, EDGE, San Diego State
Thomas is also rocketing up the draft boards because of his elite athleticism and ferocious ability to get to the quarterback. A former defensive tackle turned edge rusher prior to the 2020 season, Thomas' versatility along the defensive front presents an awfully intriguing pro projection moving forward. He's spent his entire college career facing double and triple teams and still manages 22 sacks in three seasons, including the COVID-shortened 2022. He'll remind folks of Dan Hampton because they have similar builds and like Hampton, there's no quit in Thomas' game. Though the draft is deep in pass rushers, Thomas still feels like a steal with this pick.
https://twitter.com/SchutteCFB/status/1203515036595040257
Round Three, 18th selection, No. 82 overall (acquired from Falcons) – Jeremy Ruckert, TE, Ohio State
Buckeyes wide receiver Chris Olave was never going to fall to the Bears at No. 39, but second-year quarterback Justin Fields does get a familiar face in Ruckert, a top-three tight end on most draft boards. That said, he wasn't much of a target at Ohio State, catching only 51 passes for 590 yards and 12 scores in his entire collegiate career. Rucker blocks as well as he catches, and would be a nice backup to Cole Kmet and in formations where Getsy deploys two tight ends.
At 6-7, 310-pounds, Waletzko makes a nice tackle bookend with second-round selection Lucas. The senior from Cold Spring, MN is better at run blocking than he is defending the pass rush,  but plays the run with a finishing attitude and an aggressive, nasty temperament. Sounds like Poles could have created him in a lab.
Round Five, 7th selection, No. 150 overall – Josh Johnson, WR, Tulsa
Mock 3.0 Selection – Charlie Kolar, TE, Iowa State
Mock 2.0 Selection – Kolar
Mock 1.0 Selection – Kolar
Johnson is a small but athletic possession receiver with good hands and a knack for turning on the burners once he gets the ball in his hands. He doesn't have elite speed, but rarely gets caught from behind. Johnson is an over-the-middle receiver who provides value on special teams, though he can go deep if needed. The reliable wideout accumulated 60 receptions for 709 yards in 10 games this season, both career highs.
Though he will never be confused with Brian Urlacher, if you were looking for a slightly smaller, tastes-great, less-filling facsimile of the player the Bears drafted ninth overall out of New Mexico in 2000, Domann is your, er, man. The Nebraska product is built like a prototypical linebacker at 6'1″, 226 pounds, but has the versatility to cover a lot of defensive positions. He'll enter the league as a 25-year-old rookie, and has already had two ACL surgeries. At worst, he's a solid special teams player who can give you reps as a third or fourth OLB.
Round Seven, 11th selection, No. 233 overall  (acquired from Chiefs)- Hassan Haskins, RB, Michigan
With Montgomery traded to the Falcons and Herbert taking over as the starter, Poles picks up a running back in Haskins who is the perfect combination of size and strength. At 6-1, 220-pounds he's a prototypical workhorse who's difficult to tackle. Haskins is also a strong finisher who often punishes tacklers, can absorb hits, and always keeps his legs churning.
Round Seven, 21st selection, No. 243 overall (acquired from Chiefs) – Ben Brown, G, Ole Miss
Brown is a depth pick that probably won't challenge Larry Borom for a starting position and will likely take some time to develop at the pro level. The 6-5, 315-pound senior possesses a high football IQ and is a tireless worker with a bit of nasty attitude when blocking downfield. His technique needs a lot of work but by the looks of things, Poles wants to create an offensive line factory and Brown could be a guy who earns snaps as the season progresses and challenge Borom in 2023.
If you'd like to check out our previous mocks, here are the links: