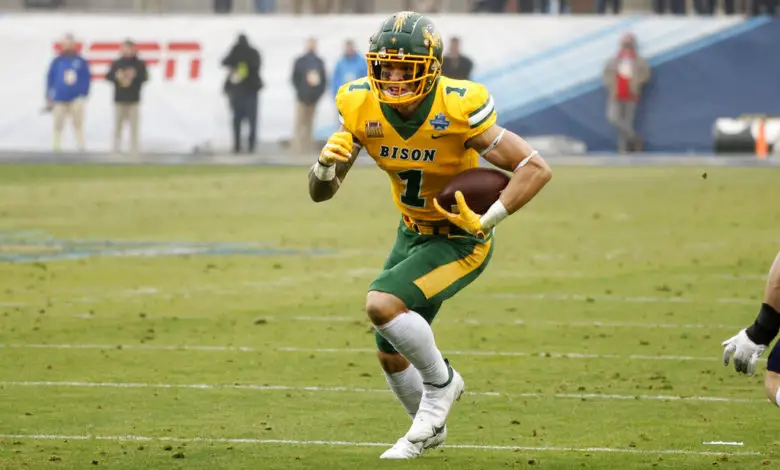 Bears Seven-Round Mock Draft 2.0
The Bears have a new GM, head coach, and coaching staff in place since we published Mock Draft 1.0 a month ago, so naturally, we have a little bit better of an idea as to which way the organization might lean in April's draft. Today I present Mock 2.0, and as stated previously, I'll provide at least three more updates between today and the kick-off of this year's event.
TOUCHDOWN, Bison! Quincy Patterson hits Christian Watson in stride for a 67-yard score.

NDSU 6, Towson 0. pic.twitter.com/Fs322XVXTg

— NDSU Football (@NDSUfootball) September 18, 2021
Before getting into the mock draft, it's important to recognize some of the changes the NFL has made this year regarding pre-draft evaluations and meetings. The league released new guidelines just before its Week 18 games.
In a memo obtained by the Associated Press that was sent to clubs last month, the NFL said a team would forfeit a draft pick between the first and fourth round and be fined a minimum of $150,000 if it's determined a club representative displayed conduct that is "disrespectful, inappropriate, or unprofessional" during an interview. Fines and/or suspensions of individual club employees also could be imposed, according to the memo.
The league is also doing away with the Wonderlic test at the combine, and on-field drills will better simulate game-related movement. Wide receivers and tight ends will run crossing routes instead of wheel routes, for example, and running backs will run option routes instead of corner and post-corner routes. The combine begins this Tuesday at Lucas Oil Stadium in Indianapolis, IN.
Ryan Poles and his staff will nominate delegates to head to Paradise, NV for this year's festivities armed with five picks, barring any trades. Chicago has their own selections in rounds 2,3, 5, and 6, plus an extra fifth-round choice that was acquired when Pace sent WR Anthony Miller to the Texans.  With that in mind, let's get into our 2022 Mock Draft 2.0.
Feel like we've probably said this a few times before, but ……

Christian Watson. TO. THE. HOUSE. pic.twitter.com/oB16QdliCQ

— NDSU Football (@NDSUfootball) November 20, 2021
Pickens is gaining momentum in recent assessments and a good combine could make him a top 25 pick in a draft that is deep with wide receivers. I believe the Bears will attack their biggest need, offensive line, in free agency, and could look to find a couple of defensive backs that way, too. The selection of Watson allows Poles to take the best athlete available and fill one of the team's three biggest needs.
The Bears need to find a No. 1 wide receiver and if Watson falls to them at No. 39, Poles might feel like the luckiest GM in the league. With Drake London, Garrett Wilson, Jameson Williams, Chris Olave, Treylon Burks, and Pickens all expected to go in the top 35, the 6-5, 215-pound Watson would represent the top deep threat on the board when Poles makes his first choice. He's inexperienced, played in the FCS, and would feel a little bit like a Ryan Pace selection.
By all accounts, Watson possesses elite athletic skills, speed (4.38 in the 40), length, and size combined with decent hands and excellent concentration. He's also an effective runner out of the backfield and will perform well in an offense that makes use of jet sweeps, fakes, and bootlegs. A breakout star in this year's Senior Bowl, Watson is a unique blazer for his size, and his ability to glide past secondary defenders is a trait unseen from many of today's pros.
Watson has been compared to Randy Moss for his separation ability, size, and skills. He's an excellent kick returner and is one of the better blocking receivers in the draft. If he is there when Chicago makes its first selection, and he may not fall past the Texans at No. 37, it will be a very successful first-ever selection for Poles.
Backup selection – Jahan Dotson, WR, Penn State
Cine, who is currently No. 83 on my draft board, is more of a need pick as he would allow the Bears to move current free safety Eddie Jackson to slot corner. Described as a "violent hitter," the 6-1, 200-pound defensive back is ready to start from day one and helps fulfill Poles' promise to field a far more physical team. In fact, he hits so hard he is the anti-Jackson, terrifying receivers while rarely losing one-on-one tackles.  Cine will provide premium run support and possesses pro-grade deep coverage skills, though he is a tad slow on the snap and tends to compensate by being overly aggressive at times.
Backup selection – David Bell, WR, Purdue
Another big riser from this year's Senior Bowl, Stueber more often than not got the better of his defender in team drills. Almost every scouting report describes the 6-7, 327-pound offensive lineman as "solid" but Stueber flashes the nasty demeanor and killer instinct that pro scouts covet. His efforts in one-on-ones were also terrific, and he excels as a run-blocker who will take up some serious real estate in the middle of the line. Stueber played mostly tackle in college but is better suited for guard in a pro offense where he can leverage his above-average mobility to open up first-level lanes and create clear pathways into the secondary.
Backup selection – Max Mitchell, OL, Louisiana
I still love the Iowa State tight end for the Bears with this selection.
The Bears love Cole Kmet, but by the time summer starts he could be the only tight end on the roster. Kolar, a late fourth-round talent, could fall to the Bears and would be a perfect backup to Kmet. A 6-foot-6 blend of elite pass-catching skills, athleticism, and steady bocking, Kolar's stock took a gut punch this fall because many of his peers had outstanding seasons. That said, his production remained consistent, and he has arguably the best hands of any pass catcher in the draft. He's everything a pro scout looks for in an immediate impact tight end and would be a fifth-round steal.
Backup selection – Matt Waletzko, OL, North Dakota
Turner is a lottery pick who would otherwise go as a UDFS because he lacks size and possesses average quickness at best. Drawing inspiration from Rams All-Pro tackle Aaron Donald, Turner has a high motor and impressive hands. Turner will beat offensive linemen in front of him with his hand speed, strength, or sneaky-quick first-step. He's the obligatory diamond-in-the-rough all-hustle team player with little quit and a knack for finding a loose ball. Turner can get into an offensive backfield quickly, and seven of his 30 tackles this year resulted in negative yardage.
Backup selection – Logan Bruss, OT, Wisconsin