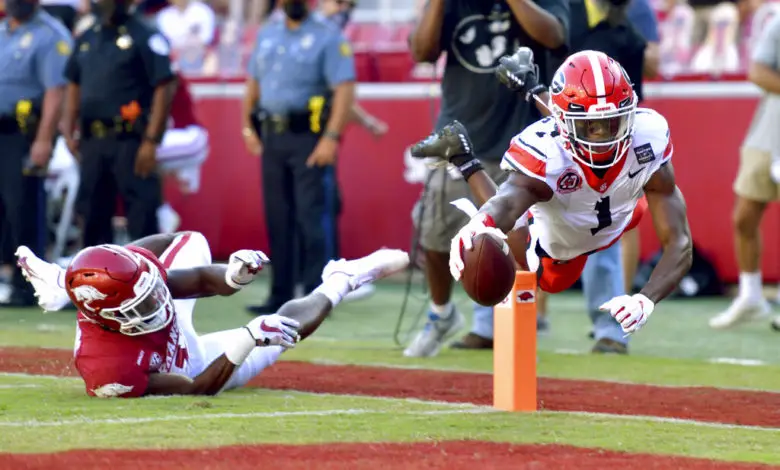 With NFL Draft Approaching Bears Still Need Playmakers
Upon being hired in February, GM Ryan Poles stressed that one of his main goals was to find high-impact players that would help further the development of second-year quarterback Justin Fields. While shopping the second and third tiers of the free-agent market, Poles signed wide receiver Byron Pringle and Equanimeous St. Brown, and though that doubles the population of the receivers room, both are role players, and neither will supplant Darnell Mooney as the team's top wideout. We are 17 days away from this year's NFL draft, and the Bears still need to find playmakers.
It is doubtful Poles will allow Fields to enter training camp without a legitimate WR1, and though free agents Julio Jones, Jarvis Landry, and Odell Beckham Jr. are still available, the Bears will have to find a replacement for Allen Robinson in the draft. The newly minted GM reportedly spent a lot of time scouting Chris Olave and Christian Watson at the combine — he reportedly interviewed Watson twice — and admitted that the team's best chances to upgrade the passing game will come in the draft.
"I will say one of the benefits of the combine is you get to see some of the physical traits as well — what sets them apart," Poles said in Indianapolis. "Is it size? Is it length? Is it explosion? Is it speed? We'll put all that together. But I would say that all boils down to just being a playmaker.
"They come in different shapes and sizes and speeds," he added. "I think it comes down to playmakers. I think we saw that in the Super Bowl. Guys that can make plays when their number is called, and that's what we look for, and you can see that on college tape."
The Bears don't pick until day two of this year's event, their first pick being No. 39 overall. Olave will probably be gone by then, but Watson and George Pickens could still be available, and David Bell, Skyy Moore, and John Metchie III will likely be available. Chicago obtained the No. 48 pick in the trade that sent Khalil Mack to the Chargers, and the Bears also need help at tackle and in the defensive backfield.
Expect one of the following wide receivers to be selected by Chicago in either the second or third rounds, depending on availability, and ruling out the top tier options, of course.
Don't be surprised if Poles trades one of those top two picks in an effort to move down and acquire an extra selection or two. Right now, the Bears have just six picks total and they could use another 20 players to fill out their training camp roster. Expect the first-year executive to be very active in the undrafted free agent market.
If Poles doesn't trade out of the second round, it's not out of the realm of possibility that he could select an offensive lineman, such as Zion Johnson, and/or a defensive back, perhaps Jalen Pitre. If he waits until the third or fourth rounds to give Fields a weapon or two, the Bears might go with Bell, Pierce, Ross, or Metchie, if they're available. The thing is, every team will be looking for playmakers, and those that pass on a wide receiver in the first round will likely be looking at a lot of the same players the Bears view as second-round options.
Using the PFF Draft Simulator, here are samples of Chicago's draft, based on best player available and also based on need, absent of any trades to acquire extra selections:
Best Player Available
Need-Based
Neither of those will get most Bears fans too excited but both grade as "A" drafts. That said, it appears the Bears are in an awkward spot where they won't get a playmaking receiver without trading up (which they can't do), reaching for a lesser talent (which they shouldn't do), or filling other needs (the correct and obvious path). That's the way the cookie crumbles sometimes, and Poles may seek to trade down as often as possible to compensate. There are about 75 players with similar grades that will be available in the third, fourth, and fifth rounds.
However, it might be a long season if Poles doesn't find some weapons for Fields, and head coach Matt Eberflus, who knows a thing or two about defenses, is aware.
"You want explosive, athletic ability there that can produce chunk plays," he said at the combine. "So if you throw a screen, you want a guy that can take it and go for 15 or all the way. The controlled passing game is just that, but the athletes are the guys that make you miss. … So you have guys that are quick, explosive, and strong.
"They have to be strong at the point of attack to be able to block. We're gonna put a big onus on the running game. They have to be able to do that. Then you have to have different traits at different positions. One guy might be quick and he's really a short-route runner. Another guy can do it all. That would be our No. 1 receiver. Should be able to do that. And the other guy should be able to take the top off the defense. That puts stress on the defense."
Based on that description, the most logical picks for the Bears would be Pickens or Metchie. Burks has been dropping on some boards and he has some of the best tape when it comes to dominating defenders in the run game. I can't see any scenario where he makes it past the Packers, however, who have two first-round selections and a need after trading Davante Adams.
"Growing up, you either give the blow or you take it," Pickens said recently.
The Georgia wide receiver was our top selection in our very first mock draft just after Poles and Eberflus were hired. Perhaps he's simply been the guy all along.