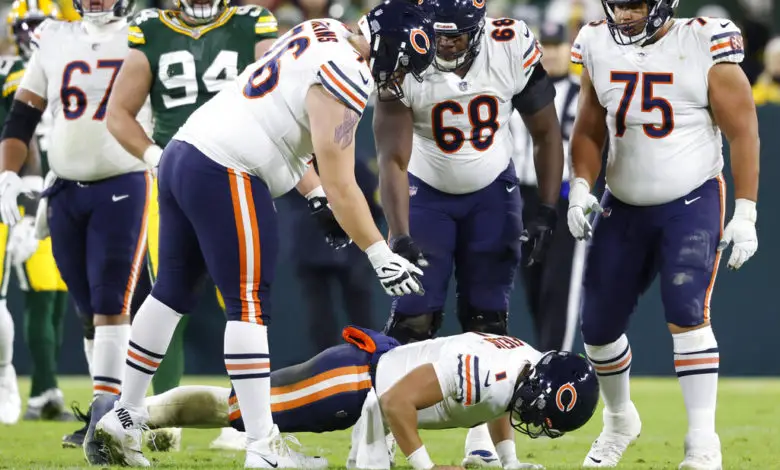 First & Long: Bears Ready to Get to Work, Fields Torches Nagy's Game Plan, Front Office Stresses Patience During Rebuild
A new era of Chicago Bears football officially kicks off this Monday when the team begins its offseason training program. New head coach Matt Eberflus will finally get to meet the bulk of his team's roster in person, and he'll get to see them in pads when Chicago holds its voluntary minicamp starting April 19.
The roster is not set by any means, so expect more change. The Bears currently hold six picks in the upcoming NFL draft, still have a little more than $17 million in cap space, and will probably be very aggressive in signing undrafted free agents. Some teams will release players after June 1 to get under the league-mandated cap, and expect Ryan Poles, who has earned a C+ midterm grade in his first season as GM, to make some draft-day trades in an attempt to acquire additional selections.
Mainstays Khalil Mack, Akiem Hicks, Eddie Goldman, James Daniels, Allen Robinson, and Tarik Cohen are no longer with the team. Eberflus will build his defense around returning veterans Robert Quinn, Roquan Smith, Tevis Gipson, and Jaylon Johnson. New additions include Justin Jones, Al-Quadin Muhammad, and Nicholas Morrow. Safety Eddie Jackson, who is coming off his worst season as a professional, has been assured of a "fresh slate" by Eberflus. The head coach said he intends to run nickel packages about 85% of the time and would like to feature Jackson in blitz packages more frequently.
The Patriots trading for DeVante Parker is great news for the #Bears. New England was one of the teams in the first-round WR market. I doubt they still are; another WR slides down the board.

— Bryan Perez (@BryanPerezNFL) April 2, 2022
Patriots now head into this month's draft with a group of WRs that includes DeVante Parker, Jakobi Meyers, Kendrick Bourne, Nelson Agholor, N'Keal Harry, Ty Montgomery, Kristian Wilkerson and Malcolm Perry.

— Adam Schefter (@AdamSchefter) April 2, 2022
The Bears did little to weaponize quarterback Justin Fields, but Byron Pringle may provide a ton of excitement as a slot receiver and kick returner. The offensive line will be anchored by newly acquired center Lucas Patrick, as well as returning linemen Teven Jenkins, Larry Borom, and Cody Whitehair. Chicago will be deploying a new offense under first-year coordinator Luke Getsy.
It's been a lightning-fast offseason since free agency started in mid-March, and though Poles has made a number of low-risk moves, he has rebuilt the roster with a lot of hungry, tough players who should come to Chicago carrying chips on their shoulders. By staying away from the higher-priced free agents, the new GM was able to fill the many roster holes the previous regime left when they were dismissed in January. Right now, the Bears are projected to win 6-7 games in 2022 by most oddsmakers. That means there is a lot of work still to be done.
Bears News & Notes
There's a Flag…On the Play
That Fields bit his tongue for this long is practically a miracle. Leaders never put themselves before the team, which portends a great future for the second-year quarterback.
Bears' Justin Fields was 'really pissed' about game plan for first start vs. Browns https://t.co/fAwOvcp14Y

— Alyssa Barbieri (@AlyssaBarbieri) April 2, 2022
Northern Exposure
The Packers own four of the top 59 picks in this year's draft, the most ammunition GM Brian Gutekunst has had since taking the job in 2018.
Though the league has seen some blockbuster quarterback trades this offseason, the chances are slim that the Lions will look to move starter Jared Goff, who was acquired from the Rams for Matthew Stafford last year.
The Vikings have been named one of the NFL's sleepers for 2022.
NFL News & Notes
After completing his pro day, Oregon DE Kayvon Thibodeaux has declared himself the best player in the upcoming NFL draft.
The Patriots have acquired WR DeVante Parker and a 2022 fifth-round pick from the Dolphins for a 2023 third-round pick. Miami now has just four picks this year, and each once belonged to a previous team.
The Dolphins added WR Tyreek Hill a few weeks ago and his presence gives Miami a legitimate shot at making the playoffs.
Colin Kaepernick participated in workouts in front of NFL scouts after Saturday's spring game at the University of Michigan. The veteran QB is still hoping for a return to the NFL this season.
P.J. Williams is returning to the Saints on a one-year deal.
Colts running back Marlon Mack has signed with the Texans.
New Saints backup quarterback Andy Dalton said he is excited to work with starter Jameis Winston.
Running back Melvin Gordon, and wide receivers Julian Jones and Jarvis Landry are the top available offensive free agents.
Three Yard and a Cloud of Dust
The Dolphins have signed Xavien Howard to a reworked 5-year contract with $50.7M in new money, the most ever guaranteed to a cornerback in NFL history.
The Lions have not won a playoff game since January 5, 1992, the league's longest current dry spell. The Bears' last playoff win was January 16, 2011.
The Browns have used 19 starting quarterbacks since 2010, most in the NFL. Chicago has gone through 14 starters in that time.
From the Podium
"It's funny, because there's a lot of panic, like, you need receivers. I think Davante Adams was taken in the second, right? So there's talent there. It's not always going to be like that, I get it. And we're going to be patient." – Poles
"Yeah, talk about motor and mean. [David Montgomery], he is that guy. Serious. A pro. Worker. And, yeah, he's going to be exciting to work with, and he's going to fit right in. He's the kind of guy who just says: 'Hey, watch me go. I'm not going to say a whole bunch of things, but just watch me do my job.'" – Eberflus
"The development of [Fields] for the second year should be a big jump. It should be. That's what we're looking for. We're looking for better technique, better fundamentals, better decision-making, better timing, everything. He's all on board on that. He's excited about where he is, and he's been working his tail off. That's what we want, just that big jump from Year 1 to Year 2." – Eberflus
Running Out the Clock
Checkin' Up on My Baby by Mick Jagger and The Red Devils – You may recognize that riff as a more aggressive copy of the lick the Beatles used when they recorded "In Spite of All the Danger" (as The Quarrymen).