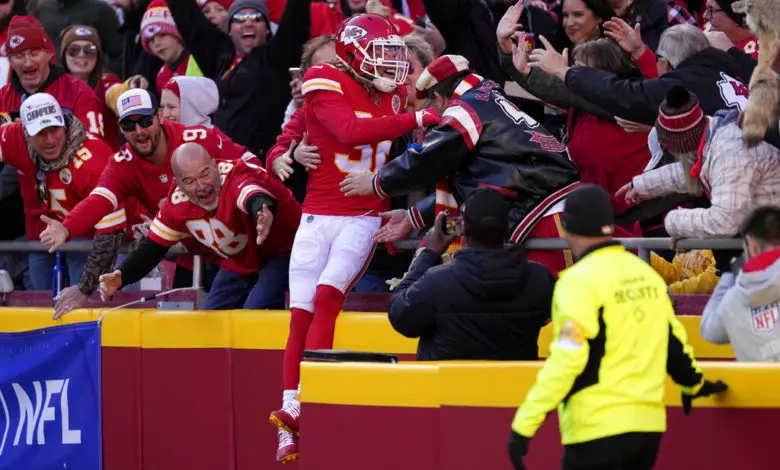 Bears Could Use Cap Space Saved By Trading Foles to Take Run at Tyrann Mathieu
Bears' executive Ryan Poles has had a very low-key offseason, methodically filling Chicago's roster with younger free agents on one or two-year deals that still have some projection left. Other than trading Khalil Mack to the Chargers for a pair of draft picks, the rookie general manager hasn't really made an earth-shattering move and has done nothing to improve his team's defensive backfield. Nick Foles is apparently being shopped, and Poles could use the cap space saved by trading the backup quarterback to take a run at Chiefs safety Tyrann Mathieu.
Former #Chiefs team MVP and Pro Bowl S Tyrann Mathieu is the last and best safety standing, by far the top at his position.

— Ian Rapoport (@RapSheet) March 16, 2022
Imma break the record for being counted out the most. #StillUndefeated

— Tyrann Mathieu (@Mathieu_Era) March 26, 2022
The versatile defensive back has been named to three Pro Bowls, has received two First-Team All-Pro nods, and helped the Chiefs beat the 49ers 31-20 in Super Bowl LIV, limiting San Francisco to just 54 offensive snaps. Still, Kansas City decided to go in a different and younger direction by signing 25-year-old Justin Reid to a three-year, $31.5 million deal. The Cowboys, Raiders, and Steelers are said to be currently interested in the stud defensive back.
The 29-year-old is a nine-year veteran and was drafted in the third round by the Cardinals in 2013. After spending five seasons with Arizona, Mathieu signed a one-year deal with the Texans before inking his three-year, $42 million contract with the Chiefs in 2019. If Poles decides to pursue the veteran safety, it would represent Chicago's biggest signing of the offseason.
Mathieu turns 30 in May but he's still among the league's best defensive backs, coming off a season where he picked off three passes and tallied 76 total tackles. The "Honey Badger" has also proven to be extremely durable, playing full seasons from 2017-19 while missing just one game since 2016. While with the Chiefs, Mathieu has played more than 600 snaps in deep, box, and slot alignments. He has averaged over 1,000 defensive snaps per year over the last five seasons.
.@Mathieu_Era pumped up the Chiefs for Super Bowl LIV 🔥

(via @NFLFilms)pic.twitter.com/ooYWlrAEOe

— NFL on ESPN (@ESPNNFL) February 4, 2020
Most analysts refer to the versatile defensive back as a do-it-all safety. Mathieu would provide leadership, energy, and playmaking ability to the Bears, who currently have just three safeties under contract. Eddie Jackson had a terrible 2021 season, could be moved to cornerback and will be entering his sixth season with the team. Michael Joseph is listed as the team's current starting strong safety.
The Bears recently resigned DeAndre Houston-Carson, and he may get the opportunity to supplant Joseph. Signing Mathieu would turn one of Chicago's biggest defensive weaknesses into a team strength. His 26 career interceptions, including three that he returned for scores, more than doubles the combined totals of the Bears trio of safeties.
Most analysts predict Mathieu will eventually receive a three-year deal in the neighborhood of $45-48 million, with about $30 million in guaranteed money, give or take. He may have to settle for less as league-wide starting positions are filled. The Bears have about $17 million and change to play with in free agency, but trading Foles would free up enough money to give Poles a cushion if he wants to pursue the Kansas City free agent. Obviously, Poles is familiar with Mathieu and was instrumental in bringing the defensive back to the Chiefs in 2019.
Mathieu recently indicated that he is "frustrated" that he still remains unsigned, though he is holding out hope that the Chiefs may circle back despite replacing him with Reid.
"I hope so," Mathieu said about continuing his career in Kansas City. "Ever since I came here, I've just tried to be the right kind of teammate. I've tried to play my part. Obviously, it's always that feeling that you could make more plays for your team. But I'm hoping it works out. I don't have any control over that. I feel like everything that was in my control, I tried my best to handle it and to do it with a smile. I love this team; I love this locker room. It's a lot of coaches that I have great relationships with. So, I'm hoping. Yeah."
The Bears have not indicated any previous interest in the all-pro safety, but the roster hole is obvious, and the Pro Football Network named Chicago as a potential fit. Most of Poles' signings have come from out of nowhere so it would make sense that there is little chatter regarding Mathieu and the Bears. In fact, Poles rarely operates outside of stealth mode and provides the transparency of a brick wall when it comes to potential transactions.
With two second-round selections in the upcoming draft, many analysts believe Chicago could take safety Jalen Pitre of Baylor. Inking Mathieu would free up those picks to take wide receivers. Though Poles recently signed free agents Byron Pringle and Equanimeous St. Brown, he still doesn't have a big-bodied, downfield target capable of slotting as a primary pass-catcher. Signing Mathieu could also give Poles more leeway to trade down from one of his top two picks.
The newly-minted GM has done an admirable job shoring up the offensive line, especially if the offer sheet he tendered to Ryan Bates is too rich for the Bills to match. If he can shore up the defensive backfield with one marquee signing, he would have plenty of draft day collateral to provide quarterback Justin Fields with the weapons he needs to continue his development as a potentially elite signal-caller.