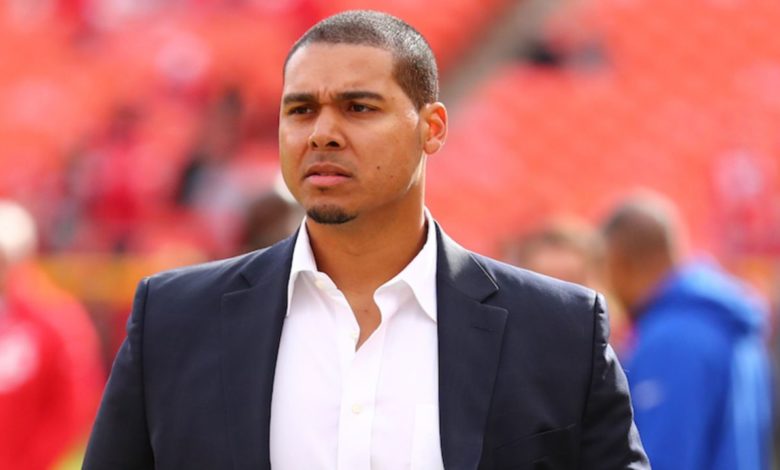 Hits and Misses Give Ryan Poles a C+ Midterm Grade
When Ryan Poles was hired as the new general manager of the Chicago Bears, he indicated during his press conference that he intends to "take back the NFC North and never give it back." Coming off of a 7-10 season, and with a roster ripe for heavy turnover, Poles has had some hits and misses and has earned a midterm grade of C+.
The #Bears have the QB box checked. Lucas Patrick is an upgrade at center and that's a good start. Teven Jenkins should be fine. Larry Borom remains underrated. But there's a need at iOL, and that's where Ryan Poles probably should go at No. 39. #NFLdraft

— Bryan Perez (@BryanPerezNFL) April 1, 2022
On the plus side, he's brought tremendous stability to the offensive line with the addition of free agent Lucas Patrick. The former Packer is a tough, physical lineman who ranked third among centers in pass-block win rate (72%) last season according to ESPN Stats and Information. He can play multiple positions but will serve as Chicago's center and primary bodyguard to Justin Fields.
"It's about having a great motor and about being mean, and that's what you need at your lines," head coach Matt Eberflus said of Patrick. "The defensive line needs that and the offensive line needs that. Man, you've got to finish, and when you finish the right way at the line level and you play with that demeanor, that meanness, that's the kind of guy we want to acquire. That's what we're gonna expect out of our guys upfront. We can't do that this time of year until we get the pads on, but that's what we're gonna expect. We're going to demand that."
Poles gets an incomplete for whiffing on Ryan Bates, who will remain in Buffalo after the Bills matched Chicago's offer sheet. Chicago reportedly offered the 25-year-old guard a four-year deal worth $17 million, including 8.8 million guaranteed. Poles was obviously disappointed, as were many Bears fans.
"I just found that out. It stinks. But that's part of the RFA process," Poles said. "So we'll adjust and we'll keep adding players. It's out of your control. It's just part of the deal where you put your best foot forward and we did. We came strong, and that's given back to their team and it's up to them whether they want to match it. It is what it is. We'll adjust like everything else."
Chicago signed guard Dakota Dozier to a one-year deal a few weeks ago, but he'll probably serve as a backup to Cody Whitehair. Poles could look to the draft for a starter, and some mock drafts have the Bears selecting Zion Johnson if he falls to the team's first pick in the second round (No. 39 overall).
Byron Pringle puts on the brakes 🔥

📺: #PITvsKC on CBS
📱: NFL app pic.twitter.com/iw5w7K7RMW

— NFL (@NFL) December 26, 2021
The rookie GM also said he wanted to provide Fields with offensive weapons to further his development as a potentially elite quarterback. Poles announced the signings of Equanimeous St. Brown and Byron Pringle within hours of each other. Pringle, who Poles knows from his work with the Chiefs, totaled 42 receptions for 568 yards (13.5 yards per catch) and five scores in 2021 and was most productive when lined up in the slot. St. Brown is a low-risk addition to the receiver room who struggled to catch the ball in limited opportunities with Green Bay. It's a near guarantee that the Bears will select at least one wide receiver in this year's draft.
Normally, those additions would earn high praise as solid depth moves, but letting Allen Robinson walk in free agency means that as of now, Pringle is Robinson's replacement. That means Chicago has taken a step back offensively pending any moves the team makes in free agency or the draft. That does little, if anything, to weaponize the Bears' second-year quarterback.
The Bears have had better luck in free agency on the defensive side of the ball, though Poles did lose the one major acquisition he tried to make when he voided the contract offered to DT Larry Ogunjobi. The former Bengal failed his physical, negating the three-year $40.5 million deal he signed with Chicago on March 14. The GM quickly recovered by signing DT Justin Jones before adding LB Nicholas Morrow and DE Al-Quadin Muhammad a little later. Poles feels more comfortable working in the second tier of the open market because he believes those players are hungrier.
"[Those players] have that chip on their shoulder that we're looking for, and I think that is the first step is to make sure that we get the locker room right, the culture right, and all of those guys are hungry to make plays," Poles said Monday. "You know when you get toward that second and third wave, you always have guys that they felt like they deserved more, they felt like they were out to gain respect for how they played, but also they had an element of team [first] to them."
Again, those additions would be solid if not spectacular moves if Chicago hadn't traded Khalil Mack to the Chargers or let Akiem Hicks and Eddie Goldman leave in free agency. Though the Bears did get a second-round pick in this year's draft for Mack, Morrow is not nearly the same player, so the transition on defense is a wash, at least so far. Poles also picked up a sixth-round pick next year in the trade with the Chargers.
Heading into the draft, Chicago still has at least one gaping hole in its secondary and needs an athletic linebacker to take the field with Morrow and Roquan Smith. Adding Jones and Muhammad to incumbents Robert Quinn and Trevis Gipson makes the front four a strength. Khyiris Tonga earned two starts as a rookie in 2021 and could be a big factor this year.
The Bears also need to find a couple of playmaking pass-catchers as they start their offseason training program. Poles will likely look to the draft to fortify that group, and we should probably expect some draft-day maneuvering from the GM to acquire additional picks. If the Poles can't find a big, speedy target or two for Fields, his grade will drop when we reassess at the start of training camp in late July.