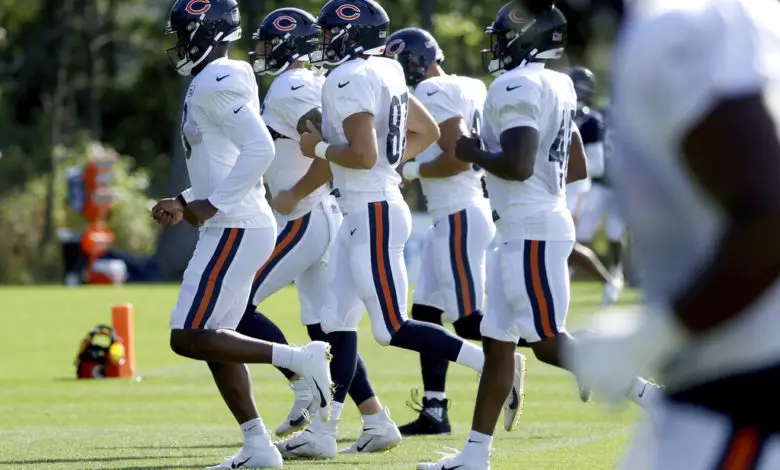 Bears Announce Offseason Training Dates
The NFL recently announced its offseason training dates, which include the start of the Bears' offseason training program, voluntary minicamp, OTAs and mandatory minicamp. For new head coach Matt Eberflus, offensive coordinator Luke Getsy, and defensive coordinator Alan Williams, the program represents their first body of work with a roster that has seen unprecedented turnover since February.
Because the team has a new head coach and coaching staff, the Bears will get a two-week head start on teams with returning head coaches. Chicago and all of the league's other teams with new head coaches can start their offseason programs this Monday. The rest of the league has to wait until April 18. That's a significant advantage heading into the NFL draft at the end of this month because the coaches and front office will have extra time to evaluate personnel.
Chicago will also be able to hold its first voluntary mini-camp on April 19-21, while other teams will have to wait until after the draft. Because the Bears are deploying new offensive and defensive schemes this season, the early mini-camp will help the team identify potential strengths and weaknesses so that GM Ryan Poles can fine-tune his draft board. The Bears have six picks this year, and though they have two in the second round, their first selection won't come until day two, barring a trade of course. Chicago owns the Nos. 39 and 48 overall selections, the latter coming from the Chargers in a trade that sent linebacker Khalil Mack to Los Angeles.
Eberflus is excited about the additions of DT Justin Jones, DE Al-Quadin Muhammad, and LB Nicholas Morrow to his defense. Jones signed after a late-night recruiting pitch by Chicago's head coach. Morrow has been praised for his work ethic and athleticism.
New Bears LB Nicholas Morrow, 26, spent the last 5 seasons with the Raiders. Played in 62 games, recording 254 combined tackles, 20 tackles for a loss, 4 sacks and 2 interceptions. 🐻⬇️ pic.twitter.com/gxkj6ueCf6

— MonstaOfDaTriState (@scar179nyc) March 16, 2022
"Worker. Prepares. Very smart," Eberflus said of Morrow. You can see the athleticism on tape. His ability to cover in space. He can cover a lot of ground, cover tight ends, cover backs."
The first-year head coach knows Muhammad will be a good fit because they spent four seasons together with the Colts.
"He not only knows what we're going to do but he knows how we do it," Eberflus said. "So the way we practice, he's going to be the example of how we do things. … That's going to be a really important piece for our team to be able to see that. There are other guys who are great workers who are already on the squad. And we'll just challenge them and push them and let them know what the standards are. And then hold them to the standards."
"[Those three free-agent additions] have that chip on their shoulder that we're looking for, and I think that is the first step is to make sure that we get the locker room right, the culture right, and all of those guys are hungry to make plays," Poles said Monday. "You know when you get toward that second and third wave, you always have guys that they felt like they deserved more, they felt like they were out to gain respect for how they played, but also they had an element of team [first] to them."
Eberflus indicated the defense would be in its nickel packages 85 percent of the time, so look for the Bears to continue seeking skilled playmakers in the draft and post-June 1 free agency. Additionally, he intends to give returning veterans a fresh start, including free safety Eddie Jackson.
"We don't have that right now because we don't know, but we always want a pair at each spot and then a spare so we'll be able to rotate guys," he said. "Your roster is small, and guys are gonna have to play different positions. When you have a lead-dog linebacker, he's probably gonna play one position, but the other guys are gonna have to play multiple positions just based on injury."
The staff will get to see each in action, along with their draft choices, during Chicago's mandatory minicamp starting June 14 before they break until training camp and exhibition football starting in late July. The Bears will train in Lake Forest again this season.
The Bears also announced the dates of their nine voluntary OTA practices, which will include veterans and rookies.  They'll meet at Halas Hall on May 16, 17, 19, 23, 24, 26, and on June 6, 7, and 9.