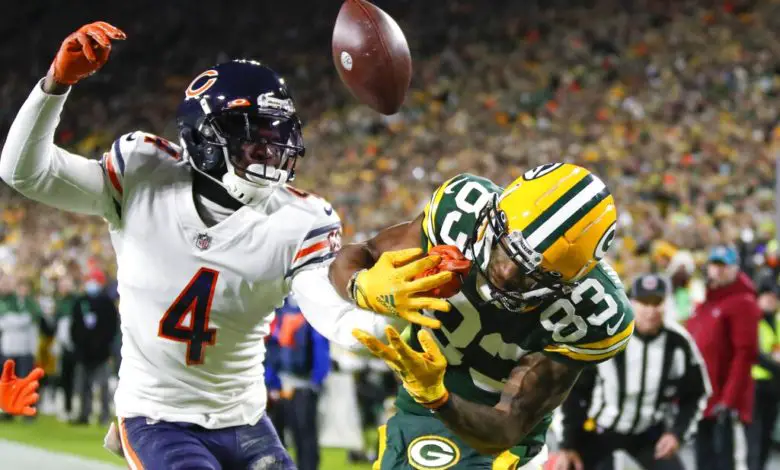 Eberflus Giving Eddie Jackson a 'Fresh Slate'
Some players with troubled pasts are given a fresh start or a clean slate, but Bears head coach Matt Eberflus is giving safety Eddie Jackson a "fresh slate." Chicago may have another Joe Maddon on its hands. From his HITS philosophy to describing defensive players as M&Ms (having a great motor and playing mean), Eberflus just might end up with his own line of Obvious Shirts. Perhaps Jackson is the Bears' version of Aroldis Chapman.
Rookie general manager Ryan Poles hasn't done much to strengthen the team's defensive backfield, so Eberflus is counting on Jackson to return to the form that made him one of the league's best a few seasons ago.
"We had a good conversation about this [being] a fresh slate for him, and to just go out there and work and show us what you can do," Bears coach Matt Eberflus said of safety Eddie Jackson.https://t.co/HCs9wQ0yK9

— Sun-Times Sports (@suntimes_sports) March 31, 2022
"This is really for everybody — show us your skillset, show us what you can do, and then we'll fit you into the pieces we need to fit you into," the head coach said. "Sure, you've got to run basic plays, but we've got to be able to see, for example at that position, can you cover tight ends? Can you cover backs out of the backfield? Are you efficient playing half or quarters or playing in the middle of the field? He's done all those things, but we want to see his skill set now."
Jackson is penciled in as Chicago's starting free safety, and he has no backup or challenger. One would assume that means the Bears will pick a safety with one of their earlier selections in this month's draft. Jalen Pitre of Baylor could be an option, but he seems better suited to play the strong side, as does Dane Cruikshank, who signed the other day. Poles also has a little over $17 million to play with in free agency in case he wants to take a run at Tyrann Mathieu.
In fact, because the Bears haven't pursued a potential starter to take away Jackson's position, it's a pretty safe bet that the front office and coaching staff have a high degree of confidence in the five-year veteran. Eberflus will get a firsthand look starting Monday when the team starts its offseason training program.
"They've all heard what we've said since we've been hired," said the first-year head coach. "And really just to get to know the guys. That's it. And then set the standards for how we operate. Basic rudiments of how you operate in the building and then just start laying [the] foundation.
"When you have nine weeks with a group and you want to lay the foundation, you have to take it one piece at a time. And just lay that down. Because when you lay [that] foundation, physically lay a foundation, you have to prepare the ground. The ground has to be right. And we're going to take our time to do it. And then we're going to start putting it together one piece at a time."
He was a little more specific when speaking about Jackson, who has the potential to once again be an impact player in a defense that will be predicated on taking the ball away from its opponents. The free safety hasn't had an interception since 2019, but earned first-team All-Pro honors as a second-year player in 2018, when he picked off six passes, including two for touchdowns.
"I think [Jackson's] got really good instincts," Eberflus added. "You look at the positive, what he can do, and he's taking the ball away. He's really proficient at blitzing. I think he times it up well, does a good job there, does a nice job in coverage, so we'll see where it is."
As he said, a fresh slate.