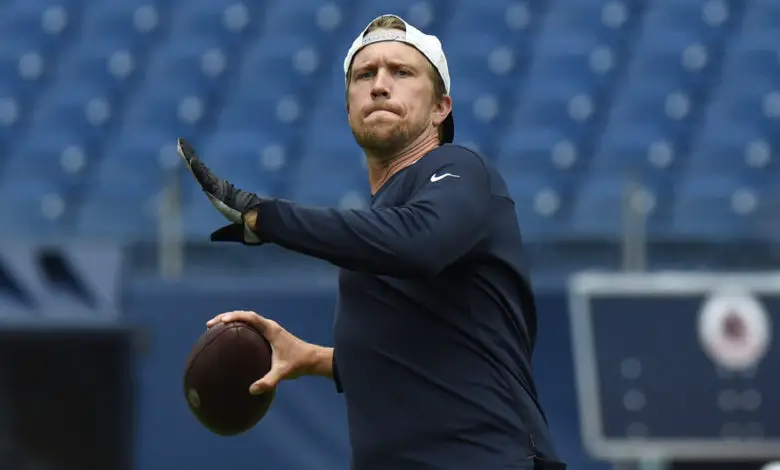 Exploring a Nick Foles Trade
You would think that a guy that once beat Tom Brady in a championship game would be a hot commodity, but with the annual NFL quarterback carousel complete, it may be tough to find a match for Nick Foles. Few positions have seen as much headlining movement as quarterback, where at least four starters have been traded so far and another half-dozen signed with new teams. Once the Bears signed Trevor Siemian, Foles, who has been hanging around more than anybody may have noticed, became expendable. Let's explore a potential trade.
The #Bears have explored trades for Nick Foles. With the addition of Siemian, expect that to continue, as the writing is on the wall for Foles, who has $1m of his base salary guaranteed in addition to the $4m roster bonus Chicago just paid him this month. https://t.co/IFVJ90HjR1

— Mike Garafolo (@MikeGarafolo) March 25, 2022
Make no mistake, there are interested teams. According to NFL Network's Mike Garafolo the Bears have been fielding calls for the once-again third-stringer, who no longer has a role in Chicago. Foles signed a three-year, $24 million restructure with the Bears after they acquired him from the Jaguars two years ago. He has one year left on that deal at $4 million for 2022. At the start of last season, the 33-year-old sat behind Andy Dalton and Justin Fields on Chicago's depth chart.
Dalton was injured in Week 2 and mostly ineffective after returning, and Fields went down near the end of the season, so Foles actually started a game in 2021, beating the Seahawks 25-24 the day after Christmas. He was 24-of-35 for 250 yards and a TD and led Chicago on a game-winning drive that culminated in a deciding two-point conversion. Assuming Foles plays for another team in 2022, this will be the sixth time in the last eight years the 2017 Super Bowl MVP has changed teams during the offseason.
As Garafolo reports, the Bears have already paid Foles his $4 million roster bonus and his contract for 2022 includes a guaranteed $1 million. If Chicago can move him, it would create roughly $8 million in cap space for GM Ryan Poles and hold a dead cap charge of $2.67 million. Chicago is still about $17.1 million under the cap after a series of under-the-radar free-agent signings but will lose a portion of that if the Bills don't match Chicago's offer for unrestricted free agent Ryan Bates.
At this stage in his career, and given the current climate of the quarterback situations around the league, Foles is likely looking at being a top-tier backup wherever he ends up next in the NFL. That's probably worth a Round 6 draft choice, but if Poles can find interest from more than one potential suitor, he might be able to garner a fourth or fifth-round selection.
The team that may have the most interest is the Colts. Head coach Frank Reich was interested in trading for Foles when Carson Wentz got hurt last season, and even though he recently acquired Matt Ryan from the Falcons, Reich would like a dependable veteran to serve as Ryan's backup. When those rumors leaked, Foles stated that he wasn't necessarily in favor of a trade, he'd prefer not to be placed in a position of unfamiliarity.
"I don't want to go to [a team] that I don't know," Foles said at the time. "I don't want to be – listen, great coaches – when you have a great coaching staff, it's something special. A big reason we were great in Philly was we had a great coaching staff. We did really well where they put us in a position to succeed, and it showed. I think everyone can say it showed. So that being said, I don't want to go somewhere where I don't know 'em, I don't know the offense. I've gone down that road before, and it's not fun."
Matt Eberflus could potentially sell Foles on Reich and the Colts, but he may not have to. There is definitely a fit/need for team and player.
"Listen, Reich is one my favorite if not my favorite coach of all time," continued Foles. "He understands me as a player, he understands me as a person. I haven't had any talks with them. I'm a Chicago Bear right now. But he knows me. Y'all watched the 2017 season and the playoffs, where he changed the offense and built it around me, and y'all saw what happened. So he understood my mentality as a player, and he was able to build it around me and put me in a successful position, and my teammates. But that being said, they have Carson, and Carson and I have a lot of history. I have a lot of respect for Carson, he's a tremendous player, he's going through a lot of adversity once again, but he'll bounce back. And you know what, he might miss a few games, but I know he'll be back out there. We haven't had any talks, so right now I'm a Chicago Bear and I'm going to keep slinging it with these third-stringers, and we're going to dice 'em up."
The Texans may also be interested in acquiring the slinging third-stringer. They are officially in rebuild mode, and have 11 draft picks this year, including two in the fourth round and three in the sixth. Moving Foles to Houston for a sixth-round pick seems fair enough, but perhaps Poles could trade the No. 39 overall pick plus Foles to move up to No. 37, Houston's first second-round selection. Another option is trading Foles and Chicago's sixth-round pick for two or three of the Texans' sixth-rounders.
Davis Mills is the current starter in Houston, and his backups are Kyle Allen and Jeff Driskel. Though the Texans are clearly in rebuild mode, Foles could feasibly win the starting gig there, though he's a definite upgrade over the two backups. It's unlikely that the Texans will draft a quarterback at Nos. 3, 13, or 37. Acquiring Foles would give offensive coordinator Pep Hamilton and Mills another experienced voice in a quarterback room on a team in obvious transition.
The #Texans and #Raiders have checked on #Bears Nick Foles. He would be a good backup option and mentor.#WeareTexans #RaiderNation

— NFL Rumors (@nflrums) March 26, 2022
The Raiders are an option, too. Backup Marcus Mariota has replaced Ryan in Atlanta, meaning the backup to Derek Carr is journeyman Garrett Gilbert, who's probably better suited to be a third-stringer. As Fields will probably tell you, Foles is an excellent teammate, so it's easy to envision him developing a strong relationship with Carr. He also knows the AFC West well after spending the 2016 campaign with the Kansas City Chiefs. The Raiders have a dearth of draft picks this year, and won't make their first selection until the bottom third of the third round. With just five picks overall, it might be tough to poach one in a Foles trade, unless the Bears include a draft pick with the intent of moving up in one of the later rounds.
A fourth option could be the Broncos, who were solely intent on possibly acquiring Aaron Rodgers before he re-upped with the Packers. Denver eventually traded for Russell Wilson, and gave up a slew of draft picks to do so. It's unlikely they'd further deplete any of those assets for a backup but shy of another acquisition, 35-year-old Josh Johnson will serve as the team's second-stringer. Brett Rypien is also on the roster but has never proved capable of becoming Denver's backup. Foles would be an upgrade, but the Broncos would probably be only willing to part with their seventh-round pick, No. 233 overall.
With limited suitors, getting an adequate return for Foles could be next to impossible. But if the only other option is cutting the veteran signal-caller, any draft pick will do. The Colts and Texans offer the best opportunity for equitable compensation, but if neither is interested, Chicago may be stuck with a very expensive third-string quarterback. At least Foles has found a level of comfortability in that role.