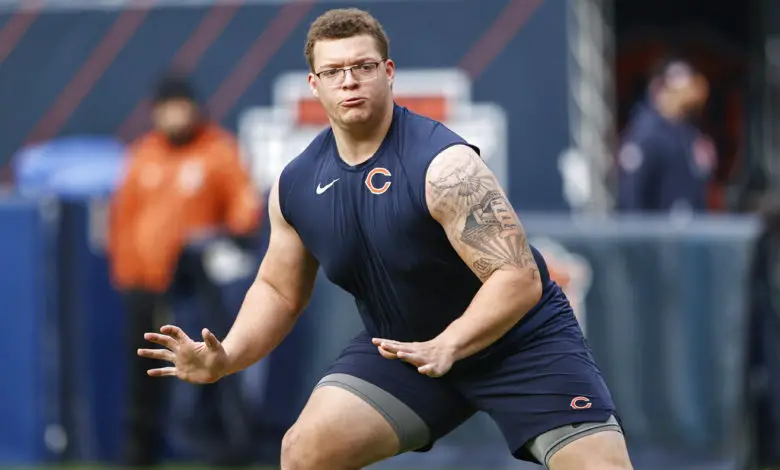 Five Bears Holdovers Expected to Become Playmakers Under Matt Eberflus
When GM Ryan Poles and head coach Matt Eberfuls inherited the Bears from Ryan Pace and Matt Nagy, it's fair to assume that the cupboards were pretty bare coming off a 6-11 season. In attempting to clean up the messes left behind, the new GM said goodbye to a number of players, including starters Akiem Hicks, Allen Robinson, Bilal Nichols, Eddie Goldman, James Daniels, and Khalil Mack. All he received in return was the No. 48 pick in this year's draft, used to select S Jaquan Brisker, in exchange for Mack. Of the players the front office kept, five Bears holdovers are expected to become playmakers under Eberflus.
As fans, we already know who the Bears' best players are and there are so few that it's easy to recite them all. LB Roquan Smith, DE Robert Quinn, and RB David Montgomery are the obvious standouts, and any discussion of Chicago's key personnel should include CB Jaylon Johnson and WR Darnell Mooney.
Poles made several offseason acquisitions that have potential playmaking ability, too. Those players include free agents C Lucas Patrick, LB Nicholas Morrow, DT Justin Jones, DE Al-Quadin Muhammad,  and wide receivers Byron Pringle and Equanimeous St. Brown. The draft also yielded potential starting studs in Brisker, CB Kyler Gordon, and WR Velus Jones Jr. Keep an eye on EDGE Dominique Robinson, who could see some time at linebacker as a potential starter.
You should be feeling a little better about this year's team. The Bears are far more athletic, they're much faster, and they're a lot more violent. Those were the stated goals of Poles when he took over the team, and it's fair to say mission accomplished. Still, a few skill players leftover from last year's squad could emerge as key playmakers in 2022. The first, and most obvious players are QB Justin Fields and OT Teven Jenkins.
The Bears get some protection for Justin Fields with Oklahoma State OL Teven Jenkins at No. 39 in the #NFLDraft pic.twitter.com/nrzrLh5KFm

— NFL on ESPN (@ESPNNFL) April 30, 2021
The Bears didn't have a first-round pick in this year's draft and after a wasted year of development, it's fair to call Fields this year's de facto No. 1 since he's basically starting completely over under new OC Luke Getsy. Not only is the second-year quarterback learning a new system, but he also has to unlearn all the bad habits he developed thanks to Nagy's predictable offense and a lack of playing time with the first team last summer. If Fields were available this year he would have been a top 10 pick and the first signal-caller chosen.
When Poles said he was going to give his young quarterback the weapons to succeed, he obviously meant much better coaching. The additions of Pringle, St. Brown, and Jones Jr. will make the Bears a better team, and Fields will have a personal bodyguard in Patrick. The second-year QB has spent much of the offseason speeding up his release while submerging himself into the team's new playbook. He even worked out privately with Mooney and Montgomery, among others. Expect Fields to grow by leaps and bounds this year in an offensive system that is better suited to let his talent shine.
Jenkins also wasted his first year with the Bears, but that's because he had back surgery after last year's draft. Nagy probably rushed him into the lineup too soon, as the OT might have been better suited to sit out the entire year. Jenkins was a 2021 first-round talent that Pace was able to jump up and grab on Day Two. Most pundits called the 6-6 320 lb. tackle the steal of the draft.
Bears fans need to wipe the slate clean with Jenkins and look back to his play as a senior at Oklahoma State. The versatile lineman combines a high motor, good physicality, and supreme athleticism with a violent brand of run-blocking and pass-protection skills that left most pro scouts drooling. He's fully healthy now, though an injured back can be an ongoing problem. The coaching staff is counting on Jenkins to start in '22 and showcase the skills that led The Draft Network to proclaim that he "is the type of offensive lineman that attempts to humiliate players in the opposite color jersey."
Let 'em know, @trevisgipson ‼️#CHIvsLV | #DaBears pic.twitter.com/GdOeSkTMRF

— Chicago Bears (@ChicagoBears) October 10, 2021
Trevis Gipson wasn't named Chicago's most improved player by default. He took over mid-season for an injured Mack and didn't miss a beat. In fact, he was so good he made Mack, a six-time Pro Bowler and one of the highest-paid defensive players in the game, expendable. In nine starts, Gipson recorded seven sacks and forced five fumbles. Additionally, Pro Football Focus named the 24-year-old the No. 10 pass rusher in the entire league. He is the very definition of a playmaker, is already a favorite of the new staff, and in the Bears' new defensive scheme he could earn his first Pro Bowl selection. Gipson has more helium right now than any player from last year's squad, including Fields.
Let's be honest, safety Eddie Jackson was a lost cause last year and almost looked like he phoned it in for the majority of the season. The Bears' secondary was awful, and he was anointed the leader of a misfit group that was too often burned and almost always out of position. He was exposed badly in Chicago's defense and had no help on deep routes. It's no surprise the Bears allowed 31 passing touchdowns last season.
Still, the safety had flashes last season that indicated he possesses the talent that made him an All-Pro in 2018. In Eberflus' new scheme, Jackson can go back to being the disruptive force and ballhawk he was prior to the last two seasons. A secondary of Gordon, Johnson, Brisker, and Jackson looks infinitely better on paper than the rotation Nagy used in 2021. There will be growing pains, and Jackson will be counted on to be a leader. That said, Bears fans may see Jackson emerge as a top safety in the NFC North, if not the entire conference.
Cole Kmet was raised in Illinois as a huge Bears fan.

You can tell there's a hatred for the Packers in his DNA. pic.twitter.com/tFYfw7TWw8

— Max Markham (@MaxMarkhamNFL) June 4, 2021
It almost feels like Nagy never got a real feel for the talents of TE Cole Kmet. Coming out of Notre Dame, the 2020 second-round pick wowed scouts at the NFL Scouting Combine with a 40-yard dash that was clocked as low as 4.67 seconds and the best vertical jump (37″) of any tight end in that class. His broad jump of 123″ tied him for second among his positional peers, and Kmet accomplished all of that weighing in at 262 pounds. Those numbers were similar to NFL stars Tyler Eifert and Rob Gronkowski. Kmet's routes are efficient and he catches the ball well. He only lacks the change of direction and separation skills that keep him from being among the league's elite.
Getsy has been impressed with Kmet so far.
"I've been very impressed with Cole," Getsy said during his Sunday afternoon presser. "Again, that mindset that we're trying to set, he's been a great example of that as well. And you go back to that thing we talked about before, just the ability, the flexibility as a player. I think he has all that stuff. So, I'm excited to see him have a bunch of different roles in our offense.
"Some players that are out there they're kind of like this is what they do well. But I think the more guys that you can get in a system that can do a bunch of different things, the more success you're going to have, and I think Cole is one of those guys."
Kmet caught 60 of 93 targets in 2021 without a touchdown, which seems almost completely bizarre, especially since 12 of those targets were in the red zone. Expect the third-year tight end to take a statistical leap in Getsy's offense and find more than a few TD receptions.