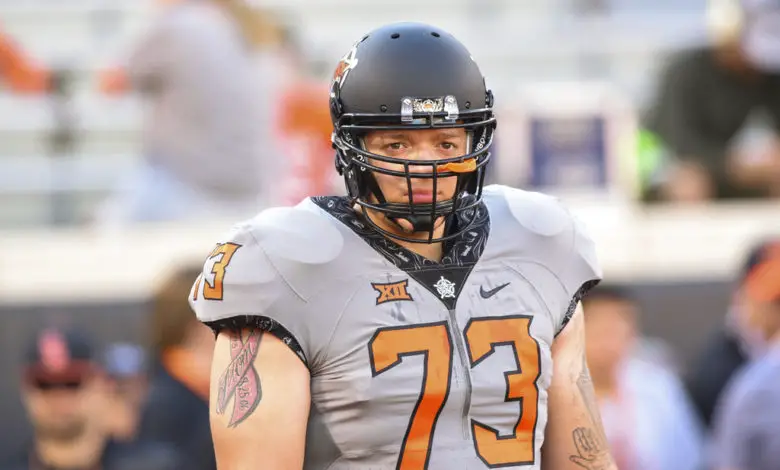 Teven Jenkins is Offensive Lineman Bears Were Hoping to Draft All Along
Second round selection, 39th overall pick, Teven Jenkins was generally viewed as the third- or fourth-best offensive lineman in this draft, behind Penei Sewell, Rashawn Slater, and Christian Darrisaw in nearly all evaluations. His prospect rank averaged 23rd in aggregated rankings.
When Jenkins was available in the second round thanks to a big first-round run on skill position players, Ryan Pace engineered a day two trade with the Panthers to move from No. 52 to No. 39 specifically to nab the tough offensive lineman from Oklahoma State. Pace had intended to draft Jenkins at No. 20 before they traded that pick to get Justin Fields.
Jenkins is a potential star in the making, and his selection was declared a "home run" by almost every draft analyst.
.@TevenJenkins is *insert super aggressive adjective*.#BearsDraft | 🐻⬇️ pic.twitter.com/ulhRy1Q4o5

— Chicago Bears (@ChicagoBears) May 1, 2021
In high school, Jenkins was a three-star recruit out of Kansas who decided to join Mike Gundy at Oklahoma State. He redshirted in his freshman year, and earned his first start for the Cowboys in 2017, becoming a regular starter the next season. Oklahoma State finished 7-6 in 2018 with a win in the Liberty Bowl that season, and Jenkins was named Honorable Mention All-Big 12 performer.
After the 2019 season, Jenkins was again selected Honorable Mention All-Big 12 performer. Oklahoma State won eight games during the regular season, but lost 24-21 to Texas A&M in the Texas Bowl.
In 2020, Jenkins was First Team All-Big 12 and Oklahoma State went 8-3 with a 37-34 win or Miami in the Cheez-It Bowl. Standing 6'6″, 320 pounds on draft day, Jenkins completed his NCAA development from three-star recruit to become a likely game one starter for the Bears
The following is from the Associated Press:
Strengths:
Jenkins has overwhelming upper-body strength, leg drive and square power to dominate operating in inside-zone, gap and power-run concepts. He also has commanding grip strength that puts defenders in a cage once he's latched onto their frame. The multi-positional offensive lineman is an assertive finisher with above-average agility, foot quickness, and burst.
At right tackle, Jenkins is a strong run blocker who uses his hands very well. He has a strong punch, which stifles defenders. He also has good hand placement and timing.
At left tackle, Jenkins makes crafty use of hands to defeat an assortment of pass-rush moves that are prevalent in the NFL, including a heavy-handed snatch/trap technique to defeat the long arm, and an effective circle punch to defeat the cross chop. He showed noticeable improvement in his technique from 2019 to 2020 despite switching from right to left tackle in each of the last three seasons, sometimes even in the same game.
Weaknesses:
Jenkins has enough range in pass protection to function against most competition, but high-quality speed-rushers aligned in a wide-9 technique can get him to turn his shoulders early and underset. He often becomes predictable using a snatch/trap technique against rushers who set up their moves with a long arm; needs to learn to pick his spots better when utilizing the aggressive scheme. The OT also needs to shore up his angles and aiming points and needs to work to prevent leaning against shifty defenders.
Analysis: "NFL-ready frame with a broad chest and thick lower half. Jenkins not only plays with excellent upper-body power and hand strength, he combines it with the desired level of body control and athleticism to create a consistent, toolsy talent. His instincts and processing serve him well in quickly sifting through moving pieces. He can be an intolerant run blocker, looking to finish and bury his opponent once he gets his block locked and centered. Jenkins has good tackle tape, but his short arms and average range in pass sets could be something to keep an eye on. Whether it is at tackle or guard, Jenkins has the talent to become an early starter and a successful pro." – NFL.com