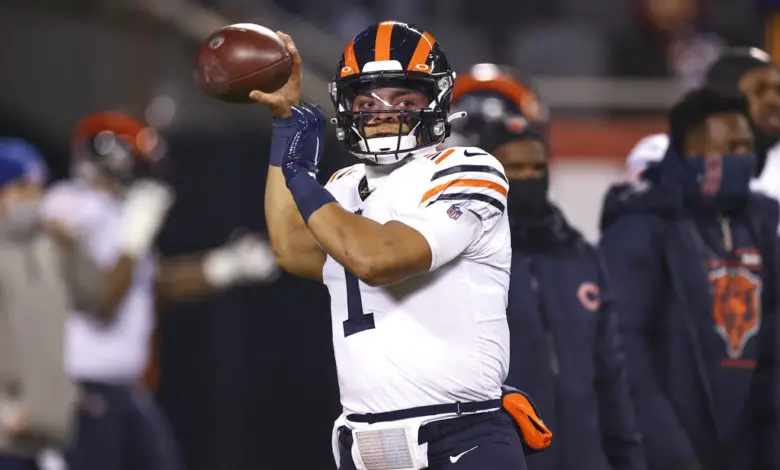 Bears Quarterback Justin Fields Entering 2022 Season With 'New Mindset'
As an NFL quarterback, job security goes a long way toward building confidence and maturing as a team leader. Despite a rookie season that featured as many ups as downs, quarterback Justin Fields is not lacking confidence and indicated he is entering the 2022 season with a 'new mindset.'
"It feels good just having that mindset," Fields said. "It's definitely a different mindset than last year, so I'm ready for the role, and I'm ready to lead this offense and lead this team.
"Last year was my rookie year, of course, my first in the league. Didn't know if I was going to start or not. Didn't know if I was going to play. So my mindset right now is completely different than last year," he added. "I'm just excited to get started."
Justin Fields vs the Steelers:

🔸 291 passing yards (career-high)
🔸 45 rushing yards
🔸 1 TD
pic.twitter.com/wedwzEQowF

— PFF (@PFF) November 9, 2021
The Bears kicked off their three-day voluntary minicamp on Tuesday, where Fields and most of the team's offensive players were present. Fields, who carries himself with the poise of a seasoned veteran, looks to be in midseason form according to reports and impressed new head coach Matt Eberflus.
"I thought he did an excellent job," the first-year head coach said. "He really did. He was in command of the offense, really every play that I saw. There's certainly —  when you're working with 11 guys — there was a mistake here and there by this person or that person, but man, he had really good command today."
Eberflus, new offensive coordinator Luke Getsy, and first-year GM Ryan Poles have pledged to surround the young quarterback with elite offensive weapons to help Fields become the franchise quarterback he was drafted to be. Chicago hasn't done much in free agency, adding Byron Pringle and Equanimeous St. Brown to a receivers room that was occupied by holdovers Darnell Mooney, Dazz Newsome, and Nsimba Webster. Pringle has a chance to start opposite Mooney, while St. Brown looks like a depth piece.
Poles is likely to select a wide receiver with one of his two second-round picks. Chicago holds the No 39 overall pick in this year's draft and acquired the No. 48 pick in the trade with the Chargers that sent linebacker Khalil Mack to Los Angeles. In the meantime, Fields is content to work with the players who currently sit on the team's roster, though Poles needs to pick up a few more playmakers.
The new offense presents new challenges for the Bears' top 2021 draft choice and has been the primary focus during the first two days of Chicago's minicamp. Fields is working with Getsy to alter his footwork in the shotgun. The offensive coordinator noted that last season Fields dropped back with his right foot forward and he wants his starting QB to drop back with his left foot in front, something that is routine within the Packers' scheme. It may seem like a tiny detail, but watch tapes of Aaron Rodgers next to tapes of Fields, and it's a bigger difference than you may think. The enhancement is designed to put Fields into a better position to quickly read defenses and then release the ball a little bit faster.
Justin Fields throwing motion from last season compared to yesterday.

Sure looks quicker.. 👀 pic.twitter.com/XU2h33AHSv

— Dave (@dave_bfr) April 20, 2022
"It's just what [the Packers] do in their offense," Fields said. "It times it better with the routes and stuff like that, so that's why we [are going to] do it."
Fields was prone to turnovers last season in part because he often held the football a little too long. Bears fans have plenty of reasons to believe in the wannabe franchise quarterback, but he's going to have to show marked improvement in 2022.
Fields will have to pick up all the nuances of the new offense in short order. The Bears will hold OTAs next month after the draft and will hold a veteran minicamp June 14-16 before taking a four-week break prior to the start of training camp.
"It would be easier if it was the same offense as last year and we were just able to grow on that," Fields said. "I think that's going to be the most challenging part with this new coaching [staff], is just learning this new offense and making sure we all get it down, to the details.
" I'm ready for the role, and I'm ready to lead this offense, lead this team."