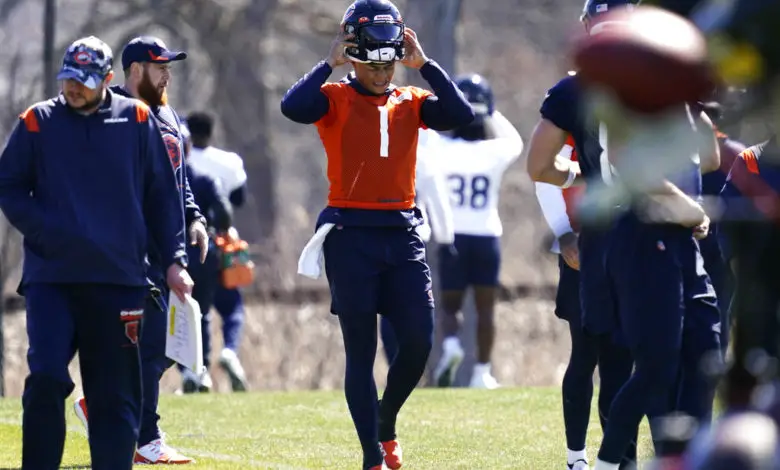 Bears OC Luke Getsy: "We Have to Tap Into What These Guys Do Best"
Bears OC Luke Getsy spoke with the media after rookie minicamp on Sunday, provided glowing reports of wide receivers Velus Jones Jr. and Equanimeous St. Brown and tight end Cole Kmet, and said the offense will succeed if his staff can "tap into what these guys do best."
First and foremost, the offensive coordinator praised second-year quarterback Justin Fields for his professionalism and work ethic. Fields has spent time working on his own with wide receiver Darnell Mooney and running back David Montgomery, among others, since the 2021 season ended. Despite rumors to the contrary, the new offensive coordinator is excited to work with his quarterback and intends to develop his offense based on Fields' strengths.
"I've been super impressed with [Fields], I really have," Getsy said. "There's no one in the building that works harder than him. There's no one that cares more than him. We're off to a great start. He's really accepted this challenge. We're asking a lot of him to learn a lot of new things. He's been a pleasure to work with."
While with the Packers, Getsy developed a bond with Aaron Rodgers and wide receiver Davante Adams. He expects his system to develop the Bears' version of Adams and expects his relationship with Fields to evolve in the way it did with Rodgers.
"That [relationship] is extremely important," Getsy said. "I was raised on that, that the play-caller and the quarterback have to have a great relationship. We have to be on the same page, always. That's where I felt like he's grown, is he's communicating with me so well now, things that he's feeling, things that he sees. So, that part of it has just been tremendous, for a young guy to be able to do that. These three or four months that we've been together, it's been a lot of fun."
Equanimeous St. Brown took the hit and kept going 😤 @Equanimeous @packers

📺 #LARvsGB on FOX pic.twitter.com/RuRpxPgnob

— The Checkdown (@thecheckdown) January 16, 2021
One guy who could be that X-receiver is St. Brown. He's a big-bodied pass-catcher who can run and opens up multiple options in the passing game. With Green Bay last year, St. Brown appeared in 13 games with two starts, registering nine receptions for 98 yards. A very crowded receivers room kept him from getting regular reps with the Packers, but he'll be counted on to be part of the Bears' regular rotation this year.
"I thought 'EQ' had a tremendous year last year in his growth and his maturity from where he was to where he is now," Getsy said. "I was really excited that we were able to snag him up because I think all his best football is ahead of him. He's one of those guys, you talk about a big body, a guy that can run, his toughness and all that stuff and everything that we're going to preach in this system, he's that expectation, he's that leader of that mindset."
Another player who should benefit from Chicago's new offense is Kmet. A 2020 second-round selection out of Notre Dame, Kmet has caught 88 passes over two seasons for 855 yards and two TDs. Expect that production to increase now that Jimmy Graham is gone. The Bears love the versatility that the third-year tight end brings to the offensive scheme.
"The flexibility as a player, I think he has all that stuff," the offensive coordinator said. "I'm excited to see him have a bunch of different roles in our offense. Some players that are out there, they're kind of like, 'This is what they do well.'
"But I think the more guys that you can get in a system that can do a bunch of different things, the more success you're going to have, and I think Cole is one of those guys."
As for those who think Jones Jr. was a third-round reach in this year's draft, Getsy disagrees. The Tennessee product combines speed with power and ran a blazing 4.31 in the 40 at this year's scouting combine, something not lost on the coaching staff and front office. Jones was also on a shortlist that Fields provided Poles of potential wide receiver draftees. The two watched films of Jones together, and the rookie brings unusual experience as a rookie since he was drafted as a sixth-year senior.
One word to describe @VelusJr?

⚡️ ELECTRIC ⚡️ pic.twitter.com/Uq9HMTWAXH

— Chicago Bears (@ChicagoBears) April 30, 2022
When speaking about playmakers before the draft, head coach Matt Eberfuls expressed a desire for guys who could take it to the end zone with any catch.
"You want explosive, athletic ability there that can produce chunk plays," Eberflus said at the combine. "So if you throw a screen, you want a guy that can take it and go for 15 [yards] or all the way. The controlled passing game is just that, but the athletes are the guys that make you miss. … So you have guys that are quick, explosive, and strong.
"They have to be strong at the point of attack to be able to block. We're gonna put a big onus on the running game. They have to be able to do that. Then you have to have different traits at different positions. One guy might be quick and he's really a short-route runner. Another guy can do it all. That would be our No. 1 receiver. Should be able to do that. And the other guy should be able to take the top off the defense. That puts stress on the defense."
Getsy believes that Jones Jr. has that capability.
"He's a physically mature dude," Getsy said. "I mean, he can handle this league, you can see that already. Then the speed just jumped at you on tape. When that guy gets the ball in his hands, he looks like 4.3 on the field. Not many guys can do that, and I think that is what stood out about this guy. He has a chance to score every time he touches the ball."
"He's all business," Getsy added. "He came in in a suit. He was ready to go. He takes great notes. Bought his own whiteboard. He came in ready. He was focused. So I'm excited. He's somebody that's going to be all-in, focused on trying to figure everything out. It's a lot for all of those guys right now, but I loved the way he came in, his approach."