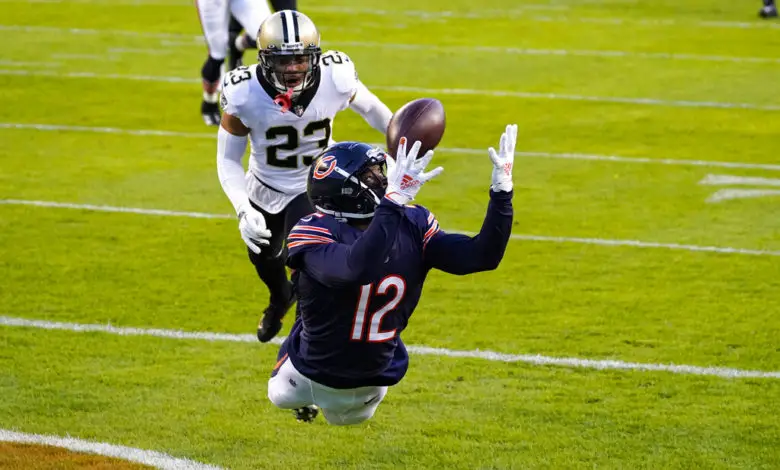 First & Long: Robinson Reveals Nagy Ignored Him, Coordinator Interviews Continue, Brady Retires
"I have one more thing to say… What you have done before today is not my concern." – Eliot Ness, The Untouchables.
Is Bears wide receiver Allen Robinson lazy, belligerent, a quitter, a victim of the previous regime, or a little bit of all four? With a new coaching staff arriving at Halas Hall, the 29-year old veteran wanted a chance to clear the air about what was the worst season of his career. Robinson claimed Nagy blew him off during last year's end-of-season-exit interviews.
Mitchell Trubisky said a few weeks ago that Nagy did the exact same thing to him after his first season in Chicago.
"I was a pending free agent at that point," Robinson said. "I didn't know which direction they were wanting to go, either way or not. So for me, I'm waiting for that exit meeting so we can talk about [the franchise tag]. Like, what do you all see, or think, in the foreseeable future, just to give me an idea? So it's supposed to be a Zoom link sent [directly] to me, cool. Alright, I'm waiting for that Zoom link so we can chop it up and see what's up. Even from a football side, how do we improve next year? A week [goes] by, no Zoom link. Two weeks, no Zoom [link]. Now January, [then] we're into February, nope."
The Bears 2020 season ended with a 21-9 Wild Card loss to the Saints, a game in which Chicago's offense was practically non-existent. With Trubisky leading the team, the Bears managed just 140 yards of total offense, the bulk of that coming in garbage time after New Orleans had built a 21-3 lead.
Now that the Bears have hired a new GM and head coach, Robinson would like a clean slate, at least as far as communications go. Matt Eberflus is considered a disciplinarian and has indicated he basically uses a merit system to calculate playing time. If the head coach watched the films from Chicago's late-season loss to the Packers, Robinson may not have to worry about having a franchise tag attached to his pending free agency.
ESPN's Jeremy Fowler Speculates the Colts as a 'Good Fit' for Bears Free Agent WR Allen Robinson https://t.co/zOHyJmONGs

— Stampede Blue (@StampedeBlue) January 28, 2022
If this was entirely Robinson's fault, he'd garner some sympathy from Bears' fans, but he openly decried the franchise tag last offseason and seemed unmotivated all season long. With Justin Fields getting the bulk of the starts, the wide receiver never seemed to be on the same page as the rookie quarterback at a time when they really needed to develop some onfield camaraderie. Darnell Mooney ended up being the go-to receiver of choice, something that couldn't have sat well with Robinson.
Perhaps Mooney's ascension to WR1 was planned all along, but one would think Nagy and Ryan Pace would have wanted to put the team in the best opportunity to win considering each man's job status entering the year. In 2020, Robinson caught 102-of-151 targets for 1,250 yards and six scores. This year, the eight-year veteran caught just 38-of-66 targets for a single touchdown. Then again, it's probably best not to try to decipher Nagy's process.
If anything, Nagy did a whole lot to suppress Robinson's value as a free agent this year. It seems unlikely the Bears would tag him again, but if Robinson wants to earn the three-year $48 million deal he is projected to get, his suitors will have to ignore all of 2021. This year's crop of free agents is relatively weak for wide receivers, with Mike Williams of the Buccaneers and Robinson generally considered the top two available. Odell Beckham Jr. could be looking for a new team, too.
I purposely ignored Davante Adams because I expect the Packers to tag him this year. Besides, should Green Bay let him walk, Adams has already indicated he's seeking a massive $30 million per year. There are also rumors going around that he wants to follow his quarterback or vice versa.
Eberflus seems like a good guy who believes in second chances. Most new guys will give players the benefit of the doubt until proven otherwise. The sticking point, if Robinson wants to stay with the Bears, is how much he expects to get paid versus what Ryan Poles is willing to give him. If the Bears intend to tag Robinson again, they'll have to do so by February 22. The clock is ticking.
Bears News & Notes
Brady Street
As previously speculated at the end of Week 18, Buccaneers QB Tom Brady has reportedly retired after 22 seasons and seven championships.
Accolades for the man singularly known as the NFL's G.O.A.T. came fast and furiously.
We can assume this means Rob Gronkowski will retire…again.
Donté Stallworth, a former NFL wide receiver who played on the Patriots with Brady, said his former quarterback "literally breathed football."
Here are the most memorable moments of Brady's career.
Brady was 6-1 against the Bears in his career. His one loss came with a bit of a comical twist.
Brady retired with 84,520 passing yards, 624 TDs, a 243-73 regular-season record, a first-class ticket to the Hall of Fame, and one unsportsmanlike conduct penalty, which he earned ln last week's loss to the 49ers.
I'll say what everybody is thinking, and in the voice of Chuck Rhodes from the show 'Billions:'  Brady made winning boring, if not downright boorish.
BREAKING: Tom Brady is retiring after 22 seasons in the #NFL.

He retires as a 7x SB champ, 5x SB MVP, 3x MVP, 15x pro bowler, and 6x pro bowler.

He has the most career pass attempts, completions, TDs, and yards in #NFL history. pic.twitter.com/jg8Kwq5CUU

— NFL Stats (@NFL_Stats) January 29, 2022
Northern Exposure
Packers QB Aaron Rodgers could ask for a trade to Tampa Bay to replace Brady. The strongest rumors suggest Rodgers wants to see if Green Bay gives Adams a franchise tag before making his decision to stay with or leave the Packers.
Lions defensive coordinator Aaron Glenn will interview with the Saints for their head coach opening.
The Vikings have yet to name a new head coach, but NFL Insider Albert Breer says that Giants DC Patrick Graham could be the favorite.
NFL News & Notes
Cowboys' owner Jerry Jones said that Dan Quinn turned down a head coaching job in order to remain with Dallas. Quinn interviewed with the Broncos, Bears, Giants, Vikings, and Dolphins and by some accounts was considered the favorite in Chicago and in Minnesota.
Now that Kevin Colbert has officially announced he is stepping down as the Steelers' GM, the team could consider promoting Omar Khan to take his place.
Chiefs CB Damon Arnette was arrested late Friday night for threatening a Las Vegas valet with a gun.
Kansas City immediately cut the 25-year-old former first-round pick.
This year's Reese's Senior Bowl is loaded with future NFL talent.
The NFL's competition committee is anticipating several proposals to change its overtime format. That said, there is ample support for the current overtime rules.
Three Yards and a Cloud of Dust
Matthew Stafford is the best when it matters most. His 126.4 QBR in the 4th quarter and 130.4 QBR while trailing with less than four minutes remaining in the game was best in the league this year.
Brady threw 168 touchdown passes after turning 40. No. 2 on that list is Drew Brees with 51.
Brady, Brees, Ben Roethlisberger, Eli Manning, and Philip Rivers have all retired within the last 2 seasons.
From the Podium
"It wasn't that I didn't talk to [Nagy], we didn't talk. I'm gonna say, 'We didn't talk,' because from the time the [2020] season ended, on the plane after the Saints game, the following 24 to 48 hours, there's some sort of exit meetings. For us, because of COVID, that was supposed to be scheduled with the head coach and management, or whoever [was] coordinating that, via Zoom. [I] talked to the receivers coach, talked to the equipment [manager], everybody else. A few days go by, no Zoom link. Week [goes] by, no Zoom link." – Robinson