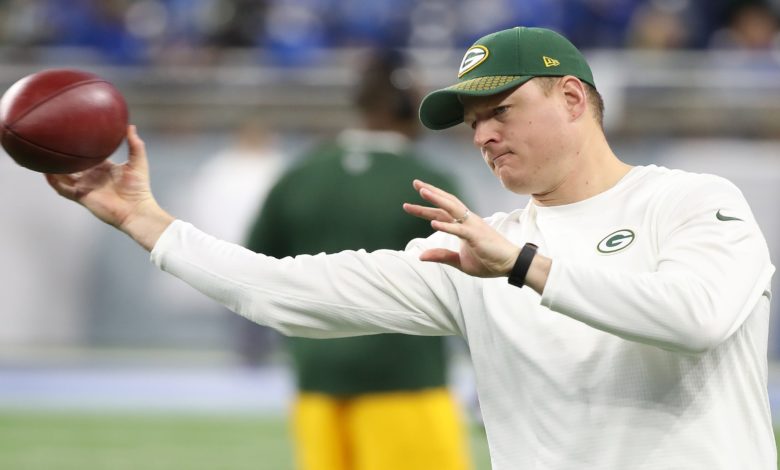 Report: Bears Offer Offensive Coordinator Position to Packers Assistant Luke Getsy
New head coach Matt Eberflus has apparently zeroed in on his new offensive coordinator, and it's Packers assistant Luke Getsy. According to reports, the Green Bay assistant was offered the position this afternoon. Tom Silverstein of the Milwaukee Journal-Sentinel broke the news.
The Chicago Bears have offered Green Bay Packers quarterbacks/passing game coordinator Luke Getsy the offensive coordinator job, per @TomSilverstein.

— Daniel Greenberg (@ChiSportUpdates) January 28, 2022
Getsy, 37, has served as Green Bay's passing game coordinator under head coach Matt LaFleur and offensive coordinator Nathaniel Hackett for two seasons. He's also been the team's quarterbacks coach since 2019. Aaron Rodgers has been elected to the Pro Bowl all three seasons under Getsy and could be a two-time MVP if he is awarded that honor this year. Rodgers is the favorite based on a season that saw him pass for 4,115 yards and 37 touchdowns.
If Getsy accepts, he could help fulfill a promise Justin Fields made earlier this year, when the rookie quarterback declared that the Bears would soon be the dominating force in the NFC North.
Hackett, of course, was named head coach of the Broncos yesterday, meaning LaFleur and the Packers will have to revamp the entire offensive side of their organization. They may get a chance for a completely fresh start if Rodgers and all-pro wide receiver Davante Adams join Hackett in Denver.
LaFleur was considering a promotion for Getsy, who was also under consideration for Denver's head coach opening, which would be the only way he could block the move.
"I think Luke's done an outstanding job," LaFleur said regarding the Broncos' interest. "He's an excellent communicator, great teacher, great team guy. I think he sees the game the right way. He's got such a great presence about him. Players respond to him, so it's a great opportunity for him and, you know, another guy we would hate to lose, but would be happy for him and his family if he gets that opportunity.
Do I think he's ready? I think absolutely. I think he's done a great job. I think he's a great communicator. He's got great command. I think people believe in him. He's genuine. He's a good person. He cares about people. He's got all the qualities that you look for, I think when you think about a leader."
Over the past two seasons, the Packers own the No. 1 passing offense in the NFL in terms of total EPA, per TruMedia. It's not just Rodgers and the other quarterbacks Getsy has elevated, either. He gets most of the credit for the ascension of Adams to WR1, into one of the best pass-catchers in the NFL, and for getting Rodgers to trust the wide receiver's talent.
If Getsy takes the job in Chicago, he will be tasked with running the offense and calling all the plays. Green Bay's current scheme consists of a lot of pre-snap motion, heavy reliance on the run-pass option, and standard route concepts. The Packers tailor their game plan to the strengths and weaknesses of each opponent, something that's not much of a problem for a veteran like Rodgers. On the other hand, their running game didn't generate very many big plays this season, though backs Aaron Jones and AJ Dillon were consistent.
Jones averaged 4.7 yards per carry, amassing 799 yards on the ground. Dillon rushed for 803 yards. Both were reliable as pass-catchers for this offense, with Jones totaling 391 receiving yards and Dillon 313. The duo also recorded 17 total touchdowns. That bodes well for the Bears who also have two backs capable of handling a heavy workload in David Montgomery and Khalil Herbert. If Tarik Cohen is healthy, he would give Getsy another weapon.
Herbert had one of the best games of his rookie year against Green Bay in Week 6 while Montgomery was injured.
The Bears don't have anybody as talented as Adams at wide receiver though, so they'll have to strike in free agency, trade, or in the draft this April. A lot of analysts have the Bears selecting George Pickens at No. 39 in the second round. Chicago does not have a first-round pick. Wide receiver is the deepest position this year, and as many as seven pass-catchers could go in Round 1 alone.
All of this becomes moot if LaFleur promotes Gets, or if the hotshot assistant follows Hackett, and potentially Rodgers and Adams, to the Broncos. More as this story develops.