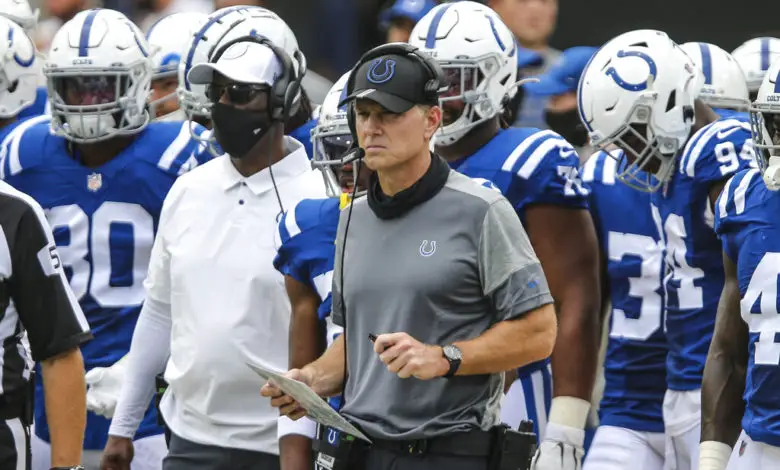 Possible Bears Defensive Coordinator Candidates
The Bears officially hired Matt Eberflus to be their head coach on Thursday. The former Colts defensive coordinator will probably make most of the play calls on that side of the ball, but they're still going to have to hire a DC. What are the possibilities for a potential Bears hire?
To begin with, the Bears could retain defensive coordinator Sean Desai who is just in his first year as coordinator. While that's not out of the question, it seems unlikely Eberflus will retain a coach from the previous staff. Coaches usually like to start with a fresh slate when they take over. Still, the Bears defense was solid last year so they could do worse.
The coordinator could also come over from the Colts, however, that seems unlikely. Indianapolis did not have any really promising position coaches on the defensive end. In fact, they even fired their D-line coach before Eberflus left.
A young assistant coach from another team is strong possibility for the Bears. A couple interesting names have emerged so far. James Bettcher, 49ers passing defense coordinator has previous coordinator experience with the Cardinals and Giants. Teryl Austin has been defensive backs coach with the Steelers for several years and could bring the magic of Pittsburgh's always tough defense to Chicago.
Jim Leonhard has been doing great things for the Wisconsin Badgers as their DC. The former Jets safety has so far turned down any NFL coaching jobs but it couldn't hurt to ask. Former linebacker, Jerod Mayo, has been getting a lot of interest with his work as a ILB coach for Bill Belichick and the Patriots.
Finally, the Bears could opt for a veteran coach perhaps with head-coaching experience. Rod Marinelli former Chicago DC gave Eberflus his first NFL job in Dallas and is available with a coaching change in Las Vegas. He coached the Raiders defensive line that was so impressive down the stretch in 2021. At 72 years old, however, he might not be interested in another pressure packed gig in Chicago.
A more recent Bears coach, Vic Fangio, is looking for work after being fired as head coach by Denver. Fangio's issues in the Mile High City were about the quarterback position and not the defense which played well. Gus Bradley has been coordinating for the Raiders and Chargers the last five years with pretty mixed results. The results were decent in Vegas but the numbers got pretty dicey in LA.
If you're going really outside the box, Lovie Smith has ties to the new Bears coach. It was Smith who hired Marinelli on his staff back in 2010. That said, I'm not expecting a reunion with the the Super Bowl head coach. Lovie had a long tenure in Chicago and I'm thinking both sides are way past it.
This is hardly a complete list and odds are someone I haven't named will get the job. I'm putting my money on Rod Marinelli, I think he will get hired to come back to Chicago.