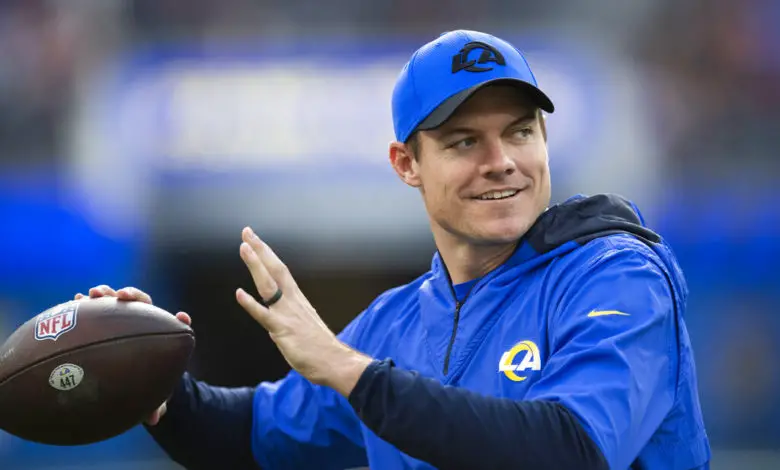 Possible Bears Offensive Coordinator Candidates
We now know that Packers passing game coordinator Luke Getsy is at the top of the Bears' list of potential offensive coordinators. New head coach Matt Eberflus offered the gig to Getsy this afternoon, though he has yet to accept. If he is promoted by Matt LaFleur or follows Nathaniel Hackett to Denver, Eberflus may have to look for a backup among a number of potential candidates.
Because Chicago basically wasted a year of development for Justin Fields, the guy who will spend the next few seasons trying to get the rookie quarterback playing at an elite level will be the most important hire of the new regime. That goes for other offensive assistants, too. Eberflus comes from a defensive background, so he absolutely has to ensure he hands the keys to the offense to the right man.
As Eberflus gets ready to assemble his coaching staff, here are some offensive coordinators he could consider hiring in the next few days.
Getsy – The No. 1 guy is probably going to be a tough get. LaFleuer is likely to promote him to replace Hackett, and if he doesn't, and that would be a bad move by the Green Bay head coach, Gesty could follow Hackett to Denver. In other words, let's not get too excited about the offer. He's going to have to really want the Chicago job, and Fields is the key. Further, the Bears' dearth of quality receivers, or any with potential, could keep him away if LaFleur and Hackett don't. The Broncos may make a play for Aaron Rodgers and Davante Adams, which would be awfully tough for the Bears to outsell. If you're thinking Getsy could bring Adams to Chicago, just stop right now. Even worse, if LaFleur has to find a new OC on the open market, he and Eberflus will be competing for the same guys.
Jim Caldwell – He wasn't offered the head coaching position, but he allegedly presented an inspiring offensive game plan tailored to the strengths of Fields. He may not settle for a coordinator position until there are no remaining head coach vacancies, however. One would assume the Bears would have their guy by then. I wouldn't put it past GM Ryan Poles to have Caldwell work as a consultant during camp if he remains unemployed. The word is Poles was very impressed with Caldwell's plan and its thoroughness.
Mike Kafka and/or Eric Bieniemy – Both are with the Chiefs and Eberflus would have to wait until after the Super Bowl to hire either if Kanas City wins the AFC Championship on Sunday. Bieniemy is also a head coach candidate for a few of the remaining openings and could end up with the Vikings or Saints. Kafka is an ascending name among current assistants and could be persuaded to join LaFleur in Green Bay, or, assume the play-calling responsibilities in Kansas City if Bienemy is hired elsewhere.
Ken Dorsey – If you watched the Bills-Chiefs game last week, then you have everything you need to know about Dorsey. Yes, Brian Daboll was calling the plays, but Dorsey gets much of the credit for developing Josh Allen into the superstar he is today. Buffalo's quarterback coach would be tasked to get Fields to a similar level and might welcome the challenge. The chance exists, however, that Dorsey will follow Daboll to the Giants. Keep an eye out for LaFleur, too.
Kevin Patullo – The Eagles assistant coach was the hot name on Thursday, and was tied to the Bears' opening by several analysts. Patullo has experience coaching a variety of positions, including quarterbacks and wide receivers, and worked with Ebeflus previously. Jalen Hurts hasn't progressed as much as most fans thought he would once Carson Wentz was traded, but he quietly threw for 3,151 yards and 16 touchdowns with a 61.3% completion percentage, leading Philadelphia to the postseason as a wildcard entry.
Pep Hamilton – The 47-year-old has an impressive résumé, having already worked with Justin Herbert and Andrew Luck. Hamilton's work this past season with rookie Davis Mills was exemplary considering how awful the Texans were. Hamilton is best known for tailoring an offense to a quarterback's strengths, and Herbert is proof. The Chargers signal-caller had 4,336 passing yards, 31 touchdowns, and 10 interceptions as a rookie in 2020. Hamilton would probably want full control of the offense, and assistant coach hires before he would even consider a move to Chicago.
Kevin O'Connell – Being part of the Sean McVay team in Los Angeles with a thorough knowledge of the Kyle Shanahan offense elevates O'Connell to favorite status for many head coaches. Eberflus would have to convince him that leaving a sweet gig with the Rams for a challenging situation with the Bears is worth a move to Chicago. O'Connell, like Getsy, is known for big plays in the passing attack, and he would have to be on board with developing Fields. Caveat emptor: O'Connell could be looking to parlay one year as an OC into a head coaching gig of his own in 2023, and it might not be a good idea to saddle Fields with three different coordinators in his first three seasons.
If the Bears are looking for a long-term solution, Getsy could be the right guy. In NFL parlance 2-3 years as a coordinator qualifies as a virtual lifetime. Success for that length of time means coordinators start getting offers for head coaching opportunities of their own. Kafka makes sense for that reason, too, and Hamilton probably qualifies as well. Then again, if Caldwell doesn't get hired this year, it may be his last chance. Therefore, developing Fields could be the crown jewel of an already successful career for the 67-year-old veteran.
The Bears also have a potential candidate in-house with Bill Lazor. He may not be the sexiest choice, but at least he provides Fields with some familiarity. Keep your eye on Chicago's passing coordinator John DeFilippo, too. He worked wonders with Gardner Minshew as a rookie with the Jaguars in 2019. Minshew threw for 3,271 yards, 21 touchdowns, and six interceptions to go along with 344 rushing yards in 14 games (12 starts). Under DeFilippo's tutelage, Minshew was named the NFL Rookie of the Week seven times. No other rookie won the award more than once in 2019.
Additionally, DeFilippo has worked with Kirk Cousins, Carson Wentz, Nick Foles, Carson Palmer, and Derek Carr. Cousins became the first player in NFL history to record at least 30 TDs and 4,000 passing yards while completing over 70 percent of his passes with 10 or fewer INTs while working with DeFilippo. He may have a place on Eberflus's staff, even if the new head coach chooses somebody else to be Chicago's offensive coordinator.