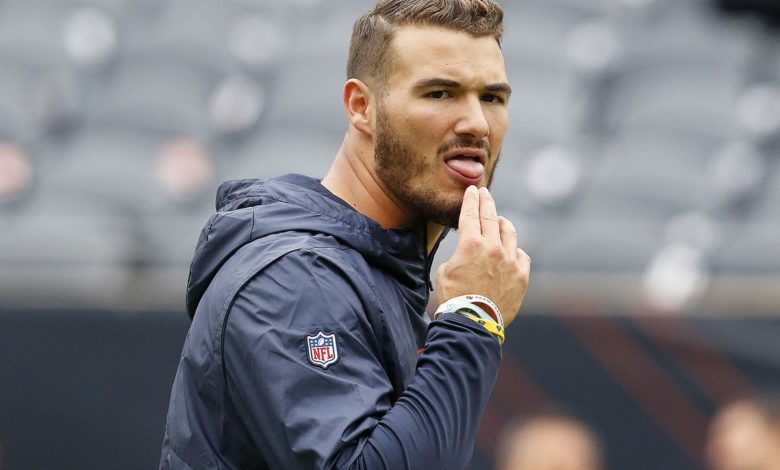 First & Long: Trubisky Tosses Bomb at Nagy, No Margin for Error in Head Coach Search, NFL Kicks Off Wild Card Weekend
It hasn't been a good week for former Bears head coach Matt Nagy. In addition to getting sacked on Monday, former first-round draft pick and ex-Chicago QB Mitchell Trubisky threw some serious shade at his former head coach. Additionally, a number of respected football analysts basically said that Nagy's offense was, well, offensive. It's not like either is any big revelation.
Nagy's last game as Chicago's game manager provided the perfect microcosm of his tenure with the NFL's charter franchise. On three fourth-and-one situations, Nagy opted to pass instead of letting running back David Montgomery rush for a first down. One of those attempts completely backfired when Vikings cornerback Patrick Peterson picked off Andy Dalton and took it to the house.
Andy Dalton's pass is intercepted by Patrick Peterson and returned 65 yards for the #Vikings TD!#CHIvsMIN #NFL #NFLTwitter #Skol #DaBearspic.twitter.com/BZN4kMRJyo

— Football Outsiders (@fboutsiders) January 9, 2022
Getting back to Trubisky, the five-year veteran, who currently serves as the backup to Josh Allen in Buffalo, basically said Nagy showed no interest in working with him after his rookie season. According to Adam Jahns and Kevin Fishbain of The Athletic, Trubisky and Nagy were to meet after the 2019 season to discuss their working relationship, and the head coach was a no-show. The quarterback claimed he prepared notes for said meeting.
Nagy, as you may recall, was specifically hired by Ryan Pace and Ted Phillips because of his perceived ability to work with young quarterbacks. That the team trusted Nagy with new quarterback Justin Fields seems almost frightening in retrospect.
The following is taken verbatim from the piece at The Athletic (subscription required).
"'Ultimately, if you really try and define Matt Nagy's offense … with multiple changes they've had, the multiple players they've had at the quarterback position, I think at times it lacks an identity,' said ESPN analyst Matt Bowen, a Chicago-area native.
Some sources suggested that Nagy was hired as a head coach too early in his career, that he needed more time calling plays in Kansas City and more seasoning overall. Walkthroughs were 'a mess,' a source said, and the lack of accountability at Halas Hall (emphasis mine) showed up in penalties during games. Nagy connected well with some players, while his grip on others faded as the losses mounted and fingers pointed. Nagy tried to assert himself. Players were fined more this season than in the previous three."
Now McCaskey and Phillips are back to the drawing board, with help from former executive Bill Polian. The NFL lifer is 79 years old and is leading the search for Chicago's next head coach and GM. He is also being tasked with creating a new image for the Bears, one that exemplifies the historic values of the franchise. Chicago absolutely has to get the right man to further the development of Fields. Another bust at quarterback might set the franchise back another 20 years.
https://twitter.com/PFF_Anthony/status/1480552861020917760
Polian understands which traits are essential in an NFL head coach. Few people have hired as well as the former Colts' GM. His head coaches have included Marv Levy, Dom Capers, Tony Dungy, and Jim Caldwell, who recently interviewed for Chicago's current opening. That's an impressive list of great head coaches and something that obviously attracted McCaskey and Phillips to Polian.
When McCaskey was asked what he wanted the Bears' identity to be, he replied, "Tough. Gritty. Smart. Opportunistic. Winning Football."
They've got a long way to go.
Bears News & Notes
There's a Flag…On the Play
McCaskey gets an F for misunderstanding the meaning of nepotism, yet he's still going to continue running the team "as a fan."
George McCaskey was asked if he feels he's done a good enough job in his role. George said ownership has been happy with his performance.

Ownership is his mom…

— OBVIOUS SHIRTS® (@obvious_shirts) January 10, 2022
Northern Exposure
The Packers and Chiefs are the odds-on favorites to reach this year's Super Bowl.
Jared Goff may not be Detroit's long-term answer at quarterback. The Lions have the No. 2 pick in this year's draft and have several needs. It will be interesting to see if they select a quarterback. The smart play would be to trade down and get multiple picks.
Though the Vikings are replacing their head coach and GM, the organization would prefer not to go through a full rebuild.
NFL News & Notes
The referees took center stage for an inadvertent whistle in Saturday's AFC Wild Card playoff game between the Raiders and Bengals, and per Adam Schefter of ESPN, aren't expected to be assigned to work any other games in the playoffs this season.
Eagles defensive end Josh Sweat missed the team's wild-card game against the Buccaneers on Sunday after undergoing an emergency procedure to address "a life-threatening situation," the team announced.
Oregon DE Kayvon Thibodeaux is the consensus No. 1 pick heading into the 2022 draft. Barring a trade, the Jaguars are on the clock.
Antonio Brown had some disparaging things to say about Tom Brady earlier this week, but he walked back those comments during an extended appearance on The Full Send podcast.
Washington Football Team quarterback Ryan Fitzpatrick spent yesterday as a member of Bills Mafia and watched a portion of the game shirtless in Buffalo's stands yesterday. The game-time temperature was 7 degrees.
According to reports, the Seahawks will retain head coach Pete Carroll and GM John Schneider.
Seattle quarterback Russell Wilson prefers to explore his options this spring.
The Steelers will need to replace Ben Roethlisberger after this season and may look to the draft and free agency. Pittsburgh could theoretically sign a veteran short-term solution like Wilson or Aaron Rodgers and draft a future replacement for either as well.
Raiders quarterback Derek Carr has endorsed interim head coach Rich Bisaccia to be officially named to the post.
Saturday's Wild Card MVP
Josh Allen was 21-of-25 for 305 yards and five TDs in yesterday's 47-17 win over the Patriots. Allen did not throw an interception, carried the ball six times for 66 yards, and led an offense that averaged a ridiculous 8.9 yards per play.
Three Yards and a Cloud of Dust
Allen became the first QB in NFL history to complete at least 80% of his passes, throw for 5+ TDs and also rush for 50+ yards in a single game (regular season or postseason).
Allen had more TDs (5) than incompletions (4) last night.
The Bengals won their first playoff game since 1990 when they beat the Houston Oilers 41-14 at Riverfront Stadium. Since then the Oilers moved to Tennessee, changed their name to the Titans, and went to the Super Bowl in 1999.
Sudden Death
It's just my opinion, but based on the number of current commercials that feature Tom Brady, I believe the future first-ballot Hall of Fame quarterback will retire after this season. Time will tell.
From the Podium
"Well, I'm just a fan. I'm not a football evaluator. As a fan, what I see is a dynamic player [in Fields] with a lot of potential, a lot of ability, a lot of heart, and a strong work ethic. We will be very interested to hear from both general manager and head coach candidates what their plan is to get the most out of the quarterback position for us." – McCaskey
"Bill Polian is in the Pro Football Hall of Fame because of his success as a football executive, including his hiring of two head coaches, Marv Levy and Tony Dungy, who are themselves in the Hall of Fame. He is well-regarded in league circles and has a lot of contacts. We consider ourselves very fortunate to have Bill assisting us in our search." – McCaskey