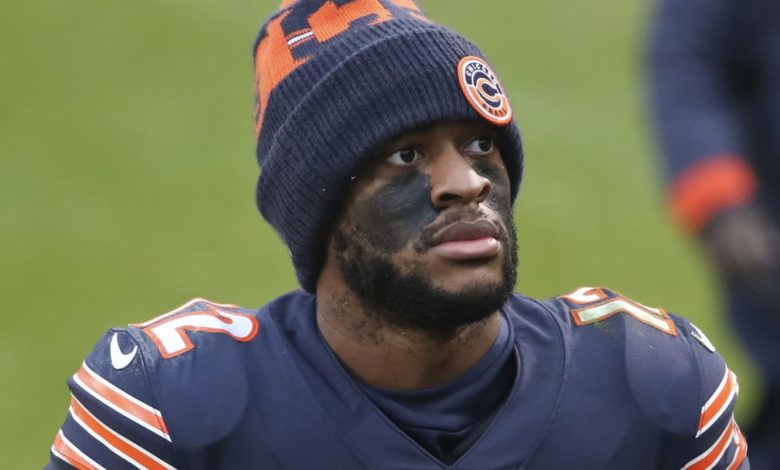 Allen Robinson Has Quit on His Teammates
The Bears made a game of it in the first half with a number of big plays against the Packers Monday night, but WR1 Allen Robinson could have cost Justin Fields a touchdown run by failing to execute a block on Green Bay DB Rasul Douglas. Robinson has clearly quit on his teammates.
anddddd this is a major reason why Allen Robinson should be gone pic.twitter.com/Q4O39yYrkY

— Joseph Herff (@JosephHerffNFL) December 13, 2021
Robinson is having the worst season of his career with the Bears, and there is no doubt he is letting his contract situation affect his play. Early in the 4th quarter, Fields attempted to hit Robinson on 2nd and 7 with the Bears trying to get back into the game. Rather than come back to the ball as all receivers are taught to do, Robinson made no attempt to catch the pass. That type of questionable effort is just another reason why Matt Nagy needs to be dismissed. Worse, the 27-year-old wide receiver isn't helping Fields in his development when he phones it in like he did last night.
If Robinson is still hurting from a midseason hamstring issue, he shouldn't have been in the game. That said, the receiver was right there to eliminate Douglas as a potential tackler, and had he executed a simple block Fields would have easily scored. Failure to do so is unacceptable and a big reason why the Bears lost 45-30.
Robinson thinks of himself as a No. 1 receiver and expected to be paid like one this past offseason when GM Ryan Pace slapped a franchise tag on him. Still, he's making $18 million this year and one would expect just a little more effort, especially since Robinson is in a contract year again. If he wants to make WR1 money next season, he's certainly not playing as if he deserves it. He has 353 yards and one touchdown in 10 games. A lot of teams' third receivers have outperformed A-Rob so far.
It's safe to say Robinson is playing his last season with Chicago. Earlier this season, he blamed a lack of preseason reps with Fields for the non-existent chemistry between the two. It's fair to question if Robinson, who is the veteran of the two, has made a real effort to form any kind of a connection with the rookie quarterback since. Last night's lack of professional effort is damning evidence against the disgruntled wideout. It's tough to argue he hasn't quit on the Bears.
That means that the Bears will have to address the position once again this offseason. That's another failure of GM Ryan Pace, who seems perfectly capable of finding adequate patches when he should be recruiting players in free agency with all-pro projection. Lack of outstanding players at skill positions has kept the Bears from being any better than ordinary since Pace joined the organization in 2014. As good as Darnell Mooney is, he's not a feature receiver.
Lack of effort by his players, a head coach that seems to have already checked out, and a locker room that seems to question the team's coaching staff at times all point to the GM. When Chicago cleans house in January, the first thing the organization should do after firing Pace and Nagy is to show Robinson the Halas Hall exits, too.