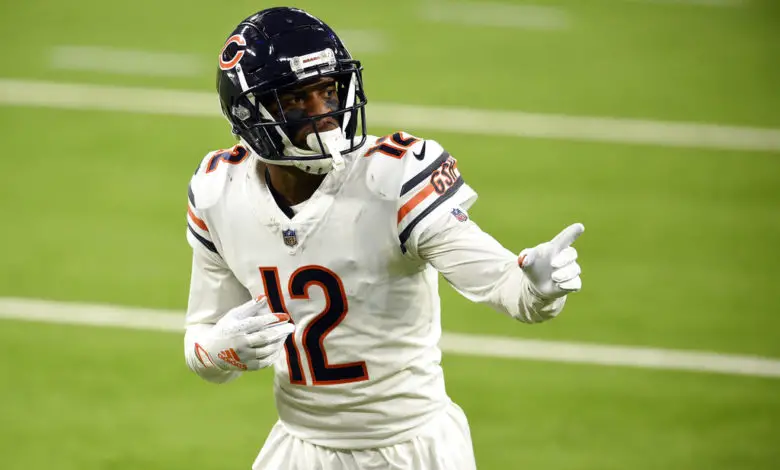 First & Long: Robinson Represents First Big Decision for New Front Office, Fields Prepping for '22, NFL Combine One Week Away
The 2022 NFL season hasn't officially started, but the scouting combine is just a week away and today marks the beginning of free agent tagging season. Last year, the Bears tagged WR Allen Robinson, which turned out to be disastrous. At times, it looked like Robinson quit on his teammates, and he and Justin Fields never found the chemistry that a quarterback and his No.1 wide receiver should have.
The Bears have a high number of unrestricted free agents this year, but they also have a new head coach and GM. With no attachment to any players on the 2021 roster, Ryan Poles and Matt Eberflus have a lot of work to do to decide which players they intend to keep, which they intend to let walk, and if they should use their one franchise tag on any of them.
Which team should sign Allen Robinson in free agency? pic.twitter.com/zRXOP6ORBr

— PFF (@PFF) February 18, 2022
The natural move for the Bears would be to tag Robinson again, but the WR1 had a career-low 38 catches for 410 yards and one touchdown after consecutive 1,000-yard seasons. He may need a fresh start elsewhere to revitalize his career, and he's probably too much of a risk to guarantee $18.4 million dollars. Unlike last year, A-Rob may not be as opposed to accepting the tag as a chance to rebuild his stock for free agency next year. Teams are allowed to franchise a player up to three consecutive times.
Robinson represents the first tough decision for the new regime. On the one hand, there aren't many dominant receivers in this year's crop of free agents, and the ones that are available might cost more than the guaranteed tender amount. Additionally, Robinson could theoretically flourish in Luke Getsy's new offense. He'll have to build a relationship with Fields, but with a bigger payday down the road as motivation, that's not a big ask.
Conversely, impeding A-Rob from seeking a better deal elsewhere could continue his bitterness with the organization. Using the 2021 season as precedent, Robinson seems far too disinterested when he's unhappy, and Poles, Eberflus, and Getsy might not want to risk another year of development for Fields.
There are two types of franchise tags: Players who receive an exclusive tag can only negotiate with their current team, while those with a non-exclusive tag can sign with another club, though their original team can match the offer or receive two first-round draft picks as compensation if they choose not to match the deal. Because Poles has a dearth of picks in this year's draft, that could be an option, though it seems unlikely any team would give up two premium picks for the underperforming wide receiver.
With that in mind, it seems unlikely that Chicago will tender Robinson as a franchise player. A transition tag might be a better option for the Bears, as it at least allows them to match any offer sheet the wide receiver garners on the open market. Kyle Fuller was the last Bears player to be tagged as a transition player by the Bears. He signed an offer sheet with the Packers in 2019, which was matched by Chicago.
Bears News & Notes
There's a Flag…On the Play
Aaron Rodgers got a little emotional with a few late-night Instagram posts on Monday. More than a few people believe that means the reigning MVP is moving on, either to play for another team or into retirement.
Aaron Rodgers is posting reflective thoughts on IG late on a Monday night. Take that for what you will. pic.twitter.com/RSRIKGo4uQ

— Will Brinson (@WillBrinson) February 22, 2022
Northern Exposure
The Packers are in salary cap Hell right now and will have to make a number of moves to get under, let alone have the space to retain Rodgers and WR Davante Adams.
Cronin provided the offseason primer for the Vikings in one of her final posts covering the team.
WR Amon-Ra St. Brown was the consensus team MVP pick among Detroit's beat writers.
NFL News & Notes
The NFL's franchise tag window opens today, with Adams and Patriots cornerback J.C. Jackson likely to be among the first players tagged. Chiefs left tackle Orlando Brown and Cardinals DE Chandler Jones are also expected to be tendered.
Amid talks of a boycott, the NFL has softened its rules regarding COVID-19 ahead of next week's scouting combine.
In case you were wondering why the NFL had Dwayne "The Rock" Johnson play such a big role prior to the opening kickoff of Super Bowl LVI, perhaps it's because the NFL is forming a developmental partnership with Johnson's new iteration of the XFL.
Brian Flores has joined the Steelers as a defensive assistant and linebackers coach.
Three Yards & a Cloud of Dust
With free agency just around the corner, the three highest-paid non-quarterbacks are T.J. Watt, DeAndre Hopkins, and Joey Bosa.
The Rams' game-winning drive in Super Bowl LVI was the longest 4th-quarter go-ahead touchdown drive in the game's history.
This year's Super Bowl was watched by an estimated 112.3M viewers, which was up 14% from last year.
From the Podium
"I think [Justin] Fields is the right guy [to lead the Bears]. Get some people in front of him. I made that prediction early on, I said this kid is going to get hurt because the line is so bad. They were letting him out there to hang dry. So we get some linemen and get some coaching." – Dick Butkus
Running Out the Clock
Family Affair by Mary J. Blige – This is a new feature for First & Long and will be commonplace going forward. I'm still reeling over MJB's amazing Super Bowl performance two weeks ago, and this is a popular feature in the articles I write for Cubs Insider.