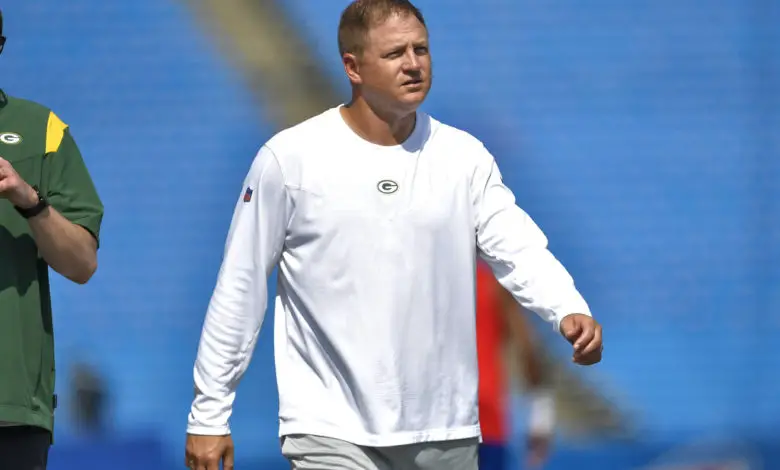 First & Long: Getting a Glimpse of Getsy's Offense, Bears Get No Preseason Love from ESPN, Combine Two Weeks Away
New offensive coordinator Luke Getsy is expected to install a new offense with some of the elements that fit David Montgomery from the old regime but with other aspects perhaps less in line with his strengths. That may or may not make the star running back, who is entering the final year of his rookie contract, a candidate to be traded for draft picks or other assets. New GM Ryan Poles has a lot of holes to fill, a capable replacement in Khalil Herbert, and Montgomery is probably his best trade chip. The going rate for the star running back would likely be a middle and a late-round draft pick.
Now that head coach Matt Eberflus and Getsy have added quarterbacks coach Andrew Janocko to the staff, it's apparent that the new offense will share a number of elements usually associated with the Kyle Shanahan offense similar to the one Matt LaFleur operates with the Packers. Chicago will likely use more run-pass option than Green Bay does because that plays to the strengths of second-year quarterback Justin Fields.
That also means Fields needs to become proficient in the progressions Getsy's offense will require. As an assistant, Getsy once worked for legendary NCAA coach Joe Moorehead at Mississippi State, and it is Moorehead's philosophy that will be the foundation of Chicago's new offense. Kevin Fishbain of The Athletic interviewed Moorhead two weeks ago ($) to get a feel for the type of scheme Getsy plans to run with the Bears.
"This sounds corny," Moorhead said, "but it's kind of a match made in heaven for Justin's skill set."
Here's why Moorhead sees it as a perfect fit — he describes his system as an "RPO-based run game that takes advantage of a quarterback's running skill set, combining that with a West Coast system that takes a ton of shots down the field."
Fields will have to become fluent in the intricacies of the offense and the progressions that are required to be successful.
https://twitter.com/AlexJKirby/status/1493587762125185025
Though Getsy will be responsible for the entire offense for the first time in his NFL coaching career, it's the relationship and vision for Fields that will be scrutinized most.
"You bring a play-style mentality philosophy to the table and then evaluate what the player does best," Getsy told Larry Mayer at the Bears' official website. "How I've been brought up in this business is you build it around the quarterback first, and then you tailor everything else to match what everybody else does well. That process is just ingrained in my soul. We're not going to just run this concept because I like it or it looks great on film. If the player can't execute that, then we're not going to have much success."
That means Montgomery may have to prove he fits in the new scheme before Poles decides whether or not to offer the fourth-year back a new deal. Herbert may actually be a better fit for the new offense because of his big-play ability.
Montgomery has developed into one of the league's better pass blockers, which could be an advantage, too. He's also a better receiver. His catch percentage has improved each season, hitting 82.4% this year and 78.6% for his career. That's higher than anything Aaron Jones has attained in Green Bay, and he serves as Getsy's prototype.
"To me, it's about what you can do and how you can connect to the player and the player can connect to the coaches to create something special," Getsy added. "[As] I said, we're going to build this around [Fields], and then we're going to see what everybody else does best. But you don't know what anybody does best unless you can connect. So this offensive staff connecting with [each] player will be an important part of our beginning."
Bears News & Notes
There's a Flag…On the Play
We can all hope that Getsy will never ask Montgomery to engineer the RPO. Fingers crossed.
Tae Crowder gets an interception off of David Montgomery!! let's go Giants!!!!!!!!! pic.twitter.com/bhJZ9o6Fp6

— Talkin' Giants (@TalkinGiants) January 2, 2022
Northern Exposure
Terrell Davis believes that the Packers will trade Aaron Rodgers to the Broncos. "It makes too much sense," the Denver legend said.
The Vikings have officially hired Kevin O'Connell as the team's new head coach.
In his Mock Draft 2.0, veteran analyst Todd McShay projects the Lions will select edge defender Aiden Hutchinson of Michigan at No.2 overall before taking North Carolina quarterback Sam Howell with their first pick in the second round.
NFL News & Notes
NFL executives ger a brief respite before heading to the scouting combine in Indianapolis two weeks from today. Once that's completed, front offices across the league will officially transition into the 2022-23 season.
Salary cap casualty cuts will mean an influx of new free agents. CBS Sports takes a look at who might become available in mid-March.
The Falcons announced they have released edge rush Dante Fowler, who signed a three-year $48 million extension in 2020.
Entering this season, a good quarterback on a rookie contract had suddenly become the single greatest advantage in the NFL. The success of Tom Brady last year and Matthew Stafford this year might mean teams are looking at veteran mercenary gunslingers instead.
If you're into the most ridiculous trade speculation ever, Bleacher Report has you covered.
Three Yards and a Cloud of Dust
Brady is the first NFL, NBA, NHL, or MLB player to finish top-2 in MVP voting in his final season since Sandy Koufax did it for the Los Angeles Dodgers in 1966.
Cooper Kupp is the 1st WR to receive an MVP vote since Randy Moss in 1998.
Mike Evans is the first wide receiver to start his career with eight straight 1,000-yard seasons.
From the Podium
"I love Justin [Fields]. I love his family and I know he'll be an incredibly successful pro, and for Luke [Getsy] to be able to play a part in that, it's great to see two people you love and respect develop and have an opportunity to win a bunch of games." – Moorehead
"[Fields is] the decision-maker on every single play. Whether it's the decision between, 'let's run plan A versus play B,' or adjusting the protection or going through a progression, he's got decisions to make on every single play that other people don't have that affect the game. This game is built around the ball. Turnovers are the No. 1 dictator of who wins the football game, so if he has the ball and he's the decision-maker, that's got to be the starting point." – Getsy