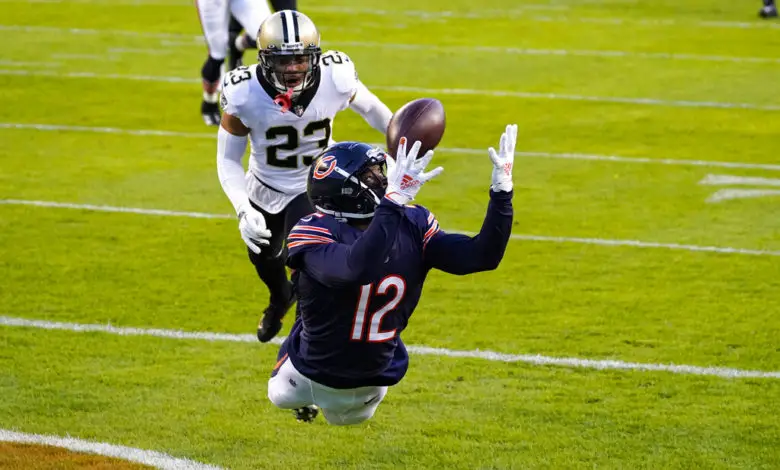 Allen Robinson Unlikely to Return in 2022
You don't need to be the smartest football fan on the planet to understand that the Bears and Allen Robinson have had a fractured, contentious relationship since last season. Even with a new head coach and GM in town, Robinson still isn't feeling the love he has been expecting and is unlikely to return.
You can ignore some of the rumors that have surfaced recently indicating that former head coach Matt Nagy and recently fired GM Ryan Pace purposely froze Robinson out. The two sides became estranged when Robinson was tagged as a franchise player last year, and no effort was made from either side to reconcile. That's unfortunately expected in situations of the like, but to suggest that Nagy hurt his team's chances to win by not calling A-Rob's number is insane.
Who had the motive to sabotage the other?

Matt Nagy:
• Paid you $18m
• Gave you starting snaps
• Darnell Mooney had 1k yards so there was opportunity.

ARob:
• Hated the fact he was tagged.
• Unfollowed & deleted Chicago media
• Liked tweets to go to other teams.

— Max Markham (@MaxMarkhamNFL) February 14, 2022
Nagy and Pace entered the 2021 season effectively carrying one-year prove-it deals. Losing meant getting fired so that's utter nonsense. Though neither can be held blameless, Robinson quit on his teammates at times, too. While most athletes would parlay a perceived rejection into a more bankable season, Robinson never developed an on or off-the-field relationship with Justin Fields according to some accounts. Any neglect in Chicago's passing game this season should be attributed mostly to the lack of chemistry between the two.
Additionally, the Bears need a No. 1 wide receiver and though Robinson has flashed those skills at times, he's not really a guy who can consistently stretch a defense. When he was signed as a free agent back in 2018, there was some hope that maybe Robinson would seize that role, and he did register two 1,000-yard seasons. The wide receiver's  410 receiving yards in 12 games this year probably doesn't scream WR1 to the new regime, however.
In a month, Robinson will finally become an unrestricted free agent, the very thing he wanted last year. Though his poor season shouldn't affect his earning power too much, there's no doubt it will be used against him in any negotiations. Don't expect the Bears to tag the 28-year-old receiver again, and a one-year deal to improve his value next season is probably not something that interests Robinson. It shouldn't interest Ryan Poles and Matt Eberflus either. That's basically the contract he played under this year and the results were obviously underwhelming.
Finding a No. 1 wide receiver won't be easy for Poles. Davante Adams is not an option for obvious reasons, and Chris Godwin, Michael Gallup, and Odell Beckham Jr. will be returning from significant ACL injuries. Gallup is certainly intriguing but Poles may want to minimize question marks as he takes his first foray into the open market. Calvin Ridley is reportedly available in trade, but Poles doesn't have enough draft picks at his disposal to swing a deal for a No. 1 wide receiver, especially one who carries some baggage of his own.
Poles could look to the draft, and this year's class is very deep in pass-catchers. George Pickens and David Bell should be available when the Bears make their first selection at No. 39 overall, and Ohio State alum and former teammate of Fields Chris Olave has been linked to Chicago recently. The obvious driver of those rumors is the standout seasons of Cincinnati quarterback Joe Burrow and wide receiver Ja'Marr Chase. The tandem led the Bengals to this year's Super Bowl and picked up a lot of individual hardware along the way. But that doesn't guarantee Fields and Olave would have similar success.
As for Robinson, Pro Football Focus projects he'll get a three-year, $48 million deal that includes a $30 million guarantee. That's the kind of contract a team should give Robinson if it feels it is a player or two away from competing for a championship. Unfortunately, the Bears aren't one of those teams.
The more likely scenario is that Poles and Eberflus will clean house in order to surround Fields with the playmakers he needs to take his game to the next level. New offensive coordinator Luke Getsy probably wants a fresh set of weapons for his offense, too. After Robinson's performance this year, it'd be a big ask of Getsy to try to work with a tandem that failed to connect on any level this year.
One idea that seems to be gaining some traction is Poles seeking value in NFL players who have failed to live up to pre-draft expectations, are currently overpaid, or are coming off of injuries. Those types of players sometimes become cap casualties and will cost much less in free agency. A player like Amari Cooper could become available to the Bears since the Cowboys project to be $21.4 million over the cap. Cooper saves Dallas $16 million in cap space if he is traded or cut, and his release would allow Jerry Jones to retain Gallup.
Michael Thomas of the Saints, Robert Woods of the Rams, and Jarvis Landry of the Browns are all potential cap casualties. In fact, it wouldn't be crazy to suggest that Robinson could end up replacing Woods in Los Angeles. Other free agents that might make sense for Poles include Christian Kirk, D.J. Chark, and Allen Lazard, who worked with Gesty in Green Bay but is also restricted.