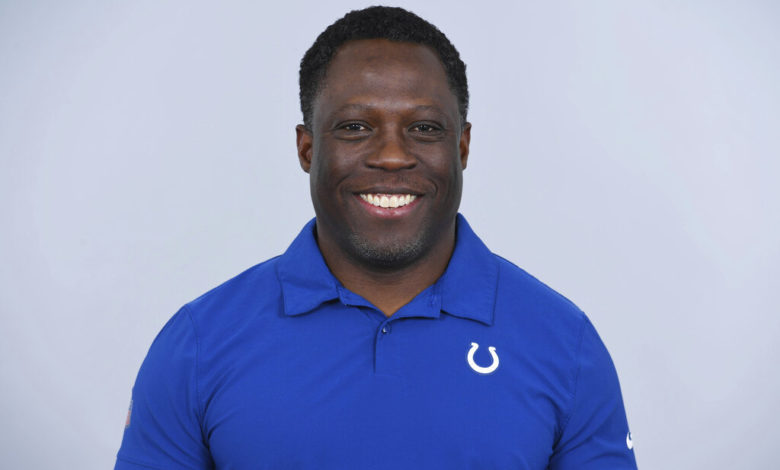 New Bears Defensive Coordinator Alan Williams Brings a Little Lovie Love to Chicago
If Alan Williams sounds a lot like Lovie Smith, perhaps it's because both men are disciples of Tony Dungy. In fact, if you listen to Williams, he almost sounds Dungy-seasoned in his speech mannerisms, just like Smith did when he led the Bears from 2004-12. Familiarity is not a bad thing, and it's nice that the new defensive coordinator brings a little Lovie love with him to Chicago.
"Great defense, excited about the staff, everything about the opportunity to coach with the Bears," Williams told Lauren Screeden of NBC Sports Chicago during a recent one-on-one. It's as if the new assistant is purposely trying to trigger recollections of Smith in our minds. His speech mannerisms are spot-on Lovie, though he lacks the drawl of his Tampa-2 predecessor. Both referenced their experiences with Dungy when they landed in Chicago.
"[Dungy] is the one I got into the NFL with," Allen continued. "Big-time mentor to me, so in every situation, when something comes up, challenging or a good situation, I always think about how Coach Dungy would handle [it]."
Bringing 30 years of coaching experience & plenty of passion, DC Alan Williams is ready to lead the Monsters of the Midway. pic.twitter.com/Ymwtg9XU3B

— Chicago Bears (@ChicagoBears) February 15, 2022
If the current Bears play defense as strongly as Chicago did under Smith, Williams will win over the bulk of Chicago's fans. When GM Ryan Poles was hired to be the new GM, he indicated he wanted the Bears to play "a more violent" form of football. The new defensive coordinator echoed those sentiments.
"We're going to hit, we're going to be physical, and we're going to find different ways to take the football away because takeaways equal victories," Willams told Larry Mayer during an interview at Halas Hall last week. "I have a vision in my head right now of what that looks like. But I haven't met the players, I haven't seen them on the field. I know they bring different attributes and skillsets to the field, so I'm going to wait and see what they do best and then mix that with what I think we should do from a coverage [and] front standpoint, and then that identity will be what we do best, not necessarily my picture or vision of it right now."
One player who needs a complete makeover is free safety Eddie Jackson. The five-year veteran had the worst season of his carer this year, though he did excel when 2021 DC Sean Desai asked him to move to cornerback. At times, Jackson showed a complete lack of hustle, especially in the early part of the schedule. Head coach Matt Eberflus won't tolerate a lack of effort, and neither will his new defensive coordinator.
"Our guys are going to hustle, they're going to run to the ball." Williams continued. "That's what Bears fans are going to see, not just hear from the coaches and [me]. They're going to see great intensity. We have a way of measuring that."
The analytic the coaching staff will use to measure such tangibles goes by the acronym HITS, and it stands for hustle, intensity, taking the ball away, and being situationally smart. Those were the pillars of Smith's defense when he coached the Bears, though he lacked the marketable nomenclature used today. Playing for Eberflus and Williams will be a challenge for anybody that doesn't fit the characteristics they desire.
Expect players like Robert Quinn, Roquan Smith, Jaylon Johnson, and Khalil Mack to adapt almost immediately. That's why they're the defensive leaders of this team. Rising star Trevis Gipson should be an easy convert. Jackson and many others may require a period of adjustment, and Chicago's new defensive coordinator knows it. He fully expects some resistance based on previous experience.
A lot of running will be involved, which Eberflus indicated at his introductory presser. He closed his Q&A by indicating players will need to bring their track shoes to camp. Williams said the adjustment to maximum hustle and intensity won't be easy.
"What we're going to ask them to do is going to be … it's not difficult but it's extremely hard," Williams said. "We're going to ask guys to give us 100 percent when they get on the field – 100 percent hustle. We're going to ask guys to be intense. We're going to ask them to do some things that they might not be used to doing."
Jackson will need to be better at both. In fact, even the better players will be required to take it up a notch, if only to serve as leaders willing to embrace the HITS philosophy.
"At first, there wasn't a buy-in [while I was with the Colts] because it was difficult, but little by little, [the players] saw how the HITS philosophy translated into us playing well," Williams said. "They saw, based on us being able to measure those things, they saw how we were improving.
"Our [goal] was 1% better, 1% better [at a time], and then ultimately [that] turned into wins. As we all know this league is measured in wins and losses so, the HITS principle turned into turnovers, and turnovers turned into us winning football games. That was the buy-in  – when they saw the results of all that hard work, all the running to the ball, and not just in games, but every day in practice, [and] the attention to detail in [our] walk-throughs."
Roquan Smith is SEVERELY underrated. He is that dude. Pick 6 #Bears pic.twitter.com/iCs8hS6n4o

— DRUNK FIELDS 💯 (@DrunkJFields) September 19, 2021
At least Chicago's new defensive mastermind believes in the players the last regime left him, though he quickly returned to the same speech mannerisms that endeared Smith to Bears fans.
"Talented. Physical. At times can be overwhelming. And then I've talked to a few of them just over the phone and through text message. Good people. So whenever you have good people and they're talented, you have a chance to win."
Hopefully, as Williams said, that translates to victories on the field.