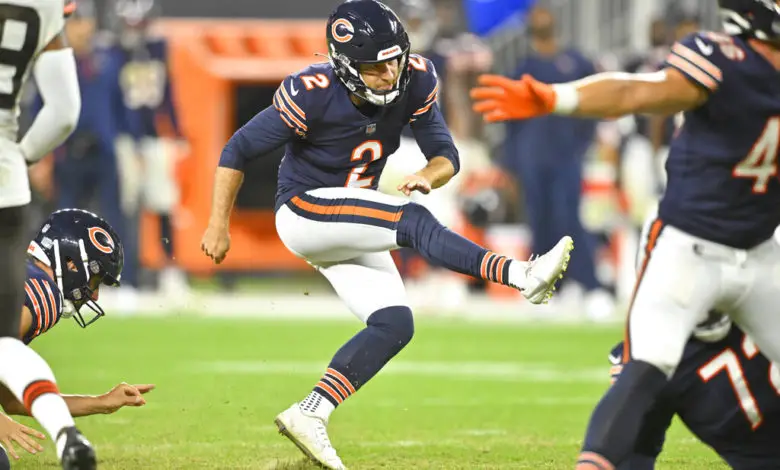 First & Long: NFL Kicks Off 103rd Season Tonight, Vegas Lists Bears as 6.5 'Dogs on Sunday, Packers Have Question Marks at Wide Receiver
Are you ready for some football? The NFL kicks off its 103rd season tonight when the defending champion Rams host the Bills at SoFi Stadium in Inglewood, Calif. The Bears light the candle on their season Sunday at Soldier Field vs. the 49ers. The contest pits rising star second-year starting quarterbacks Justin Fields and Trey Lance against each other. Vegas lists Chicago as 6.5 underdogs as of this morning.
The Bears are a tough team to read and get little love from local and national analysts. The reasons are three-fold:
The Bears' 53-man roster includes 15 first-year players;
Only 19 players have returned from last year's 6-11 squad;
Chicago's roster is devoid of players who have had previous success as playmakers.
Despite that, the Bears have the league's fourth-easiest schedule and though they'll be the dogs in most of those games, they will shock the NFL with a number of upsets. In fact, I predicted Chicago will win three of its first four games. A very tough second-half schedule will probably keep Matt Eberflus and his troops from chasing a postseason berth.
Fields is the obvious player to watch this season, but David Montgomery and Roquan Smith are both playing in the final years of their rookie contracts. GM Ryan Poles loves both players and believes he and Smith will eventually come to terms on an extension. Montgomery should have his best season as a Bear because he will be more involved in Chicago's offense this season. The fifth-year running back's number wasn't called at all in short-yardage situations in the team's season-ending loss to the Vikings in January. That won't happen with Luke Getsy calling the plays this year.
Speaking of the offense, Matt Nagy was too predictable last season, even when he tried not to be. Getsy envisions Fields as a mobile rocket launcher, and Chicago's 21-20 victory over the Browns two weeks ago proved that. Chicago's offense will be pretty potent when all phases are clicking. Fields will improvise more, and his receivers are faster and more athletic than the ones the Bears started in 2021.
Rookies Kyler Gordon, Jaquan Brisker, Velus Jones Jr., and Braxton Jones also bear watching. Gordon and Brisker vastly improve the team's secondary. Their first task won't be easy, either. The defensive backs will be tasked with containing wide receiver Deebo Samuel. The wide receiver had an 83-yard touchdown on a third-and-20 play against the Bears last season. Jones will start at left tackle and his first assignment is All-Pro end Nick Bosa. Robert Quinn led the NFC in sacks with 18.5 last season, and Bosa finished second with 15.5. Jones Jr. did not practice Wednesday.
Lucas Patrick did return to practice this week, though he worked at right guard ahead of Teven Jenkins. Patrick has a cast on his thumb and cannot center the football. The center will move one spot to the left when his cast comes off.
Sunday also marks the regular season coaching debut of Eberflus. He'd like nothing more than to get that first win under his belt in Week One. His second opponent will be the Packers at Lambeau Field on September 18. The Bears currently lead the NFL in all-time victories with 783, and Green Bay is one win behind. Nobody in Chicago wants to see the Packers grab the lead. An 0-2 start by the Bears could drop them to No. 2.
Bears News & Notes
There's a Flag…On the Play
It does seem as if the media has piled on Poles and the Bears this year.
IF, Jones, Jenkins, Borom all get 15 or more starts this year, and Leatherwood develops into swing tackle or future LG and if Fields is able to play every game, no national media will give Poles credit equal to the pile of shit they've given him to date.

— Louie B (@Louie101) September 4, 2022
Scout Team
Note: This is a new addition to First and Long, and this section will focus solely on the Bears' upcoming opponent.
Film Room
The Bears cannot allow Samuel to make plays like this on Sunday.
Throwback to Deebo Samuel saving the #49ers season last year against the Bears 🫡

🎥: @NFL pic.twitter.com/BKlJOOY9mc

— OurSF49ers (@OurSf49ers) September 3, 2022
Northern Exposure
Green Bay: The Packers will start the season with a number of question marks at wide receiver, the first time that's happened in over a decade. Alan Lazard may not play against the Vikings, and Aaron Rodgers will be throwing to a group of receivers that lack a single player who registered more than 28 catches in 2021.
Minnesota: Pass-rusher Za'Darius Smith signed with the Vikings specifically so he could play Green Bay twice each year. The Packers released Smith this past offseason in a move that saved them $15.75 million on their salary cap.
Detroit: The Lions, long part of the dregs of the NFL, are now among the middle tier of teams in this year's initial power rankings.
NFL News & Notes
The Rams announced general manager Les Snead and head coach Sean McVay have signed contract extensions that will keep them with the club through the 2026 season.
Broncos WR Emmanuel Sanders announced his retirement after 12 NFL seasons.
Titans running back Derrick Henry is projected to be the league's leading rusher this season.
Tom Brady edged Rodgers as the NFL's number one quarterback.
The Bills, Buccaneers, and Packers will be the NFL's elite teams this season according to projections by Five Thirty-Eight.
The Rams are favored by 2.5 points in their matchup with the Bills tonight.
Tonight's game will air on NBC, but Amazon Prime will air all remaining Thursday night games, beginning with next week's matchup between the Chiefs and Chargers.
I'm always amazed at mock drafts that go to print before the season. What is the point? Nobody knows where teams will finish, and players will slide up and down as the NCAA season unfolds.
The NFL wants to crack down on illegal drone usage before, during, and after NFL games.
Patrick Mahomes wants to help you win your fantasy league by advising you not to rely on the Chiefs' wide receivers. "It's going to be every single week; it's going to be someone different. So, I'm sorry to all you fantasy football guys, but it's going to come from everywhere so you're going to have to kind of choose the right guy every week."
The NFL on FOX says it is 95% sold out of ad inventory for the 2023 Super Bowl in February. That includes some 30-second spots that sold for a record $7 million.
Three Yards and a Cloud of Dust
Darnell Mooney has 1,686 total receiving yards in his first two years. In Bears history, only two wide receivers have had more yardage over their first two years — Harlon Hill with 1,913 yards in 1954-55 and Alshon Jeffery (1,788 in 2012-13).
The Bears finished 24th in total offense last season with an average of 307.4 yards per game. It marked the 17th time in the last 20 seasons Chicago has finished outside the top 20 in total offense. The Bears also averaged 4.86 yards per play in 2021, ranking 27th in that category.

The

Jaguars

are the only team to average less than 20.0 PPG in each of the last four seasons.
From the Podium
"[I] help on defenses, on tells. Where guys are located, what they look like, [and] what their demeanor is. I think that's helpful. Also, the rules people have in certain coverages, [and] what's hard on the defense based on those rules. I think it's a dual education so to speak. He's learning the offensive side, but on occasion, he'll learn more in-depth what the defense is doing to help him through the process." – Eberflus
"The guys, they worked so hard during camp, and it was really exciting to watch them grow each day. I was actually super bummed not to be a part of that growth and kind of be with them in the trenches, [but I] tried to do as much as I can from the sideline. But when everyone's tired together, sweating, bleeding, whatever, like you come so much closer. So it's really cool to watch that and hopefully, I can step right in and after watching some of that, fill in wherever needed." – Patrick
"I think we will be a great defense. Again, we've got great players at every position. Like I said earlier, can we do it consistently and often? That will determine how great we really are because we've got great players. Now, can we collectively do it together?" – Quinn
"I feel like I've got an opportunity to make an impact anywhere I go. That's just the type of player I am. That's my mindset. I feel like I can make a play on any team in this league. I feel like I can play in this league, and I feel like I belong in this league. So anywhere I would've [gone], I would've made a tremendous impact." – Ihmir Smith-Marsette
Running Out the Clock 
Lace 'em up, and load up those TV trays with your favorite snacks and beverages!