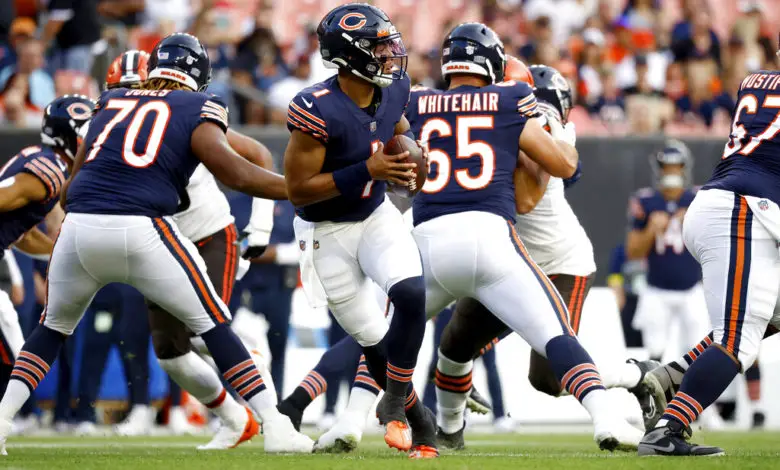 Trying To Make Sense of Lackluster Projections
The Bears aren't inspiring a lot of faith among any local and national analysts. The Vegas line on Chicago's total wins for the season is 6.5 and that seems generous compared to almost every writer. Last week I pegged the Bears for a 10-7 season, based mostly on the team's easy schedule. That said, most of those teams are looking at the Bears as gimmie wins for their underachieving ballclubs. I don't buy it. I'll take a look at the lackluster projections and try to make sense of them.
Pro Football Focus
I'll start here because PFF believes the Bears have a league-worst roster. Chicago's secondary garnered a little praise from the staff, particularly Jaquan Brisker, Kyler Gordon, and Jaylon Johnson. Brisker is a big hitter and a ballhawk. Gordon was Chicago's first draft pick and will see a lot of time at the nickel. Johnson improved his PFF grade by nearly 10 points to 64.3 in his second season out of Utah, and the Bears will be looking for another jump this season.
Things get pretty ugly after that. I'll quote the article verbatim.
"Describing the supporting cast around Justin Fields entering this season as ugly might be putting it kindly. The Bears lost their two highest-graded offensive linemen (Jason Peters and James Daniels) from a unit that finished the 2021 season ranked 21st in overall PFF grade. And Chicago's top four wide receivers on the depth chart are Darnell Mooney, Equanimeous St. Brown, Velus Jones Jr., and Byron Pringle. That's putting a lot of pressure on Fields' shoulders to carry the offense to success in 2022.
Teven Jenkins was listed as Chicago's X-factor and I'm in agreement. Still, it's only been a month since he was reportedly on his way out of town. Give Matt Eberflus a lot of credit for the young man's turnaround. Nobody will say it publicly, but it looks like the emotional offensive lineman was held out until he regained his focus. The coaching staff moved Jenkins to guard, and he's played with a chip on his shoulder since. If he has a big season it will mean more wins for the Bears.
As far as Peters and Daniels are concerned, GM Ryan Poles made the right decision by moving on. Rookie Braxton Jones is going to be the star of Chicago's offensive line. PFF gave Jones a preseason grade of 93.9 which means they believe he will start the season with legitimate All-Pro potential.
Chicago Bears players have this weekend off but rookie offensive lineman Braxton Jones said on ESPN 1000 that he will be at Halas Hall getting extra work in.

Jones said that protecting Justin Fields is a huge responsibility and he takes it very seriously.

— Daniel Greenberg (@ChiSportUpdates) September 3, 2022
Sports Illustrated
Writer Gary Gramling has little faith in the Bears' offensive line and wrote that Chicago's star power starts and ends with Fields and Mooney. Gramling gives the Bears points for their coaching staff, indicating that Eberflus and OC Luke Getsy tend to get the most out of their players. That said, the basis of his pessimism is mostly nonquantifiable.
"There is simply not enough talent on the roster to win games." Gramling wrote. "But, even worse, Fields's development remains stuck in the Soldier Field mud playing behind an offensive line that can't protect him and a group of receivers that can't get open."
Gramling did call the Bears a "scrappy" bunch who will be a "tough out" every week. Looking at Chicago's schedule, the 3-14 prediction probably means wins over the Falcons, Texans, and most likely, in one of the games against the Lions. I think the Bears will win three of their first four games.
The Ringer
Sheil Kapadia wrote that Chicago's roster is in terrible shape.
"Bears fans go into the season with some optimism after Fields went 14-of-16 in Chicago's preseason finale. But this team could easily have a bottom-five offensive line, a bottom-five pass-catching group, and a bottom-five defense."
The author predicted a four-win season but did mention that Eberflus could elevate that win total by getting the best his players can give. Still, he believes that the Falcons and Bears will fight for the first overall pick in next year's draft. The two teams play each other in Atlanta on November 20, perhaps with that pick on the line. Are the Bears that bad?
He gives credit to Atlanta for going 6-2 in games decided by seven points or less in 2021. The Bears won six games last season and Poles removed all of the dead weight. The loss of Khalil Mack will hurt the defense, but the Bears earned half of their wins after Mack was lost for the year. Fields has a new offense and looks much improved. It's hard to view the Bears as a four-win team.
CBS Sports
Jeff Kerr is a little kinder over at CBS Sports, but he still views Chicago as a six-win team. He believes the Bears will take their lumps because they're in the first year of a rebuild.
"If Fields can take a big step under offensive coordinator Luke Getsy, the rebuild won't be as painful," Kerr wrote. "[He] has the talent to be a big-time quarterback in the league, but poor offensive concepts and a terrible offensive line doomed his rookie year."
Kerr noted that the offensive line isn't much better this season, but that Jones and Larry Borom "show promise." He also praised talented players Roquan Smith and Robert Quinn. Armon Watts will give Chicago a strong inside presence but he had yet to be acquired when the article dropped. Kerr wrote that the Bears will finish 7-10 in a best-case scenario, but that four wins are a real possibility, too. He added that the lack of talent surrounding Fields could hurt the quarterback's development.
The Athletic
Editor's Note: Links in this section require a subscription for access.
Based on an NFL betting model using various metrics to create projections for each team, the staff at The Athletic projects the Bears to win five or six games. Only the Falcons, Jets, and Texans are predicted to win fewer games.
"This is probably fair considering the litany of questions facing the 2022 Bears," Kevin Fishbain wrote. "Though it's worth noting that the teams ranked 32nd, 31st, 28th, 26th, and 25th are all on their schedule, those teams might all be looking at the Bears as a 'win.' If Fields takes off and [the] defense becomes a takeaway machine, they'll go over. But the personnel alone makes this number seem right."
Among 43 staff employees, not one predicted the Bears to win the NFC North. In fact, the Packers received 40 votes and three individuals picked the Vikings.
In Summary
I find it almost mind-blowing that every publication ignored David Montgomery and the Bears' running attack. It's almost as if each believes that Getsy will do nothing but pass the football. Though Chicago's offensive is expected to be more exciting and efficient, make no mistake, Montgomery will be as much a reason for its success or failure as Fields and Mooney.
The Bears have the most rookies in the NFL. Justin Fields is 23. Cole Kmet is 23. Darnell Mooney is 24. David Montgomery is 25. The future is looking bright. 👀 #DaBears #Bears @TayDoll1010xl w the count.

— Clay Harbor (@clayharbs82) August 31, 2022
Cole Kmet was not mentioned in any of the pieces either. The tight end looks like he is primed for a career year and if the exhibition games are any indicator, he should keep defenses from keying on Mooney. In fact, the Bears' current group of pass catchers is much better than the group Ryan Pace and Matt Nagy fielded last year.
I also didn't find anything that talked about Chicago's linebackers. Depth is a concern, but Smith, Nicholas Morrow, and Sterling Weatherford are all fast, physical, and aggressive. The Weatherford signing cost Joe Thomas a roster spot, and Matthew Adams and Jack Sanborn look like capable backups. In fact, Sanborn could be an Opening Week starter ahead of Weatherford.
I'll begrudgingly agree that the Bears roster could be stronger, and Poles admitted as much when he made eight waiver claims on Wednesday and Thursday. That said, I still believe Chicago will beat the Vegas line by mid-November. The only way that the Bears will win fewer games is if Fields, Montgomery, or Mooney get hurt.