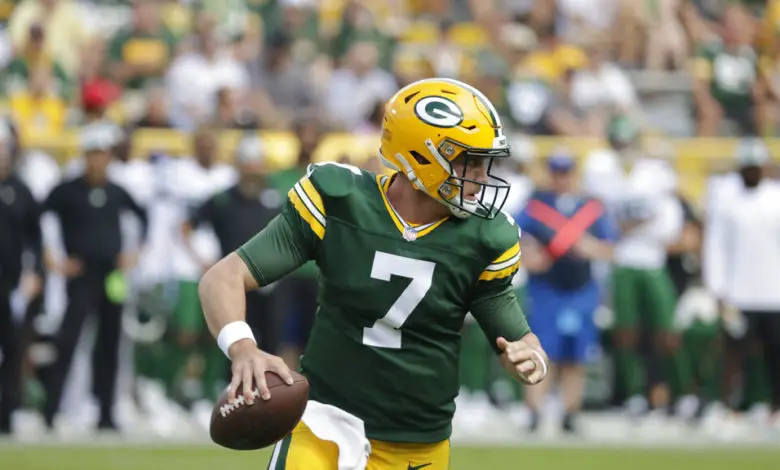 Bears Workout Former Packer QB
Former Packers quarterback Kurt Benkert worked out for the Bears this week, according to Tom Grossi of Packast. Benkert spent 13 months with Green Bay beginning in May 2021. He spent the entire 2021 season as the third quarterback behind Aaron Rodgers and Jordan Love, spending most of his time on the team's practice squad. As a COVID-19 replacement for Love in December, Benkert made his NFL debut late last season by kneeling twice to finish off a 45-30 win over the Bears.
The 27-year-old originally signed with the Falcons as an undrafted free agent in 2018. He played his college ball at East Carolina and Virginia. Benkert became the starting QB for the Cavaliers immediately after transferring. He completed 228 of 406 passes as a junior in 2017 for 2,552 yards, 21 touchdowns, and 11 interceptions. He broke the school record for passing yards in a game that season with 455 against UCONN.
In his two seasons with the Cavaliers, Benkert amassed 5,759 yards and 46 passing touchdowns, which included an impressive senior season where he finished with 3,207 yards, 25 TDs and nine interceptions.
The connection between player and team is easy: former Packers quarterbacks coach Luke Getsy is now Chicago's offensive coordinator. Getsy no doubt recommended Benkert to the team's brass. The Packers cut Benkert on June 17, and he has remained a free agent since. He worked out for the Texans on August 2.
Nathan Peterman is Chicago's current third-stringer behind starter Justin Fields and backup Trevor Siemian. Benkert isn't as experienced as Peterman, but he's more athletic and there's the Getsy connection.
I don't understand by N*than P*terman is on an NFL roster right now but Kurt "No Look" Benkert isn't https://t.co/LFIn8ZWh6c

— Lorin Cox (@CoxSports1) August 24, 2022
Benkert had the talent and resume to be a potential sixth or seventh-round pick in 2018 when he graduated. He has a big, accurate arm, and is fearless when putting footballs into tight windows. He generally hit receivers in stride while at Virginia. Benkert puts proper velocity on his passes when working the middle of the field and was lauded for his sideline-to-sideline passing ability.
The young man also possesses sound mechanics. His body control is excellent, his base is rarely too wide, and his throwing motion action is compact and fluid. He's also agile enough to work in a moving pocket. Benkert is adept at rolling out of the pocket and does an excellent job of squaring his shoulders before throwing downfield. His footwork is excellent and he is accurate when throwing on the run. Benkert is often compared to Josh Rosen.
The fact that Benkert can execute a rollout while firing an accurate throw to a receiver in coverage is encouraging. That will sell in any era and offense. Benkert is a particularly good fit for the Shanahan-inspired schemes. That said, the Bears have not yet offered him a contract or spot on the practice squad.
If Benkert has a weakness, it's his propensity to telegraph his throws. He will often advertise where he's throwing instead of misdirecting and manipulating defensive backs. Benkert is an intelligent player who can go through multiple reads, but he often locks in on a target too early and allows an opposing defense to anticipate his throws.
Benkert has also been criticized for his lack of pocket awareness. He has a gunslinger mentality but will sometimes hold the ball too long. If he breaks free from the rush, he'll often try to force a throw into coverage.
There's nothing really significant about Benkert's tryout other than the fact that Getsy is familiar with him. The Bears play the Packers at Lambeau Field on September 18, but the quarterback was invited to Green Bay's training camp. He offers no insight that might help the Bears, so his tryout was a pure evaluation of talent. I wouldn't consider Benkert a wild card or potential diamond-in-the-rough. At most, he can run the scout team in practices.