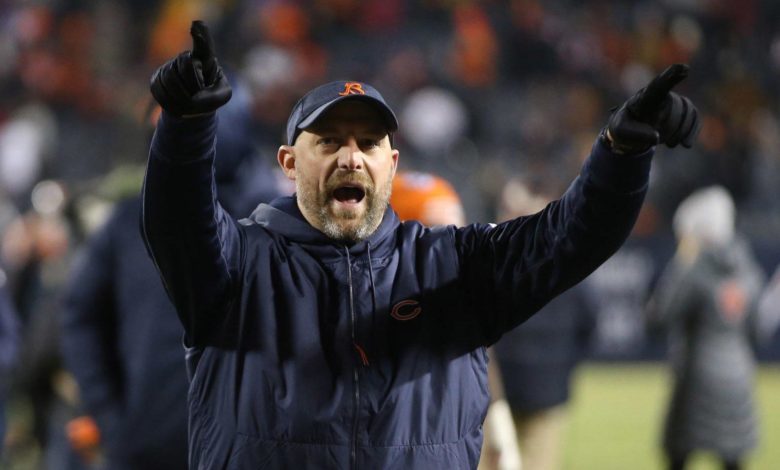 First & Long: Nagy Going Out His Way, Up to 27 Head Coaching Candidates May Have Interest, Playoff Matchups Set
Matt Nagy has coached his last game for the Chicago Bears, and as Frank Sinatra once said, he went out doing it his way. The beleaguered head coach was presented with multiple fourth-and-1 opportunities in Sunday's 31-17 loss to the Vikings and chose to go for it each time. On three separate occasions, he attempted to pass rather than hand the ball to stud running back David Montgomery, failing to earn a first down each time. Minnesota cornerback Patrick Peterson intercepted one of those attempts and returned it 66 yards for a touchdown.
Andy Dalton's pass is intercepted by Patrick Peterson and returned 65 yards for the #Vikings TD!#CHIvsMIN #NFL #NFLTwitter #Skol #DaBearspic.twitter.com/BZN4kMRJyo

— Football Outsiders (@fboutsiders) January 9, 2022
That play sums up Nagy's career in Chicago quite succinctly, and it was a horrible throw by Andy Dalton. Should Ryan Pace lose his job in the coming days, that pick-six provides an ugly epilogue to the even uglier carousel of expensive quarterbacks the GM has signed since arriving in 2014. Where Pace's legacy should be Justin Fields, it may instead be Mike Glennon, Chase Daniel, Mitchell Trubisky, Nick Foles, and Dalton.
In fact, though Fields is the hot commodity that will entice any new head coach, it would behoove whoever is in charge to make Montgomery a primary offensive weapon. That's something that Nagy refused to do, a puzzling aspect during his tenure with Chicago. The third-year running back looked befuddled at times, and rightfully so, since time and again Nagy refused to call his number.
Nagy sounded as if his fate has been determined, but he provided a bit of a clue that Pace might be dismissed as well.
"There's a really good franchise quarterback here that's going to be good for a long time," Nagy said. "And both Ryan [Pace] and I were a part of that."
The head coach believes he and his GM have done a fantastic job and that the core of young players the Bears have in place are ready to win and assuredly ready to challenge for a Super Bowl. Whether that's true, a case of being persnickety because of the current situation, or simple delusion on Nagy's part remains to be seen.
"The more [core players] you have, you win a lot of games," Nagy added. "And then you have an opportunity to get in the dance and win this whole thing. That's what this team has right now. It's there, and that's what I'm selfishly proud of, with [Pace]. And the excitement of [Fields] at quarterback, because Justin's going to have a very bright future."
Pace offered a similar assessment during his pregame radio show.
"There [has been] significant contribution from the last two draft classes," the GM said. "The talent from that young core just continues to expand as they get playing time and opportunities. When I look at that young core we're talking about, they all love football, they all love the process, the preparation. They're all extremely passionate and prideful. They're all high-end football IQ and they are competitive in everything they do. They all hate losing. And I think that culture continues to expand with our team with that young core, and as the torch gets passed to that group of players, it's really exciting."
It will be interesting to see which changes team chairman George McCaskey makes other than firing Nagy. We'll know more sometime Monday, most certainly.
Bears News & Notes
There's a Flag…On the Play
Not all heroes wear capes.
NFL Fan Sign Of The Day: Bears fan in Minnesota pic.twitter.com/WsSTzmHYYc

— Darren Rovell (@darrenrovell) January 9, 2022
Northern Exposure
Detroit head coach Dan Campbell said that the Lions win over the Packers was better than gold.
The Vikings finished 8-9 and in second place in the NFC North. Like Nagy, Minnesota head coach Mike Zimmer is expected to be fired on Monday.
Davante Adams broke the Packers' all-time single-season record for receiving yards in Sunday's loss.
NFL News & Notes
Texans fans wore "Sell the Team" t-shirts to Houston's final home game. The Texans lost and finished with a 4-13 record.
The Giants lost 13 games for the first time in franchise history and fans want owner John Mara to sell the team.
Buccaneers tight end Rob Gronkowski needed seven catches for 85 yards to earn a million-dollar bonus. Quarterback Tom Brady made sure he got it.
An improbable 27-24 win over the Rams put the 49ers into the playoffs as the No. 6 seed.
ESPN analyst Ryan Clark said he would stop working if the Colts lost to the Jaguars. That backfired badly thanks to Jacksonville's 26-11 win over Indianapolis.
The embarrassing loss cost the Colts a shot at the postseason.
CBS Sports has published a coaching carousel tracker that will be updated as news breaks on Monday.
Players are now 0-7 after appearing on "Manningcast," making it a legitimate curse I suppose.
Pittsburgh head coach Mike Tomlin has gone viral thanks to a celebratory locker room dance after the Steelers beat the Ravens 27-24.
If the Raiders do make a coaching change, they could try to engineer a potential blockbuster trade for Tomlin or Saints head coach Sean Payton.
The latest report from NFL insiders Tom Pelissero and Ian Rapoport seems to indicate that the path towards a Deshaun Watson trade is clearing up.
Three Yards and a Cloud of Dust
Brady set the single-season record for pass completions with 485.
T.J. Watt finished with 22.5 sacks, tying him with Michael Strahan for the single-season record.
Dolphins wide receiver Jaylen Waddle set the NFL rookie receptions record on Miami's opening drive against the Patriots, catching passes on three of the team's first four plays from scrimmage. Waddle ended his 2021-22 campaign with 104 catches for 1,015 yards and six touchdowns. Anquan Boldin was the previous record-holder.
Are You Ready for Some Postseason Football?
Here are the Wild Card round playoff matches. This will be the first year that the NFL plays a Monday night postseason football game.
NFC
First-round bye: Packers
No. 7 Eagles at No. 2 Buccaneers January 16, Noon CT
No. 6 49ers at No. 3 Cowboys January 16, 3:30 PM CT
No. 5 Cardinals at No. 4 Rams January 17, 7:15 PM CT (Monday night)
AFC
First-round bye: Titans
No. 7 Steelers at No. 2 Chiefs January 16, 7:15 PM CT
No. 6 Patriots at No. 3 Bills January 15, 7:15 PM CT
No. 5 Raiders at No. 4 Bengals January 15, 3:30 PM CT
Pick Six
This week's top performers.
Dak Prescott, QB Cowboys – Tossed five touchdown passes and completed 21-of-27 attempts for 295 yards in  51-26 win over the Eagles Saturday night.
Tom Brady, QB Buccaneers – Threw for 326 yards and three touchdowns in a little over one-half of play.
Rashaad Penny, RB, Seahawks – Averaged 8.3 yards per carry with 190 rushing yards and a touchdown.
Austin Ekeler RB, Chargers – Became the second undrafted running back to rush for 20 touchdowns in one season.
Justin Herbert, QB Chargers – Completed 36-of-64 passing attempts for 383 yards and three TDs in a season-ending loss.
Antonio Gibson, RB, Washington Football Team – Rushed 21 times for 146 yards (7.0 yards/carry) and one score.
From the Podium
"Whatever has happened in my four years here – good and bad – there is a reason for all of it. There's a reason why this is happening right now. As a leader you've got to make sure you stay positive. You've got to make sure you lead and you've got to use it to make yourself better. Regardless of what happens… I promise you I'm gonna do that. I'm going to let this refine me, not define me." – Nagy
"At the beginning of the season, I wanted to be dominant. I was not as dominant as I wanted to be. A lot of the guys congratulated me. The receivers tell me it's a very big thing. So I take credit for it, but it's not my biggest, and I definitely have more to show than just 1,000 yards. And we lost." – Mooney