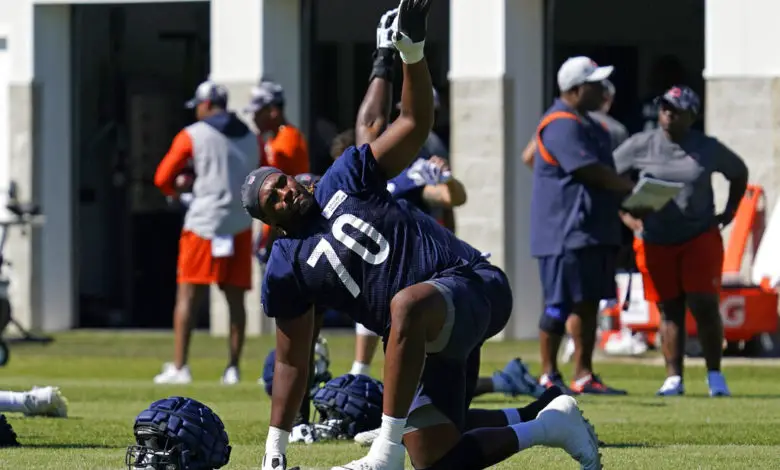 Highest-Rated Bears Player is Rookie OT Braxton Jones
Jones carries an All-Pro level grade from Pro Football Focus, but there is a caveat.
The Bears' offensive line has generally been trashed by NFL pundits, but Chicago may have a future superstar in rookie left tackle Braxton Jones. The fifth-round draft pick out of Southern Utah scored a grade of 93.9 at PFF, making him the Bears' highest-rated player. Jones would be ranked third overall at left tackle behind Trent Williams of the 49ers (98.3) and Tyron Smith of the Cowboys (91.9) based on the grades that Pro Football Focus handed out at the end of last season. In fact, the rookie would be fourth overall among all offensive linemen.
That's a stunning grade for a Day Three selection that played at a small school. Jones dominated his competition as a fifth-year senior. He graded above 90.0 in both run and pass blocking. PFF grades play rather than stats. In other words, a tackle whose quarterback releases the ball quicker than his peers may not give up as many sacks, but still may be beaten more often. A grade of 93.9 is therefore quite impressive. Grading out that high means Jones plays at an elite level nearly 94% of the time.
There is a caveat, however. Rookies like Jones carry their grades over from their senior season. Kyler Gordon carries a grade of 87.2, for example. Jaquan Brisker scored 82.4. Both played at major college football programs, so consistency at the next level will come a little quicker for them than Jones.
The grades allow for easy player comparisons, and that's where Chicago's offensive line gets a little dicey. Here are the starters grades entering the 2022-23 season:
Jenkins' grade is as awkwardly low as Jones' is freakishly high. In fact, PFF is telling us that Jones is theoretically twice the blocker that Jenkins is. But remember, the rookie left tackle played at an elite level against inferior competition. The leap from Southern Utah to the NFL is much bigger than entering the league from schools such as Washington and Penn State. Jenkins played sparingly during the 2021 season. He started two of the six games he played and was on the field for 161 total snaps.
Jones has also impressed GM Ryan Poles. The front office and coaching staff believed Jones could be an impact player from the moment he was drafted. It seems odd now, but the Bears actually traded down to acquire extra picks before selecting Jones.
The fifth-round draft pick took over starting left tackle reps halfway through OTAs and hasn't looked back.https://t.co/kDISXKIA55

— Bears Talk (@NBCSBears) September 2, 2022
"I've been blown away by how fast [Braxton] has developed," Poles said. "There's a lot of credit for our coaches and Chris Morgan, they've done an excellent job. He continues to kind of check the boxes. You go from OTAs, 'That guy looks pretty good.' We gotta go to training camp, we got to put pads on. We put pads on and still does pretty good. Let's see when the lights go on and we go to preseason, is he going to do it then? The longer you do this, you see these spikes, and then did he go? He continues to climb and get better and better and better."
As far as Jenkins is concerned, Poles walked back the alleged trade speculation surrounding the second-year lineman. The GM said he was not actively trying to move Jenkins.
"It actually kind of blew my mind a little bit. So he's out for a few days, and all of a sudden, there's, like, trade rumors floating around, and I hadn't called anybody.
"But what happens in the league is people call you because there [are] rumors floating around, like, 'What are you doing?' And I'm like, 'evaluating Teven. We're seeing how he does.' So his move [from] tackle to guard, he's doing a good job and we're happy about it. We got to the preseason games to see what it would look like, and he's doing good. What I love the most is his finish, his strain, his aggressive style that he's playing with right now, and I hope he keeps it up."
Chicago's line will be anchored by Jones, Jenkins, and Borom. Mustipher will play center until Lucas Patrick returns, and then he'll become a swing guard. The Bears have decent depth in Alex Leatherwood, Riley Reiff, and rookie Ja'Tyre Carter. Things aren't as bleak as they appeared when Willie Wright and Dakota Dozier topped the depth chart.
Once Patrick returns, the Bears will start five linemen that will potentially grade at 60.0 or higher. Those who say the rookie GM has done little to protect quarterback Justin Fields are looking at things from too high a level. That said, I'll take the word of Poles, who used to be an offensive lineman, over a guy who writes but never played a single down of football in his life. Poles is excited about the line's potential.
"They're getting it. They're stepping up when they need to and protecting their guy."