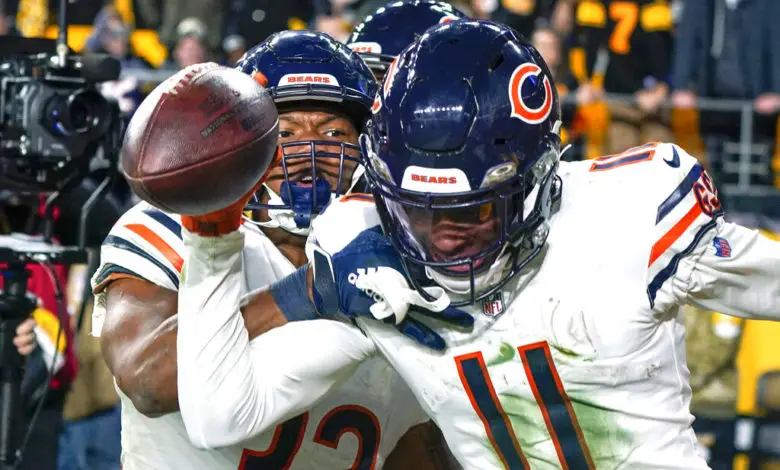 First & Long: National Pundits Pummel Poles, Gordon 'Lighting it Up,' Kmet Primed for Breakout, Crypto Crash Costs Players Millions
It wasn't a very good week to be a Bears fan if you follow some of the national football writers, especially at CBS Sports and ESPN. Known Bears-hater Jason La Canfora went after the beloved twice this week, and ESPN published its annual power index — a points-based predictive model — and its algorithm designated Chicago as the NFL's worst team. Both sites show little love for the moves rookie GM Ryan Poles has made so far.
La Canfora actually doubled down, starting with a stinging analysis of the Bears' chances in the upcoming season. Some have labeled La Canfora an "NFL Insider" but to me, he's just a guy with a big mouth who struggles with grammar. Reader beware, he didn't pull any punches.
"Do they have a discernible direction? They are basically rebuilding, except, well, don't you dare ask about Robert Quinn after they shipped off Khalil Mack," La Canfora wrote in a piece naming the league's five worst teams of 2022. "Justin Fields has been handed a crap sandwich in terms of skill players around him and the offensive line for that matter. Not sure I would be inspired by the hires they have made, especially given the way things ended with the last regime. Not much there, but an awful lot of hopes and prayers. Is there anything this team seems to be poised to be particularly good at? Has ownership gotten anything of note right anytime recently? What are their strengths? Generally, the Bears just leave me dazed and confused and I don't see much reason to expect anything less than a limp and tepid-at-best season from them. Even in the suspect NFC. Maybe they scratch out five or six wins. Godspeed."
The Baltimore-based La Canorfa also posted an unfounded rumor that Quinn had requested a trade. He did not provide a quote from the Bears' reigning Defensive Player of the Year, nor did he link to any textual reference. He basically said "he keeps hearing things."
"I continue to hear that Quinn wants out of Chicago – and who could blame him? " La Canfora wrote in a piece about players with ongoing contract issues. "And there are a host of interested teams. [The] Bears brass has told everyone he ain't [sp.] going anywhere, but they will keep asking and that's not lost on the veteran defensive end. The Bears look hapless, they dealt fellow veteran pass rusher Mack already, and Akiem Hicks doesn't seem likely at all [sp.] to be back. [The] team is in transition under new management, Quinn is coming off a monster season with 18.5 sacks. He just turned 32 and wants to win, and he is also an absolute steal this season ($13M); if he gets dealt the next team would likely sweeten the pot with incentives if nothing else. If the Bears are as bad as I expect, this will only fester, and he could be the prize of the trade-deadline market if nothing else (fetching more than Von Miller a year ago I believe)."
If that wasn't bad enough, the nerds over at ESPN believe the Bears will be worse than the Jets, Jaguars, Falcons Texans, and God forbid, the Lions this season. The Falcons don't even have a capable quarterback after trading Matt Ryan. Right now, Marcus Mariota tops Atlanta's depth chart. Seth Walder provided a synopsis of Chicago's chances based on the site's power index.
"We've got a brutally close race for the favorite to be the No. 1 pick in the 2023 draft, but the Bears edged out the Jets for the honor," Walder wrote. "ESPN's FPI is down on Fields after a pretty brutal rookie season in which he finished with the worst QBR among qualifying quarterbacks in the league. Edge rusher Khalil Mack and receiver Allen Robinson are both gone, and while there are still a few good players remaining in the defensive front — including edge rusher Robert Quinn and linebacker Roquan Smith — there [aren't] a whole lot other strengths on the Bears' roster.
"Per FPI ratings, the Bears have a 14% chance to pick first next April, followed by the Jets (14%), Texans (11%), Jaguars (9%), and Falcons (9%)."
Clickbait? Definitely. The Bears aren't likely headed to the playoffs this season, but I'd bet the house they don't get the No. 1 pick in next year's draft unless Fields gets hurt.
Bears News & Notes
There's a Flag…On the Play
I'm also expecting a big year from Cole Kmet in Luke Getsy's offense.
We can't use Cole Kmet's 2021 box score (0 TDs) as proof that he can't score, say, 8 TDs in '22. The #Bears, as a team, had 16 TOTAL passing TDs. It was a disaster of a season. If you believe in Justin Fields, then you believe that TD number will go up. Kmet will be a reason why.

— Bryan Perez (@BryanPerezNFL) May 21, 2022
Remember: Cole Kmet ranked 12th in TE receiving yards last year. To be that close to a top-10 yardage TE with the disaster that was the #Bears offense IS impressive. If you believe in Fields' talent and Getsy's playcalling, there's no reason not to believe in Kmet's rise, too.

— Bryan Perez (@BryanPerezNFL) May 21, 2022
Northern Exposure
Green Bay: Packers QB coach Tom Clements said there is no reason for Aaron Rodgers to participate in the team's OTAs.
Detroit: Lions starter Jared Goff was ranked as a bottom-five quarterback by The Pro Football Network. Fields was ranked just above Goff at No. 28.
Minnesota: FOX Sports analyst Shannon Sharpe doesn't think Vikings' signal-caller Kirk Cousins is a top-10 NFL quarterback. He even listed Kyler Murray and Joe Burrow ahead of the 10-year veteran. Cousins threw for 4,221 yards with 33 touchdowns and seven interceptions in 2021.
NFL News & Notes
The Crypto Market crash has cost several NFL players millions of dollars, including Saquon Barkley and Trevor Lawrence.
Seahawks player rep K.J. Wright (and a member of the rookie class of 2011) penned a letter to this year's group of rookies for the NFLPA website.
Kevin Burhardt and former Bears tight end Greg Olsen were both selected by FOX Sports to call Super Bowl LVII next February.
NFL owners are "counting votes" for the potential ouster of Commanders' owner Daniel Snyder.
The league offices would like to meet again with new Browns quarterback Deshaun Watson. A decision on any possible suspension could come in June or July. Though their cases are certainly different, it's worth noting that MLB suspended pitcher Trevor Bauer for two years.
Former Vikings head coach Bud Grant would like the NFL to change its rules to reduce the number of fair catches, touchbacks, and endzone kneel-downs.
48-year-old retired wide receiver Terrell Owens has guaranteed that he can still run a 4.5 or better 40-yard dash.
Prices are surging, yet fans remain content to pay top dollar to watch live sporting events.
Three Yards and a Cloud of Dust
Will any Bears receiver get at least 125 targets in 2022? Keenan Allen, Davante Adams, and Travis Kelce are the only players with a minimum of 125 over the past three seasons. I'm banking on Mooney this year.
Shaq Thompson sacked QB Colt McCoy in 1.87 seconds during week 10, the fastest sack of the '21 season.
Frank Gore got his first win as a boxer last week.
"When people watch football, they look for fun things." – John Madden
Justin Fields is a good athlete pic.twitter.com/OhdRLez1ie

— Christian Williams (@CWilliamsNFL) May 15, 2022
From the Podium
"I mean, there were a few throws [Fields] made today where [the] ball — it's like it keeps getting faster in the air. He's soaking everything up. Whether it's coaches, me, or stuff he's telling me, it's really good. Couldn't have a better start to a working relationship." – Patrick
"Kyler [Gordon] has been lighting it up the last two days. I'll just tell you that. The guy's got tremendous ball skills. He's been playing the defense the right way and we're very impressed with him." – Eberflus
Running Out the Clock
Winning Streak by Glen Hansard – "Nobody who has ever given his best has regretted it." – George S. Halas