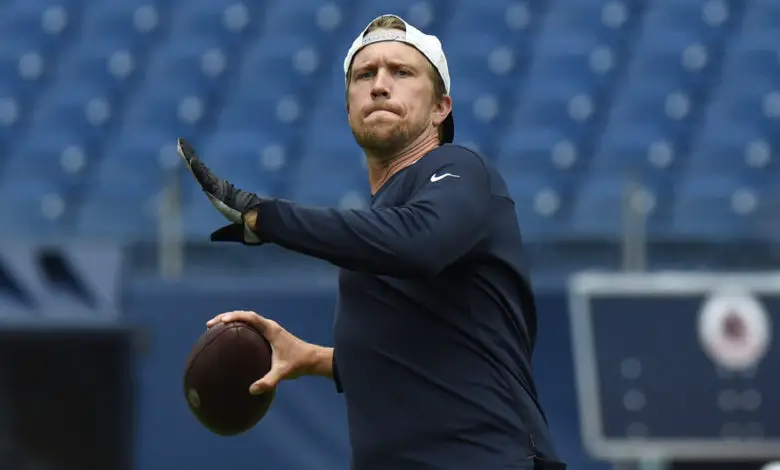 Nick Foles Expected to Sign With Colts
New Bears GM Ryan Poles tried to trade third-string QB Nick Foles but couldn't find any takers. The executive did right by the former Super Bowl MVP by granting him his release. Reports suggest that Foles is expected to sign with the Colts to backup recently-acquired starter Matt Ryan.
Indianapolis will be the sixth organization that the 33-year-old Foles will pay for. The game's most famous backup will join head coach Frank Reich, with hopes to help push the Colts back to the Super Bowl. Foles had his finest season with Reich as his OC, rallying the Eagles to an NFL championship in 2017.
Reich said this week that the Colts would have interest in adding a veteran signal-caller, and of the quarterbacks available, Foles makes the most sense. Indianapolis also has Sam Ehlinger, James Morgan, and Jack Coan in the quarterback room but would prefer a more proven backup if Ryan were to go down. That said, the 37-year-old Ryan has only missed three games to injury in his entire career.
Foles' agent Justin Schulman called his client's release a "classy" move by the Bears last month. By granting the veteran free agency, it allowed Foles to choose where he'd play next. Indianapolis has been considered the favorite since then because of his ties to Reich. Zak Keefer of The Athletic was the first to report the news.
"Colts are working to add veteran QB Nick Foles, sources said," Keefer tweeted. "Nothing done yet, but there's a chance it comes by next week."
Matt Ryan is the guy. But bringing in Nick Foles makes a lot of sense, and the Colts don't want to leave anything to chance. https://t.co/oWJH2eQDOy

— Zak Keefer (@zkeefer) May 20, 2022
It's impossible to ignore the irony that Foles is joining the team that traded Carson Wentz two months ago. Wentz was the Eagles' starter in '17, got hurt, and Foles led them to a championship. The backup quickly became a fan favorite in Philadelphia, and Wentz has been a bit of a journeyman since.
Though he did start one game last season, an exciting 25-24 win over the Seahawks that was decided by a successful two-point conversion, Foles was primarily responsible for working with Justin Fields to help the rookie acclimate to the NFL. Foles understood his role, and to his credit, put the team first in coaching up the freshman signal-caller.
Peter Schrager on Justin Fields:

"I spoke with sources in Chicago all week, and he got better from Wednesday, to Thursday, to Friday. And two of the key reasons were because Nick Foles and Andy Dalton were both in every single meeting coaching him up." #Bears pic.twitter.com/aQEDfHrWCM

— Matt Clapp (@DaBearNecess) September 26, 2021
Fields told former Bears' quarterback coach John DeFilippo that Foles was one of the first to reach out after the Ohio State product was drafted. The veteran went 3-5 in eight starts over the last two seasons with Chicago. Over the entirety of his career, he's 21-11 with a 93.2 passer rating in an Eagles uniform and 8-16 with a 79.0 passer rating with the Chiefs, Rams, Jaguars, and Bears.
Interesting but Useless Trivia: Foles is the only Super Bowl MVP quarterback in history who never started at least 12 games in any season in his career.
According to Spotrac, Foles has earned $78,445,346 in his 10 NFL seasons, including $30.5 million for four starts with the Jaguars in 2019. The Colts will be his sixth team in the last eight seasons. Since Foles has yet to officially sign, current contract deals are unavailable.  Indianapolis has roughly $13.49 million in cap space available.