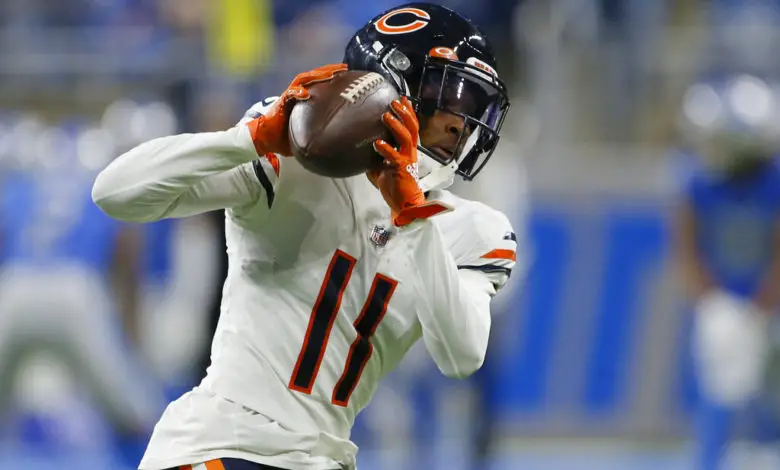 Darnell Mooney Offers Bears WR1 Skills and Athleticism
On the heels of a Bears draft that culminated in the addition of just one wide receiver in Velus Jones Jr. (Tennessee), GM Ryan Poles has added a couple of pass catchers in Tajae Sharpe and Dante Pettis. Despite those additions, the assumption among most pundits is that Luke Getsy and Matt Eberflus still need a No. 1 wide receiver.
Pettis enters his fifth year with 739 receiving yards and nine touchdowns in 33 career games, the bulk of which he accumulated during his rookie season with the 49ers. In 2018 Pettis netted 467 yards on 27 receptions with five scores. The 26-year-old has been a target on just 52 occasions since, however, including 16 with the Giants in 2021. Pettis hauled in 10 passes for 87 yards last season, but he's loaded with upside. Having played under Kyle Shanahan, the four-year veteran knows a bit about the scheme Getsy will deploy in Chicago. Still, with a room full of mostly smaller receivers — other than Equanimeous St. Brown — it may have seemed a bit redundant to add another 6-1 pass catcher for Justin Fields.
Dante Pettis (26) has SERIOUS upside for the #Bears. He was the exact player that the media was calling for Chicago to draft this year. He was a second-round pick, No. 44 overall, in 2018. Sure, it hasn't worked out yet, but there's enough tape to believe he still has a chance.

— Bryan Perez (@BryanPerezNFL) May 12, 2022
Sharpe always finds ways to get on the field. The 6-2 194 lb. ex-Titan has started 36 times in his five-year career, averaging 11.9 yards per catch, and could be in the mix for a few starts this season. A big concern is his lack of playmaking speed, as Sharpe ran a pedestrian 4.55 40-yard coming out of college. By comparison, Pettis was clocked at a lightning-quick 4.32 at the NFL Scouting Combine in 2018.
Some Bears fans are asking if either of the new additions can be counted on to replace Allen Robinson as Chicago's WR1. If not Pettis or Sharpe, who will enter camp as "that guy?"
That's something Eberflus and Getsy need to determine in the weeks leading up to the official start of camp. Jarvis Landry may have been a perfect fit, but he recently signed with the Saints. Veterans Julio Jones, Will Fuller, and T.Y. Hilton are available, but can the Bears afford players that are oft-injured or demonstrating declining skills? Perhaps a deep dive into the Shanahan coaching tree can provide an answer.
The Shanahan-style offense is a popular choice among NFL coaching circles and has been successfully deployed by Rams head coach Sean McVay and Matt Lafleur of the Packers. The original architects are Gary Kubiak and Mike Shanahan, so let's start with Kubiak.
A former NFL backup with the Broncos, Kubiak enjoyed the bulk of his success starting in 2008, culminating in a Super Bowl championship as Denver's head coach in 2015. He had no shortage of playmaking talent during his tenure, coaching pass-catching greats Andre Johnson, Steve Smith Sr., Justin Jefferson, and Emmanuel Sanders to name a few. What do all of those wide receivers have in common? Other than Johnson, none were traditional big-bodied receivers.
Other receivers who have been successful in the Shanahan offense are Davante Adams, Deebo Samuel, and Cooper Kupp. One could even include Jones, who played for Shanahan and Lafleur in 2015-16. The 6-3 220 lb. WR was twice named first-team All-Pro, leading the league with 1,871 receiving yards in his first year working under the tandem. Adams, universally lauded as one of the best receivers in the game, stands at 6-1. Kupp, who received a vote for MVP and was this year's Super Bowl MVP, is 6-2.
The point I'm making is that a prototypical big-bodied receiver is not necessarily a requirement for WR1 in Getsy's offense. In fact, it's been a topic of debate with my co-host at The Chicago Bears Den Podcast for Bears Insider. Though it would be nice, Chicago doesn't need to have a 6-4 or 6-5  receiver to be its top wideout. St. Brown will get some looks, but I don't think he'll be the team's No. 1 when camp breaks.
Due to existing chemistry with Fields and athletic talent alone, Mooney is the likely choice. The three-year vet has 9.63-inch hands and a 30.88-inch arm length despite his smallish 5-11 frame. His better-than-average athleticism includes a 4.38 40-yard time, a 37-inch vertical leap, and a 123-inch broad jump, all recorded at the 2019 combine.
Mooney is nearly a clone of some of his peers mentioned above, combining Sanders' height, the hand size of Jones, and arm length that is similar to Kupp. He surpassed all but Jones (4.34) in the 40-yard dash. He gives up about a half-inch of vertical to Jefferson (37.5 inches) and he can almost match former divisional rival Adams (123 inches) in the broad jump. Contrary to some criticism, Mooney has the makeup of a potential No. 1 wideout in Chicago's new offense.
Darnell Mooney is going to be a problem pic.twitter.com/skqES8I4Mz

— PFF Fantasy Football (@PFF_Fantasy) May 14, 2022
Needless to say, Eberflus and Getsy are now on the clock and will spend the next few months trying to deploy an offense that plays to the team's strengths. I have no problem anointing Mooney WR1 as the roster now sits, but like all fans, I'm anxious to see how the final depth chart will look.