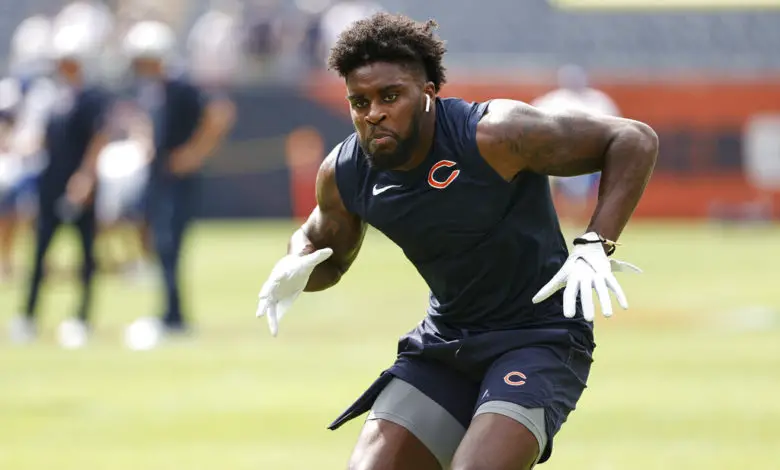 Coach Eberflus Calls Jaylon Johnson "A Work in Progress"
To say the Bears were genuinely excited to land CB Kyler Gordon and S Jaquan Brisker with their first two picks in this year's NFL Draft is an understatement. GM Ryan Poles and head coach Matt Eberflus entered the draft with the mindset of making Chicago more physical, more athletic, and more violent, and both players check those boxes. They'll join holdovers S Eddie Jackson and CB Jaylon Johnson in a vastly improved secondary, though Eberflus pumped the brakes just a tad by calling Johnson "a work in progress."
Jaylon Johnson played the ball perfectly 🔥 @NBAxJay1 @ChicagoBears

📺 #CHIvsLAR on ESPN pic.twitter.com/TYwftGTxbP

— The Checkdown (@thecheckdown) October 27, 2020
When pressed for specifics, Eberflus indicated he wants to personally see what Johnson can do.
"I want to see him in person," the new head coach said. "I've got to have time on task. So I don't really know how to answer that question right now. … I've got to see the guy cover. I've got to see how he takes his angles, how he plays the ball. I've got to see all those things before we're going to start diving into the details of that and coaching him."
That's a little less than a ringing endorsement for a player a lot of people say is one of Chicago's best playmakers. As a rookie, Pro Football gave Johnson an overall grade of 54.9, which he improved last season to 64.2.
"Is [Johnson] a No. 1 [corner]?" said one scout according to Bob McGinn of Go Long Go. "No, but he's a hell of a 1B. I like his attitude. He is willing to come to the line of scrimmage and make tackles against fullbacks, tight ends, or jet sweeps."
Despite the grades and accolades, the Bears' secondary was one of the worst in the NFL in 2021, and PFF ranked them No. 23 overall.
"This kind of ranking for the Chicago Bears was expected this season, considering their cornerback situation outside of Johnson," wrote Ben Linsey. "And even he had a volatile season with a 60.5 coverage grade. Opposite him for most of the season was Kindle Vildor, who posted a 45.6 coverage grade that ranked in the bottom five in the NFL."
Johnson understands that he doesn't rate much more than a rookie in the eyes of the new coaching staff because they are deploying a new scheme and will be open to giving looks to everyone in camp. For instance, in the Bears' new scheme, cornerbacks will have their eyes on the quarterback more often while asked to master the nuances of zone coverages.
It's a complete reset," the third-year defensive back said. "Everything I've done in the past with the other coaches, with the other staff, it really doesn't mean anything. I mean, the film is not going to lie to you. But at the end of the day, they want me to show them what I can do in person."
"We want quickness and instincts. We want guys that are ballhawks at the defensive back position". – #Bears HC Matt Eberflus on what he wants in a DB.

— Zack Pearson (@Zack_Pearson) March 1, 2022
Johnson also understands that Eberflus wants his defenders to be more aggressive at taking the ball away from opposing offenses. The cornerback's interception total (one) through two seasons leaves something to be desired, and that's an area where he'll have to improve to become a mainstay in Chicago's new defense.
"It's all about the ball," Eberflus said at his introductory press conference in January. "That's the most important thing for winning and losing — taking the ball away [on defense] and protecting the football [on offense]."
Johnson isn't lacking confidence and believes he'll adapt to a more aggressive and violent brand of defense.
"It just comes down to work ethic," the cornerback said. "It's just earning that respect as a hard worker and doing extra. I mean, right now it's not too much about production. It's really about knowing your assignment and playing hard. I feel as confident as ever. I don't feel like there's anything I can't do."
Despite the unenthusiastic undertones of his head coach, Johnson will most be a starter when the Bears break camp. The wildcard in the camp battle will be Thomas Graham Jr., who was the final pick in the 6th round of the 2021 draft. He was considered a 3rd round talent when then-GM Ryan Pace selected him, and he was very impressive in limited duty last season. Chicago's secondary was decimated by poor play last season, and Graham Jr. earned one start, defending four passes while allowing two completions. He finished the season with 13 tackles.
https://twitter.com/PFF_Anthony/status/1473288086767509506
Gordon could also play himself into Johnson's starting position at the left corner, something the incumbent is acutely aware of, though he embraces the new additions to the team's secondary.
"I'd throw [Gordon and Brisker] in the fire if you're asking me," Johnson said. "I mean, they're our first two draft picks. I feel like we've got to see what they can do right now. And then we can know what the attitude and what the vibe is heading into camp. If I was the coach, I wouldn't ease them into it. I would throw them out there."