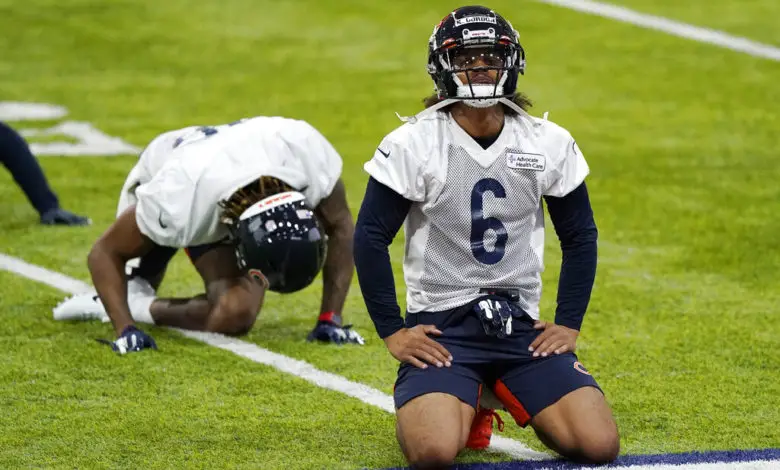 Bears Currently Looking at No. 1 Pick in 2023 Draft Per ESPN Power Index
According to ESPN's Football Power Index (FPI), the Chicago Bears will enter the 2022 season as the team most likely to be the worst in the NFL. The predictive model includes ratings and projections for each of the league's 32 teams, and though it's brutally close, Chicago is expected to edge the Jets for the worst record in the league.  That means the Bears are currently looking at the No. 1 pick in the 2023 Draft.
2022 Football Power Index ratings and rankings!

The rating itself indicates approximately how much better or worse — in points — that team is predicted to be, relative to an average NFL team on a neutral field.

It is a predictive rating. pic.twitter.com/9oDRKm8nKR

— Seth Walder (@SethWalder) May 17, 2022
According to the accompanying article, the Bears are currently on the clock in what is expected to be a top-heavy draft for quarterbacks. If this prediction comes to fruition, new GM Ryan Poles would be in the enviable position of being able to amass a haul by trading down since Justin Fields is considered the team's quarterback of the future. C.J. Stroud (Ohio State), Will Levis (Kentucky), Bryce Young (Alabama), and Tyler Van Dyke (Miami) are all expected to be Top 10 picks.
It's far too early to predict next year's draft, but the best players at positions of need for the Bears could include linebacker Will Anderson Jr. (Alabama), defensive tackle Jalen Carter (Georgia), and tackle Peter Skoronski (Northwestern). As the team currently sits, a defensive tackle will probably be at the top of the list of team needs entering 2023.
Seth Walder, who analyzed the results for ESPN, believes it's going to be a long year for Bears fans, and the algorithm indicates Fields will have another poor season. It would be a little odd and a massive failure by Fields if Chicago is forced to select Stroud, the consensus No. 1 (for now), to replace their second-year QB.
"We've got a brutally close race for the favorite to be the No. 1 pick in the 2023 draft, but the Bears edged out the Jets for the honor," Walder wrote.
"ESPN's FPI is down on Fields after a pretty brutal rookie season in which he finished with the worst QBR among qualifying quarterbacks in the league. Edge rusher Khalil Mack and receiver Allen Robinson are both gone, and while there are still a few good players remaining in the defensive front — including edge rusher Robert Quinn and linebacker Roquan Smith — there [aren't] a whole lot other strengths on the Bears' roster.
"Per FPI ratings, the Bears have a 14% chance to pick first next April, followed by the Jets (14%), Texans (11%), Jaguars (9%), and Falcons (9%)."
Despite the lowly projection, Poles believes his team will be a bit more competitive. Nobody expects Chicago to be a Super Bowl contender, but teams that pick 1.1 usually finish the season with just a win or two. The Bears have a relatively easy schedule and a strong enough defense to be competitive in most games.
The Bears have the sixth easiest strength of schedule in 2022. Can Justin Fields and company capitalize? Takeaways + full schedule here: https://t.co/RHcn8KoQC9

— Courtney Cronin (@CourtneyRCronin) May 13, 2022
As far as Fields is concerned, it might be better to lean on offensive coordinator Luke Getsy than a projection-based analysis. After all, Getsy has been working with the young quarterback since he left Green Bay in February for the Bears' coordinator gig.
"I've been super impressed with him," Getsy said. "I really have. There's no one in this building that works harder than him. There's no one that cares more than him. We're off to a great start. He's really accepted this challenge."
There is still a great deal of work ahead and expect Getsy, Fields, and a lot of Bears players to navigate rough waters in 2022. Poles and head coach Matt Eberflus will focus more on developing their first and second-year players this season with an eye on the future. That may sound like a nice way to say the Bears intend to tank, but I don't see that happening with Eberflus at the helm. If a handful of rookies and under-the-radar players blossoms this season, that would put the Bears in a better position for success in 2023. Tanking (for lack of a better word) with the sole purpose of attaining a higher draft pick would be counterproductive to the organization's plans.
There are a lot of factors at play, the roster will continue to evolve, and the Bears will struggle in 2022. Will they be the league's worst team? It's possible but doubtful, and it's entirely contingent on the progress Fields makes in Chicago's new offense.