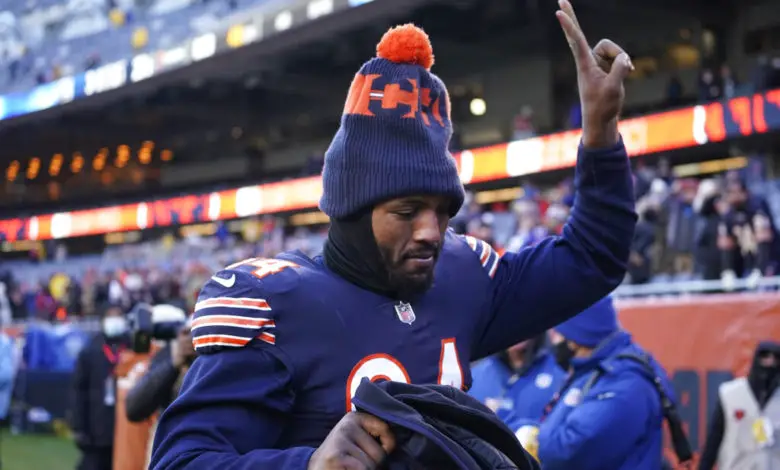 Don't Sweat Robert Quinn Rumors
Jason La Canfora of CBS Sports dropped a bomb today when he reported that Robert Quinn allegedly wants out of Chicago. La Canfora didn't cite a source, nor did he provide any factual proof other than saying [and I'm paraphrasing] "he's heard some things." Until something of substance bubbles to the surface, I wouldn't sweat the Quinn rumors if I were you.
"I continue to hear that Quinn wants out of Chicago – and who could blame him? " La Canfora wrote in a piece about players with ongoing contract issues. "And there are a host of interested teams. [The] Bears brass has told everyone he ain't [sp.] going anywhere, but they will keep asking and that's not lost on the veteran defensive end. The Bears look hapless, they dealt fellow veteran pass rusher Khalil Mack already, and Akiem Hicks doesn't seem likely at all [sp.] to be back. [The] team is in transition under new management, Quinn is coming off a monster season with 18.5 sacks. He just turned 32 and wants to win, and he is also an absolute steal this season ($13M); if he gets dealt the next team would likely sweeten the pot with incentives if nothing else. If the Bears are as bad as I expect, this will only fester, and he could be the prize of the trade-deadline market if nothing else (fetching more than Von Miller a year ago I believe)."
There's a lot to unpack here but one thing you won't find is an actual quote from Quinn. In fact, La Canfora doesn't actually know if Quinn said anything or not, only that he "continues to hear" things. It sounds instead like the writer is randomly connecting a couple of dots in order to add some weight to an article that should just be about Kyler Murray. Everything else in the post is opinion and filler.
Game-wrecker. Record-breaker. 💥

What a year for Robert Quinn. pic.twitter.com/TY5Ly19paK

— Chicago Bears (@ChicagoBears) January 19, 2022
We do know that teams were calling about Quinn before the draft (according to NFL insider Ian Rappaport) and that the Bears showed no interest in trading him. In fact, when the rumor broke, Quinn indicated that he actually didn't want to be traded. It's difficult to believe Chicago's front office has done anything to piss him off since, unless, like some fans, he's mad GM Ryan Poles didn't trade up into the first round to select a wide receiver.
"At the end of the day, it's a business," Quinn told Brad Biggs of the Chicago Tribune last month. "Again, you see Mack getting traded. I mean, you probably gotta — again, it's just a business. Don't dwell on it … too crazy.
"I didn't expect to go anywhere, or want to go anywhere (emphasis mine), but again, this is a crazy business. … If something's going to happen it's going to happen, but again, it is what it is."
It should be pointed out that there is a big difference between a player being shopped and a player requesting a trade. It's also worth noting that the Bears were never actively shopping their Defensive Player of the Year. Teams called Poles about Quinn's availability because they knew that Chicago was seeking to add draft picks this year. Attempting to trade for the veteran defensive end probably seemed like a good way to leverage a rookie GM desperate for additional assets. That is until Poles deftly turned a trio of Day Three picks into eight total selections.
If you take anything from the unsubstantiated rumor, it's that the author believes Chicago could receive a compensation package greater than the second and third-round picks the Broncos got for Miller. Denver also paid down Miller's salary, but Quinn is relatively inexpensive and doesn't hurt the team financially so none of it makes much sense.
Last season, Quinn notched 18.5 sacks, 49 tackles, and 22 quarterback hits. He earned a Pro Bowl nod and was one of the Bears' lone defensive bright spots. Any cap relief the Bears would get by trading him won't really help this year, and it would probably force head coach Matt Eberflus to start rookie Dominique Robinson in Quinn's place. Robinson is a former quarterback and wide receiver who was drafted on potential in the fifth round because he had very limited college experience at EDGE.
Finally, it's not like La Canfora has been anywhere close to accurate when it comes to the Bears (or any team) when he's previously played connect-the-dots. Without a quote from Quinn, and without textual reference, it sounds a lot more like heresy and clickbait to me. Feel free to run with it, but I doubt the CBS Sports piece is anything greater than a random shot in the dark.
Quinn may eventually be traded, but there's nothing to suggest that anything is imminent, nor likely to happen before the start of training camp.