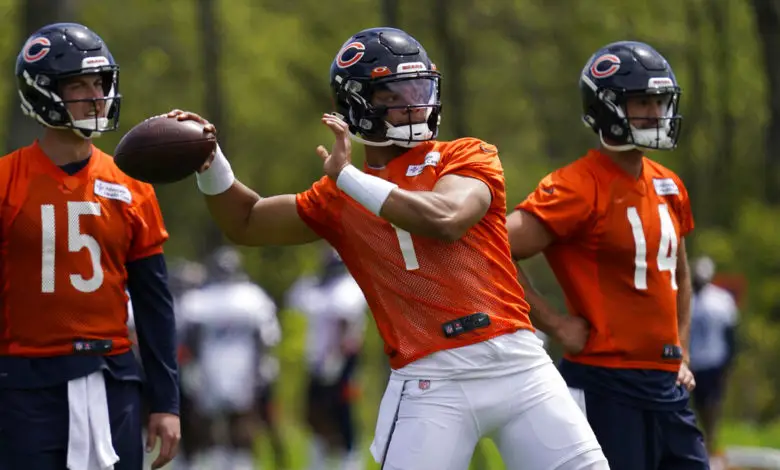 First & Long: Fields Confident, Johnson Not Sweating Demotion, Rodgers Talks Retirement, Madden Gets Cover of Madden '23
If you talk to Bears players and coaches, most conversations ultimately include the renewed confidence of second-year quarterback Justin Fields. Whether it's general manager Ryan Poles, offensive coordinator Luke Getsy, or one of the signal caller's teammates, to a man, everybody has been impressed with Fields. That includes head coach Matt Eberflus, who actually gets excited when speaking of his quarterback's deep ball accuracy.
"I would say, 'Man, he throws a good deep ball,'" Eberflus said last week. "I'm excited about that. You could see it in the 7-on-7 and 11-on-11s. We're going to take our shots down the field. He does a nice job doing that, and that's what stands out to me."
New center Lucas Patrick was one of the first to pay attention to the quarterback's offseason progression. Patrick was signed to be a leader on the offensive line and personal bodyguard to Fields as soon as Poles discovered that Chicago lacked offensive lineman with character and passion. The offensive lineman has been impressed with his new buddy.
"[Fields] can get moving pretty quick," Patrick said after the first week of OTAs. "He's a fun guy. He's young, so he likes to have the juice and the energy. He's got a live arm. I mean, there were a few throws he made today where the ball – it's like it keeps getting faster and faster in the air. He's soaking everything up… [We] couldn't have a better start to a working relationship.
"You don't get drafted as high as he does in the National Football League just by kind of having a wet noodle [for an arm] or slow feet. He's really talented. I thought he was going to be really good. And he is exceeding my expectations."
Justin Fields ain't worry about this offense. 😤 pic.twitter.com/wjx7tNPPt5

— theScore (@theScore) May 30, 2022
That kind of praise from teammates and peers is bound to boost your confidence. Last season, Fields was forced to sink or swim with little help in the way of coaching or any semblance of a game plan tailored to the young man's strengths. He's better on the run than he is in the pocket, yet few plays were designed to make Fields the mobile launching pad he should have been.
Tight end Cole Kmet, who like Fields is being counted on to take his game to another level, kept it short but sweet.
"Man he's confident," Kmet said last week.
Still, Fields has his detractors, including a large contingent of Bears fans who look at his production in 2021 and think the Bears wasted the No. 11 draft pick and everything they gave up to get him. A few flashes last season and a growing number of accolades during non-contact football drills just aren't enough to chip away at the negativity. If the bottom line in judging a quarterback's effectiveness is winning, Fields has but two victories under his belt to go with 10 losses.
It's also pretty difficult to be anything but successful during OTAs. Heck, Mike Glennon drew praise during practices in 2017 by the same reporters who are covering the Bears today. The difference is, you never heard the players gushing over Glennon the way they do over Chicago's incumbent starter. There have been no whispers that Fields might not have what it takes. Nobody has been talking about making Fields earn his starting position. That has to count for something, right?
For what it's worth, Fields is eager to prove that he's earned the praises of his teammates and coaches. Nobody is more excited to get the pads on and start winning the hearts of the Bears' toughest fans. If you need reassurance from the toughest of critics, Dick Butkus believes Fields will shine in '22 after saying Chicago's coaching staff failed him last year.
"I think Fields is the right guy," Butkus said in February. "From the first day of [2021] training camp to the last game, I don't think he was coached very well. It got me thinking early on when he was playing, he'd come to the sideline and take off his helmet and put on a hat and sit there. You look at other games, Aaron Rodgers comes off the field or Patrick Mahomes comes off the field and there's a coach there with a clipboard or an iPad and they're going over things. I didn't see that happening until the last three or four games. Where were they earlier on?"
The Bears have improved their wide receiving corps, and the offensive line is improved, too, but is still a work in progress. The best thing Poles did was surround his quarterback with coaches who intend to play to his strengths. The rest is on Fields, and so far he looks like he's not afraid of the challenge.
Bears News & Notes
There's a Flag… On the Play
The jersey that Robert Brazile gave to pirate crooner Jimmy Buffett will fit like a dress on him.
With his wife and parents looking on, former Oilers LB Robert "Dr. Doom" Brazile presents longtime buddy Jimmy Buffett with his No. 52 jersey before Buffett's concert in Mobile. Notice Doom didn't give Buffett his gold Hall of Fame blazer. pic.twitter.com/MKhReBieEb

— John McClain (@McClain_on_NFL) June 3, 2022
Northern Exposure
Green Bay: Rodgers said he has been definitely thinking about retirement and knows that "the end is coming."
Detroit: Offensive coordinator Ben Johnson said his primary focus this year is helping Jared Goff "have the best season of his career." Isn't that the same goal every OC has for his quarterback?
Minnesota: Head coach Kevin O'Connell said the Vikings need to make their offense a lot less predictable if they intend to contend for the NFC North in 2022.
NFL News & Notes
Quarterback Ryan Fitzpatrick announced he is retiring from the NFL after 17 seasons.
Fitzpatrick may move to the television as part of Amazon Prime's Thursday Night team.
Frank Gore, the NFL's No. 3 all-time rusher, signed a one-day contract with San Francisco so that he could officially retire as a 49er.
Tom Brady credits former Bills defensive back Nate Clements with landing the biggest hit he's ever taken.
Chiefs offensive coordinator Eric Bieniemy said he puts the onus on himself with regard to finding a head coaching gig.
Allen confirmed a rumor that indicated he throws up before each of his starts.
This year, Matt Ryan could become the first quarterback to lose to 31 different NFL teams, but it would take the Colts and the Falcons getting to Super Bowl LVII for him to have a chance to actually lose to every team.
Three Yards and a Cloud of Dust
In his 17-year career, Fitzpatrick played for nine different teams with 34,990 passing yards and 244 total touchdowns. He has one of the best beards ever, too.
Ed Reed is the only player in

NFL

history to score touchdowns by blocking and returning a punt, by interception, and by fumble.

The cover of EA Sports' Madden 23 belongs to…John Madden. Well-deserved.
From the Podium
"Definitely a different culture that [Coach Eberflus] implemented, really trying to drill into our heads really of how we want to play this style of football. Really attacking, really playing hard, recognizing the ball, trying to call turnovers and that's what the Colts had done really [well] over these last couple of years… that the defense really turned that ball over. So I definitely think you can get that vibe that we're definitely going to be attacking." – Johnson
Taking a Knee
Boom Boom by John Lee Hooker, in honor of Madden.