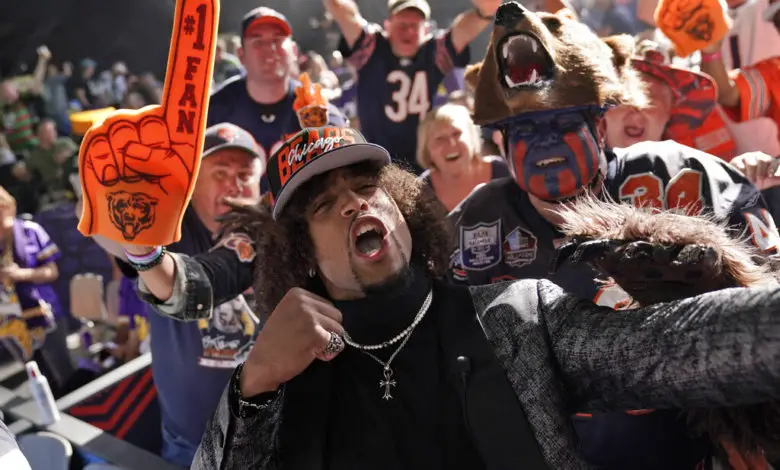 Predicting Chicago Bears 2022 Record a Useless Endeavor Right Now
It really hasn't been that long since the McCaskey family cleaned house by hiring GM Ryan Poles, replacing Matt Nagy with Matt Eberflus, and sending president and CEO Ted Phillips off to focus on the team's potential new stadium in Arlington Heights. In the nearly four months since the Rams upended the Bengals in Super Bowl LVI, Poles has overhauled his roster, made a tiny dent in free agency, and navigated his first NFL draft with the expertise of a 10-year veteran, turning six picks into 11 with a number of Day 3 trades. With the new schedule out, a lot of pundits and fans are making 2022 predictions, which seems like a useless endeavor right now.
The Chicago Bears 2022 regular season schedule: pic.twitter.com/qGRjSzCrHZ

— Daniel Greenberg (@ChiSportUpdates) May 13, 2022
Why even bother debating it?
Most fans, especially those who tend to enjoy the Kool-Aid, see the Bears rebounding from a 6-11 season to nine or 10 wins this season. Local and national football writers, on the other hand, see Chicago finishing at the bottom of the 32-team league. The offensive line is still a question mark, Justin Fields is somewhat unproven and will captain an entirely new offensive scheme, and Darnell Mooney is the lone wide receiver returning from last year's squad.
That said, the Bears have a markedly improved secondary with the addition of second and third-round picks Kyler Gordon and Jaquan Brisker, and the additions of rookie Velus Jones Jr. and Trestan Ebner should make Chicago's special teams considerably better. Eberflus and Poles are counting on a resurgent season from right tackle Teven Jenkins, and if not, the entirety of the team's offensive line depth consists of rookies and unproven veterans. Lucas Patrick should help stabilize the line, and new offensive coordinator Luke Getsy will do his best to provide more scoring opportunities for third-year tight end Cole Kmet.
If the Bears are going to improve on last year;'s record, they'll at least have the league's sixth-easiest schedule to do so. That's based on last year's records and rosters, however, and that means that wins against teams like the Lions, Giants, Jets, Texans, and Jaguars are no guarantees. Each of those teams had better drafts than the Bears did, improved in free agency, and come armed with new coaching staffs of their own. That means the battle for the No. 1 overall pick in 2023 could be just as exciting as the fight for the NFC North.
The caveat here is that teams have yet to don pads and won't do so until training camps open in July. There will be injuries, cuts, waiver claims, and most of all, growing pains. With that in mind, the measuring stick for the first season under Poles and Eberflus shouldn't be wins and losses as much as it should be the team's grasp of its new offense and defense. Going a couple of steps further, the new coach and GM want to see improvement from Fields, an offensive line that gels as the season progresses, a dominant defense, and most of all, the ability to at least compete against all of their opponents, especially their division rivals.
Neither will admit it publicly, but a winning record and a possible postseason appearance would put the team ahead of schedule. Just looking at the moves the front office has made this year, and with the caps pace they've accumulated in 2023 and beyond, 2022 looks to be a continuation of Chicago's transformation into a team built on draft picks and young free agents, rather than overpriced veterans, which was the M.O. of the previous regime.
Predicting (or hoping for) a possible playoff berth seems almost folly at this point. In fact, improving too quickly might force the hands of Poles and Eberflus to overextend themselves in free agency next year when the focus should remain on building a solid core of playmaking athletes on offense and defense. A good front office knows that there are no shortcuts to becoming an annual contender, and the Bears are still on step two or three of a plan that may require a little more time than fans would like.
When Poles took over the Bears, he said it was his intention to take the NFC North from the Packers and never give it back. If he wanted to fast-track that plan he'd be sacrificing long-term success for the quick-but-unsatisfying high of a one-year run at Green Bay. If you give the man credit for anything, it's that he's sticking to his plan. Time will tell if he's making the right decisions, but at least he's willing to stay the course and die on that hill if he has to.