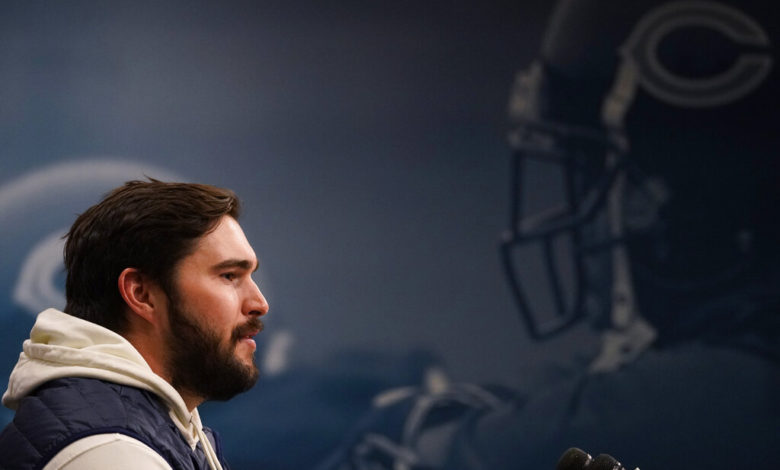 Ex-Packer Lucas Patrick Fired Up to Play for Bears
The Chicago Bears kicked off their second week of organized team activities at Halas Hall, adapting to a new coaching staff, a new front office, a new culture, and many new players. This week, the team will hold three practices with Tuesday's session open to reporters. One player who is fired up to play for GM Ryan Poles and new head coach Matt Eberflus is Lucas Patrick.
Last week, Patrick gushed about playing with second-year quarterback Justin Fields. He could hardly contain his enthusiasm for Fields when asked what it was like to practice with a quarterback who is coming off a 2-10 record as a starter.
"[Fields] can get moving pretty quick," Patrick said last week. "He's a fun guy. He's young, so he likes to have the juice and the energy. He's got a live arm. I mean, there were a few throws he made today where the ball – it's like it keeps getting faster and faster in the air. He's soaking everything up… [We] couldn't have a better start to a working relationship."
What really gets Patrick excited is playing for a GM who's a former brother in the trenches. Poles, a Canandaigua, New York native, played offensive tackle for five seasons for Boston College (2003-07), protecting current Colts QB Matt Ryan. After graduating, he went undrafted, but the Bears signed him as a UDFA in 2008. The rookie GM made it a top priority to sign a versatile offensive lineman with a nasty demeanor who could serve as Fields' personal bodyguard. Patrick checked all the boxes and could be Chicago's most significant acquisition of the offseason.
"He embodies that," Poles said when announcing the signing. "He's a prick, and he knows it, and that's how he survives, and that's what we need upfront."
What Poles wanted is a violent pass blocker who can also punish would-be tacklers in the run game. He also wanted to make sure that Fields has somebody who will stand up and protect him at all costs. Patrick understands his role in Chicago's offense, particularly when it comes to the passing game.
"Football is played a certain way," he said. "It's not a contact sport; it's a collision sport. We, as the offensive line, have two duties: If it's a run, we're denting the defense. If it's a pass, we're setting [up] a wall. That's the expectation that every man should have when they put on a Chicago Bears helmet as an offensive lineman."
Be still my beating heart, Patrick is a throwback to the days of Jay Hilgenberg, Jimbo Covert, Mark Bortz, Tom Thayer, and Keith Van Horne. He'll also serve as a mentor to second-year players Teven Jenkins and Larry Borom, plus a host of rookies that includes Braxton Jones, Zachary Thomas, Doug Kramer, and Ja'Tyre Carter. Fans see a lot of question marks in that group but Patrick trusts Poles' instincts because they're kindred spirits.
"[I'm] so fired up that our GM is a former offensive lineman because I think he gets it to the core; what it takes to build an offensive line," Patrick said. "It's tough, competition, smart; just guys who love football and just want to compete.
"I think it's great. Bring 30 guys in. We can only have five, and it's going to push guys further. It's going to push me further. I'm going to push other guys further. I can't think of a better scenario, even for me as a veteran, [than] having so many young guys. They see different things. They are asking me questions, and I have to be on top of my game and what I know mentally because I know they are going to ask a ton of questions, and I have to be right."
On top of all that, and in addition to bringing elite physicality to the line, Poles, Eberflus, and offensive coordinator Luke Getsy want the line to be quick and fast. Patrick toes the company line there, too.
"All these guys have the talent, the speed, the physicality," Patrick said. "But it's applying that inside the scheme of football and being able to play fast. I know there [are] a lot of people that study 40s and everything. But you can have a guy who runs a 5.4 at O-line and a 4.8 guy, and the 5.4 guy is going to play faster because he knows what he's doing. He knows what the defense is going to do. He can anticipate the snap count and get off the ball and get to his assignment."
Eberflus and his coaches hope that Patrick can basically be an extension of the staff on the field, whether it is at the OTAs, during training camp, or during games, once the season starts. His enthusiasm when he talks about the Bears is palpable, and remember, Patrick played for the hated Packers last season. There's no mistaking he's a Chicago Bear now. The starting center may be a prick on the field, but Poles means that in the most flattering of ways.
"That's how he survives," Poles added. "Just [playing offensive line] myself, that's contagious. Other people either have got to go with it or you just don't fit in."