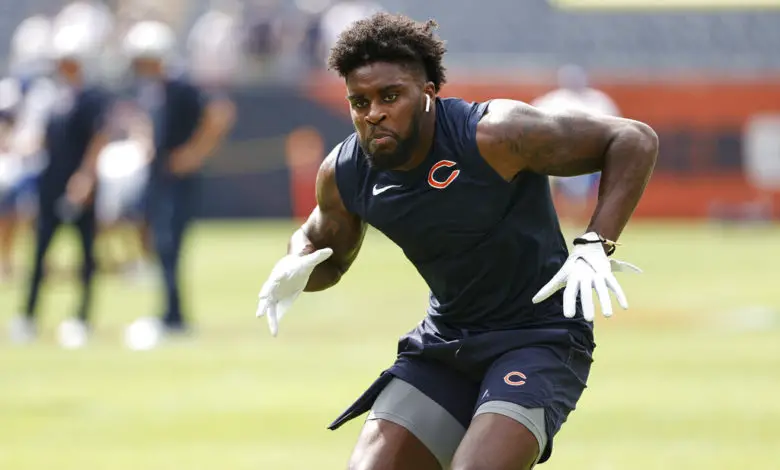 Jaylon Johnson Isn't Quite a No.1 Corner… Yet
Since Jaylon Johnson arrived at Halas Hall, he's had ample support from Chicago's fan base. The truth is, there he may have some work to do to impress the coaching staff, who don't view Johnson as a No. 1 corner…yet.
The  Bears drafted the Utah prospect just after Cole Kmet in 2020, using the 50th pick in the draft on day two. Johnson was supposed to line up across from Kyle Fuller as a pair of lockdown defensive backs. Last year, Matt Nagy asked the cornerback to shadow some of the league's best receivers. By all accounts, he was a promising player on the rise.
Since OTAs started two weeks ago, new head coach Matt Eberflus said he "needed to see more from Jaylon" and followed that by having him run his drills with the second-string defense. It's just my opinion, but this seems like Eberflus' response to Johnson missing voluntary minicamp.
Coach Eberflus wants two things from his guys: they have to love football, and they have to work hard. It seems Johnson loves football, but does he work hard on every snap? There were a few plays from last season where he didn't play through the whistle. Specifically, he doesn't close larger gaps, and counts on his secondary peers to bail him out. That's a "loaf" per Eberflus, and he has warned loafing will cut into playing time in his regime.
Jaylon Johnson still roaming Soldier Field looking for Davante Adams after this route 🥶 pic.twitter.com/sUUNuNtvdB

— Eli Berkovits (@BookOfEli_NFL) October 19, 2021
Still, Johnson made some very good adjustments in year two and his numbers lined up with some of the best corners in the league, especially during the early part of the season. The cornerback's biggest issue is creating turnovers. Since 2018, Chicago's defense has yet to be in the top half of the league in takeaways, though that's not all Johnson's fault. It's more likely related more to the previous defensive scheme than a personnel problem. Catches allowed are one of the better indicators of whether or not a DB is doing his job.
Jaylon Johnson in single coverage this season:

🔸94.4 PFF Grade (1st)
🔸1 catch allowed
🔸3 forced incompletions
🔸1 INT pic.twitter.com/CUwfp28yck

— PFF (@PFF) September 28, 2021
Johnson started his career allowing 58% of his targets to be completed in years one and two. Xavien Howard, who just signed a 5-year $90 million extension, allowed 56% in his first two years. One of the most highly-praised corners in the league, Jalen Ramsey, allowed 58% of his targets to be completed in the same time frame. Another example is Jaire Alexander, who just became the highest-paid corner in the league. Alexander allowed 59% of 201 targets to go as completions.
Where Johnson lags is in passer rating allowed. Last year, the cornerback allowed a 101.9 PR, though that was down from 107.5 the previous year. That said, he defended 15 passes in 2020  as compared to just nine last season. He also has the worst interception ratio of the players mentioned previously.
I wouldn't anoint Kindle Vildor as Chicago's No. 1 at the position just because that's how things shake out now. Eberflus was asked about johnson running snaps with the twos, and he said it was "because of lack of conditioning" and needing to catch up. The rookie head coach complimented his change of direction, hands, and size, and said he's basically happy with Johnson's coverage abilities.
Further, challenging No. 1 wide receivers like Davante Adams and Justin Jefferson last season will serve to make Johnson a better defensive back in 2022. In the new defense, he will be tasked with eyeing the quarterback more, which should lead to more interceptions. He's not quite a No.1 corner yet, but he will be soon.