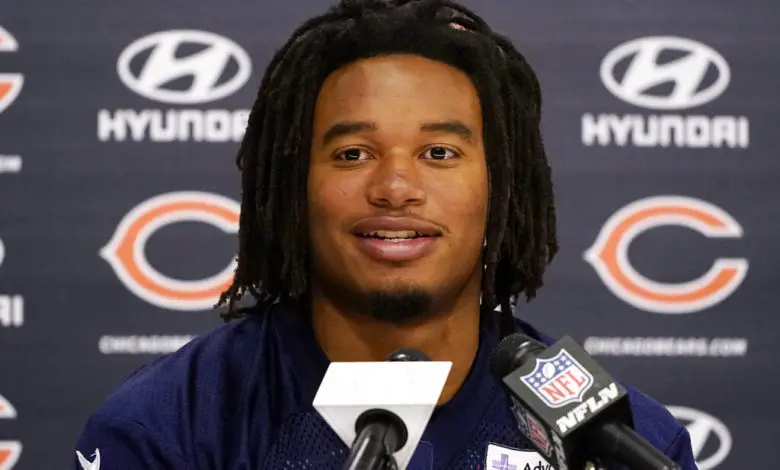 Velus Jones Jr. Alone Alters Bears Wide Receiver Plans
I've spent the entire month since Velus Jones Jr. was selected in the third round lowering the boil on the hype that has followed the Tennessee speedster to Chicago. All I really needed to know was that Jones was a hand-picked option of quarterback Justin Fields. You can't put a price on camaraderie, and since Fields and Darnell Mooney have that chemistry already, it seemed like a big move to add Jones. After sifting through countless articles and analysis, I'm prepared to say that Jones alone alters the Bears' wide receiver plans for 2022 and beyond.
One word to describe @VelusJr?

⚡️ ELECTRIC ⚡️ pic.twitter.com/Uq9HMTWAXH

— Chicago Bears (@ChicagoBears) April 30, 2022
The data crowd isn't enamored with wide receiver prospects who are older than 23. Still, most successful receivers maintain their abilities well into their 30s, so that seems a bit puzzling, especially when maturity is a key factor in mastering the position. Steve Smith Jr., Larry Fitzgerald, Donald Driver, and Emmanuel Sanders are just a few examples. The 25-year-old is entering the NFL at the same age most receivers are when they finish their rookie contracts, but Jones's talent is undeniable.
That's not just my opinion. Offensive coordinator Luke Getsy has been pretty transparent regarding his plans for Jones, and how the wide receiver's versatility, speed, and athleticism are game-changers.
"Guys that can do [many] things give us an opportunity to do a bunch of different things with each guy," Getsy said. "So, we don't want just one guy that can run down the field. We don't want just one guy that can run a choice route. We want guys that can do a bunch of different things. He definitely has that versatility so that's really cool.
"He can handle this league, you can see that already. Then, the speed just jumped at you on the tape. When that guy gets the ball in his hands, he looks like 4.3 on the field. Not many guys can do that, and I think that is what stood out about [Jones]. He has a chance to score every time he touches the ball."
After rookie minicamp and two weeks of OTAs, it sounds like Fields already has confidence in the 25-year-old rookie, too. The second-year quarterback was impressed with Jones's ability to make big plays, particularly once he has the ball in his hands.
"At rookie minicamp, there was one play that stood out to me. He had a 10-yard dig route in and caught it and hit that second gear kick for a touchdown," Fields said. "I think he caught it at 10 yards and took it 60, so he's a great run-after-the-catch guy. He's going to pick up a lot of yards and is physical. He's almost like a running back at receiver. Having him on the outside and putting the ball in his hands and letting him work will be great."
Getsy hasn't revealed a lot about what he plans to do offensively. We do know that he and Coach Eberflus are very impressed with Fields' deep ball accuracy, so one should expect that will be a big part of the scheme.
Remember Bill Walsh and his air-raid philosophy with the 49ers? It's easy to picture Fields playing Steve Young in a facsimile of that type of attack. There may never be another Jerry Rice, but Jones and Mooney together could be equally effective in the aggregate. If you add Byron Pringle as a poor man's version of John Taylor, suddenly Chicago's receiving corps no longer looks like a weakness.
Darnell Mooney + Byron Pringle + Velus Jones Jr. + Cole Kmet = playmaking and athletic ability for Justin Fields to target in 2022. As Getsy said, Davante wasn't Davante until he became Davante. This group will end the year with more respect than they have right now. #Bears

— Bryan Perez (@BryanPerezNFL) May 11, 2022
It's also important to remember that Getsy has big plans for Equanimeous St. Brown, who followed the offensive coordinator to Chicago from Green Bay. He was buried on the Packers' depth chart, but Getsy was influential in bringing the WR5 to the Bears. At 6-foot-5, he represents the big target Fields needs, and anybody who thinks St. Brown is an afterthought or potential bubble receiver is underestimating Chicago's receivers' room.
The Bears obviously believe they have a talented group of pass-catchers because veterans Dante Pettis and Tajae Sharpe are little more than competition signings. That should be attributed to Jones, who is the most significant addition to the offense since Chicago cleaned house in February. Most Bears fans wanted Poles to select an alpha receiver to compliment Mooney, and anyone who says Jones isn't that guy because he is a little older than his peers (he's actually two years older than Cole Kmet and five months older than Mooney) is overlooking his elite tools. Still, every time a wide receiver becomes potentially available, he's almost automatically connected to the Bears by fans and writers.
Breaking down Chicago's wideouts by strengths is powerfully revealing if you're trying to decipher what the passing game will look like this season.
Mooney – The first thing that stands out is his speed and explosiveness. A 4.38 40-yard dash means he's a potential home run hitter each time he catches a pass. Mooney tracks the ball very well in the air and amasses a lot of yards after the catch. He can go up and get the ball despite his limited size, was team captain as a senior at Tulane, and he's been proving his doubters wrong since high school.
Jones Jr. – One of Jones's greatest strengths is his ability to gain yards after the catch. His combination of size and speed makes him difficult to tackle, and gives him power that most receivers don't possess. It's that ability and athleticism that finds the rookie often compared to Deebo Samuel. He has one trait that actually gives him a leg up on Samuel, and that's separation. Pro Football Focus ranked Jones in the 100th percentile when it comes to getting open and breaking free from coverage.
Pringle – The veteran is a smooth receiver with impressive short-area quickness and burst who can line up on either side of the quarterback. He uses his eyes well to "sell" a deep ball and it helps that he has very good deep speed. He uses multiple head fakes to generate separation and comes back to the ball with good attack skills when he makes hard breaks. Pringle is a versatile receiver with a quick-twitch burst in tight spaces, reads blocks well, and is strong enough to push through a defensive wrap.
St. Brown – An elite route-runner who is smooth in and out of his breaks, St. Brown has the size and quickness to make him a difficult cover assignment. With his size, length, strength, and speed, he's a dangerous run-after-the-catch receiver. St. Brown is also deceptively quick, and tall targets that run pristine routes aren't often as fast as he is. He's not a burner but can be a vertical game changer. He's also versatile enough to work on the outside as an "X" split end or do the dirty work inside as a "Z" flanker.
If you're looking for the common denominator, it's versatility and playmaking.
Fields' speed and ability to throw on the run will amplify the strengths of his receivers. Expect a great deal of play-action, bootlegs, and RPO so that the second-year quarterback can become more of a moving launch pad. In three-receiver sets, defenses may struggle with deep threats Mooney and Jones, which should leave plenty of open field for Pringle or St. Brown to generate big gains underneath. Linebackers will have to respect Fields' ability to run, too. Bears fans will love the jaw-dropping potential once everything clicks.
Without Jones, however, Mooney, Pringle, St. Brown, and one of Pettis or Sharpe make the receiving corp a lot more ordinary. The rookie adds an element to the group that will make the whole a great deal stronger than the sum of its parts. Bears fans should be excited. I'm excited, and I'm harder to sell than most.